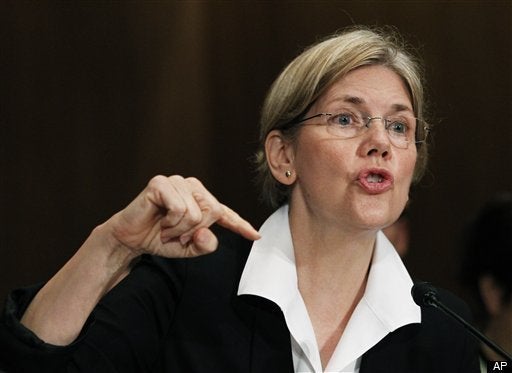 It was announced yesterday that, after weeks of speculation, Congressional Oversight Panel Chairperson Elizabeth Warren was going to be appointed to do a job, for the government! But what, exactly? Is she some new "czar?" Would she be the "interim" director of a new Consumer Protection Bureau? Or would she just be in charge of setting the new Consumer Protection Bureau up? And what does that mean? Would Warren be designing the org-charts or literally building this new agency, with Quonset huts and repurposed Enron office furniture? People are confused, reports Brian Beutler:
After a Senate vote today, three key Senators -- including Warren supporters and detractors -- admitted to not knowing what Warren's new job will entail.

Asked by TPM whether he knew what Warren's role will be, Senate Banking Committee Chairman Chris Dodd answered simply, "No."

Sen. Bernie Sanders (I-VT) -- a strong Warren backer -- is cautiously optimistic.

"That is a very good question," Sanders said when TPM asked if he understood what Warren's new job really is. "And the answer is no. And that is not insignificant."
Can we add or save jobs, by investing heavily in this field of interpreting Bernie Sanders' zen koans?
Senator Bob Corker (R-Tenn.) apparently called Warren the "czar of all czars," only to express utter confusion minutes later over how much power the "czar of all czars" might wield: "Maybe there are some details here that we're missing." That statement would actually be a pretty good motto, for the U.S. Congress.
The White House has tapped Elizabeth Warren as a special adviser to help set up the Consumer Financial Protection Bureau, affirming its support for a tough new agency charged with protecting consumers from abusive lenders.

The move allows her to act as an interim head of the CFPB and will enable her to begin setting up the agency immediately and prevent the GOP from filibustering her nomination. Warren could serve until President Barack Obama nominates a permanent director to serve the five-year term -- a nomination he's not required to make for some time. Obama also could nominate her as the permanent director in the near future, a prospect that has been discussed among top aides, according to a person familiar with White House deliberations. Warren formally will be named as a special adviser reporting directly to Obama, and serving in a similar capacity to Treasury Secretary Timothy Geithner, later this week.
See, there is actually language the Dodd-Frank banking law -- which Shahien was the first to report on -- that allows the White House to make this appointment while simultaneously avoiding a contentious confirmation process, at least for a time:
According to the bill's language, the Treasury Secretary has sole authority to build the new agency before it's ultimately transferred to the Federal Reserve. That includes anointing a person to head the effort on his behalf, and under his authority. The interim head would serve until the President's nominee is confirmed by the Senate.

That person could be Elizabeth Warren.

And the legislation doesn't appear to contain a deadline for a Presidential nomination, experts say, which means Warren could start the agency from scratch, put her people in, begin cracking down on predatory and abusive lenders, and initiate a culture that would put consumers' interests above those of the nation's most powerful financial institutions.
(Some are calling this an "end run," which is puzzling, since the language permitting this is in the law itself.)
So, there you have it: Warren will shepherd the agency into existence and run it for as long as the law (and the President) allows. Admittedly, it is a little confusing. But just imagine how confused Congress is going to be when Warren explains to them that the "middle class" is not primarily composed of Americans earning incomes in the "low to low-mid six figures."
Popular in the Community