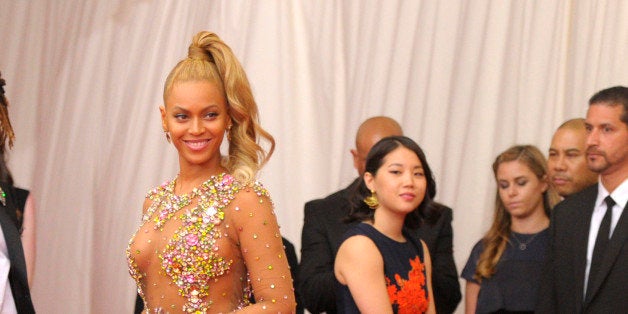 Mondays tend to be disorienting enough. But the events that transpired in the pop culture sphere this week set a particularly confusing tone to the day, forcing innocent consumers to question their loyalties and even, shockingly, suspect that the media may in fact not have the purest of intentions.
The action actually began on Sunday, when an unlikely source fiercely declared herself as a feminist, taking to social media to unleash an impassioned essay regarding the media's dehumanizing depiction of women as mere arm candy accessorizing the appendages of successful men. "I... do not. belong. to anyone. but myself. and neither do you," she wrote, chastising media outlets for perpetuating stale double standards and explicit misogyny. She name-dropped the likes of Gloria Steinem, called out the injustice of female slut-shaming and beseeched young women to recognize their truth worth and inherent value.
Color me old (it's cool, I am, what with being over 30and all that), but I am not intimately familiar with the nuances of Grande's public persona. Perhaps she's long been hailed a feminist icon, and I've simply been in the dark, but her essay felt groundbreaking, if not a little shocking (in the best way possible) when it came across my feed yesterday morning. In the context of famous young women continuously denying their right (obligation?) to identify as feminists, Grande stood up loud and proud and sent an incredibly important message to her young, impressionable fans, and to women all around the world: the media is fucked up, and you deserve better.
With the unexpected arrival of this declaration, things started out well on Monday. But quickly took a turn. It was early yet -- just after 8 a.m. -- and the day was filled with so much promise. But then Beyoncé appeared on my television screen and spent the next several minutes extolling the benefits of a vegan diet. Not the health benefits or the environmental payoff, however. No, Beyoncé really just wanted viewers to know that veganism is how she triumphed over her body, achieving that fit, trim figure admired the world over, and that we can follow in her dainty footsteps -- all for the price of one best-selling diet book.
That's right, just as Ariana Grande -- pop princess, wearer of cat ears -- revealed herself to the world as a strong, self-possessed female standing up for the empowerment of other women and girls, Beyoncé -- fierce, outspoken feminist, champion of equality -- told us her secret to flatter abs.
It was a confusing day, indeed.
I experience an overwhelming, almost visceral sense of uneasiness when I morally disagree on any issue with Beyoncé. I'm a superfan. I worship at her altar. I drink the Bey Kool-Aid. And she's given me good reason to do so: Besides being a mind-blowing performer and entertainer, she's an activist, arguably doing more to further the conversation on equality than any celebrity with her expansive influence. She drops speeches on feminism from Nigerian writer Chimamamda Ngozi Adichie smack dab in the middle of radio-friendly tracks. She performs proudly on MTV in front of a towering backdrop boldly emblazoned with the word "FEMINIST." She's dominated a notoriously male-run industry, successfully standing atop her own empire and supporting women every step of the way.
So when she has a slip-up, I wince a little.
And I wasn't alone yesterday. I was heartened to log into Facebook and see a trending news story regarding the outrage Beyoncé fans were expressing over her morning announcement. I felt validated to know that others stood up and took notice, calling out the hypocrisy and degradation of this impossibly strong female role model taking to the airwaves to shill out a diet book.
But I quickly learned the legions of angry Beyhive members weren't up in arms over the decidedly disempowering move. They were pissed because they expected a bigger announcement.
In fairness, the irritation is understandable."Good Morning America" teased the three-minutes-and-change segment as if the singer were about to unveil a new album, tour, baby, documentary series and cure for cancer, all in one breath. The endorsement of a diet book she'd already publicly supported for months felt underwhelming to some, and insulting to many.
But I have yet to see any ire over the endorsement itself. The fact that a woman who has stood for so much more substance has stooped to plugging diet advice. A woman who has taken on society's soul-crushing, oppressive beauty ideals in her song "Pretty Hurts," is advocating veganism as a vehicle for sustained weight loss. A woman with over 35 million Instagram followers and sold-out stadiums worth of male and female fans is using her platform to sheepishly confess, "I am not naturally the thinnest," on national television and that she's finally found a food plan that "keeps the weight off."
This isn't the Beyoncé I know, love and admire, and the stumble is hard to stomach. It would be a flat-out lie to deny the fact that much of her fame has undoubtedly been influenced by her iconic body. But the agency Beyoncé took in displaying, flaunting, concealing and using her body onstage and onscreen differentiated her from other female performers who have seemingly been positioned as scantily-clad puppets selling iTunes singles. Beyoncé owned her body in a way that felt powerful. And surrendering that power in order to promote a diet book doesn't feel relatable or real; it feels weak.
I'm grateful for the empowering messages Beyoncé and women like her have fearlessly put forward in the name of feminism. And I'm happily surprised to find that others in the public eye like Grande are opting to own their feminist convictions and unapologetically stand for something more than their looks, weight, or carefully-contoured faces. I just hope Beyoncé doesn't continue to disappoint -- the world is confusing enough.
REAL LIFE. REAL NEWS. REAL VOICES.
Help us tell more of the stories that matter from voices that too often remain unheard.