The Big Chocolate Show featured some major name chocolate companies (Valhrona) as well as some delightful newcomers. Located at the Terminal Stores in the Chelsea area of New York City, the show also served up some lovely chocolate liqueurs and popsicles. The visionaries behind the Vietnamese company Marou-with its regionally grown, locally processed and hand packaged chocolate-charmed attendees. Several companies from Ecuador offered samples including the award winning Pacari. New York chocolate makers and retailers were there as well, including FIKA, Marie Belle, Jacques Torres, Moderne, Raaka and others. One of my favorite chocolate shops in the city because it curates the best of the best chocolate from around the world, 2Beans, also displayed at the show.
The newest temptations to the local chocolate palate included: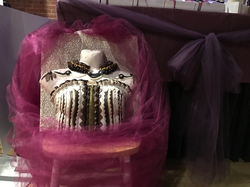 Drizzles' elegant "Fashionistas," chocolate molded mini-mannequins, combine a love of chocolate with an appreciation for fashion. Moran Etstein won an award from the show in the category for innovative/new/ noteworthy. Congratulations, Moran.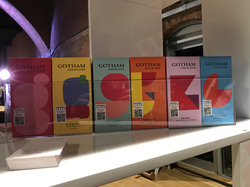 Gotham Chocolate is the ultimate in New York branding: hand made bars (can you find the G in the label?) to capture New York City moods. The modalities of Decadence, Intensity, and Grace are reflected by Pastry Chef, Ron Paprocki at the famed Greenwich Village restaurant, Gotham Bar and Grill.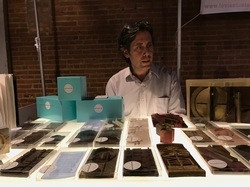 A collection of highly designed cubist bars caught our attention at the booth of Peter Zaharatos, owner of Sugarcube Dessert and Coffee in Queens. These are chocolates formed from geometric molds produced on his 3-D printer. Zaharatos is an architect who teaches classes at New York City College of Technology and was the lead designer on the Second Avenue Subway project.
It will be fun to taste the new as well as classic products at next year's Big Chocolate Show, October 6-8, 2017.
Prinz lectures about chocolate and religion around the world. Her book, On the Chocolate Trail, is used in adult study, classroom settings, book clubs and chocolate tastings. She is developing a new project around women and chocolate