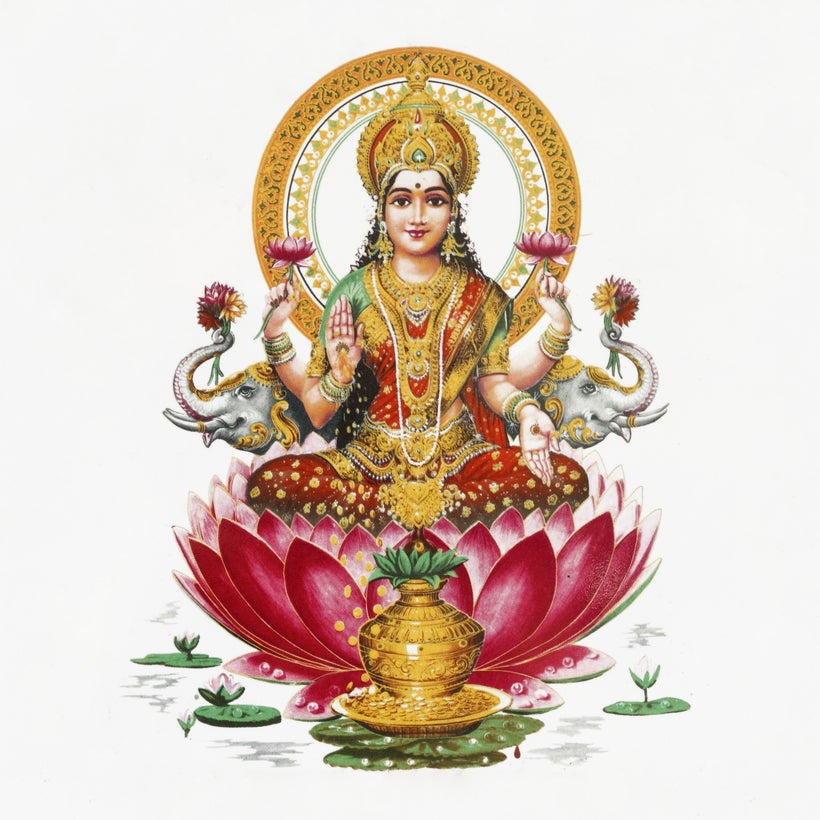 This is my favorite time of year because Lakshmi, the Hindu Goddess of Fortune, comes alive during the holiday of Diwali, the festival of lights. It falls on October 30th in 2016.
Lakshmi is a goddess who brings all good things to light and to life!
As the Hindu Goddess of Good Fortune and Beauty, she represents and is seen as the personification of abundance, prosperity, wealth, well-being and harmony. She is a living Goddess, worshipped around the world. In these times of challenge, she can be a comfort and a healer because she brings a sense of greater fortune even in the darkest moments. She is a powerful cosmic connection; a divine female who looks like us, and offers a sense of courage, hope, and power.
She has one of the most colorful creation myths of all the deities in the Hindu pantheon. It is said Goddess Lakshmi was born, fully-grown, on a pink lotus that rose from the milky sea. She was immediately be-decked, be-jeweled and worshipped by the gods and sages. They prayed that she would come to their abodes, and to their worlds, for they believed that where Lakshmi is you will also find riches and fulfillment.
Three millennia later, she remains the symbol of all things fortunate.
Her eternal mate is Vishnu, The Great Preserver, who has incarnated with Lakshmi on earth many times, including in the form of the sacred couple, Krishna and Radha. They are considered a model for undying love. Lakshmi's sacred cohort is Lord Ganesha, remover of obstacles. They often work side by side.
Lakshmi, like many divine female Hindu deities, is often pictured as a beautiful Indian woman with big dark eyes and with four arms. Clad in sari, in a form that is very feminine and full, she sits or stands on her lotus pink throne. She usually has two lotuses in either of her back hands. Her front arms typically offer a protective blessing, as well as blessings known as "boons," or favors from the Gods and Goddesses. Her ability to enhance our good fortune is symbolized by the gold coins seen pouring from her hands.
Diwali is Hinduisms most festive holiday. It spiritually signifies the triumphs of good over evil and also represents an uplifting, cheerful and prosperous time when people dress up, celebrate, socialize, and worship. It is considered a New Year in some regions and a fresh start for businesses.
Diwali typically falls on the new moon in October or November so the date changes each year. Preparations begin before and celebrations extend a few days beyond it.
On the night before Diwali Day, children often light off firecrackers and sparklers, and in some parts of India, adults bang pots and pans to scare off Lakshmi's dark sister, Alakshmi, known as the Goddess of Misfortune. The women line their windows and door ways with tiny lights (deepa) that are offerings to Lakshmi, to help her find her way to their abode.
On Diwali Day Lakshmi is honored with worship known as Homan, Abhishekam and Puja. And later that day the Sarada Puja to bless account books for the year is offered, followed by a Lakshmi-Kubera Puja, to Goddess of Fortune and The God of Wealth. For two days, people participate in additional pujas and "Annakut Utsavam," where people bring sweets to the temple or make offerings in their homes to Lakshmi and her beloved Vishnu. In some temples, the food is stacked and overflowing around holy icons and the priests hand out blessed sweets to children and devotees. They are accepted gladly, in two hands, and a respectful bow of the head. People often kiss or pray over this blessed food, called "prasad," before eating it and taking in the energies of the Goddess and her mate.
How to Invite Lakshmi Into Your Life
Attend a Lakshmi Puja: In the culture from which Lakshmi hails, she is treated with great reverence. In the United States, it is very easy for anyone of any faith to attend, or even sponsor (request) a Lakshmi Puja, which is a form of formal worship to the Goddess. A Hindu priest can perform a puja in a temple or private home. You can also witness Sri MahaLakshmi (meaning Mother Lakshmi) Abishekam, which is the sacred purification and washing of the Goddess with milk, yogurt, honey and more. The 108 names of the Goddess are chanted and prayers are uttered repeatedly during a Lakshmi worship service and devotional songs are sung.
Pray to Her: Since you may not get to attend a Hindu worship service to honor the Goddess, it is important that you know Lakshmi can hear your prayers from wherever you may be. Light a candle in her honor, reflect on what good fortune means to you, and ask the Goddess for her help. Petition her as you would any deity: "Dear Lakshmi, please help me with …"
In these challenging times, you can also pray to her for peace and well-being for all. Good Fortune on all levels, spiritual and material, is her domain.
Article originally published in Om Times.
Calling all HuffPost superfans!
Sign up for membership to become a founding member and help shape HuffPost's next chapter
This post was published on the now-closed HuffPost Contributor platform. Contributors control their own work and posted freely to our site. If you need to flag this entry as abusive,
send us an email
.