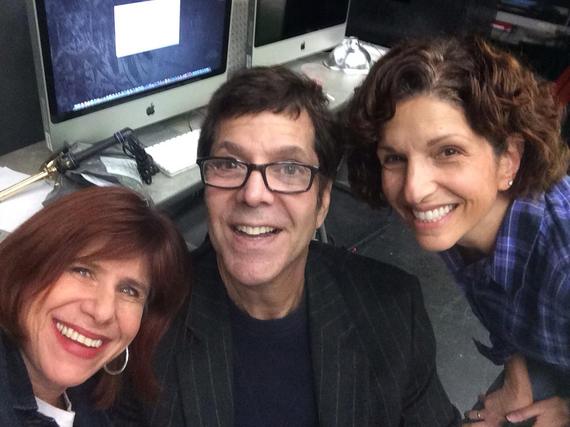 Steve Bluestein with friends Cathy Ladman and Judy Carter
Steve Bluestein is a playwright and comedian. I interviewed him last year and listened for two hours to stories about his miserable childhood. It was supposed to be for an interview for The Huffington Post but nothing I could come up with was anything but bleak. Weirdly Steve is not bleak. He's fierce, honest, wry and generous. Nothing, however, he told me that day was anything I could craft into a story that summed up the man, the comedian and the playwright. Recently on Facebook Steve told another story about his birthday a few years back. He'll probably sue me for reprinting it here. But I don't care. I don't have any money and it's too good not to share.
What I'm about to hand you is a post he actually made a day before his birthday. What kind of a guy curses himself with such memories? I probably shouldn't even be telling you this story. He should be telling it in his own column in the humor section of The Huffington Post and lots of other places including the Broadway, or at the very least, Off Broadway stage. Folks, Steve's got a million stories. They're all funny and they all come out of his twisted, sad, wild, amazing mind. So here goes. From Steve.
"Since my birthday is coming up. I thought I'd share the story of my 50th birthday.
I think, "I just need some quality time with Judy (Robertson), besides, it's my birthday. I've been a good boy. I've earned it" However, about a month before my birthday my mother calls to see what I'm doing on my "special day". "Oh I don't know. I think I'll go to see Judy". I can feel the ice forming on the phone. "Really... Judy, huh... well I think you should come to Florida and see me!" she orders. " Mom, it's my birthday and I want to go to Australia." Long pause... " OK, then you go to Australia. You do whatever you want, no matter who it hurts." I have never heard her like this. She has become possessed. It's like the Stephen King novel when the gypsy whispers the curse, "Thinner". And I get a chill down my spine... I know my trip has just been cursed. "Oh, don't be silly... what could she do, you ask". YOU don't know MY mother.
I have enough frequent miles to go to Sydney first class. But my friend, Dina, wants to go with me so I tell her. "I'll get you a ticket with my miles and then I'll contact one of my flight attendant friends and get a buddy pass (this was before 9/11) and I'll go with her." It's a long story, but I created a company that did plastic surgery for flight attendants and I had hundreds of flight attendants connections.
So the day we are leaving...I put the dogs in the kennel and I close up the house. Dina comes over and I take HER to the airport. She takes my luggage and she's off to the warm, sunny beaches of Sydney. My plane leaves in three hours so I drive home and my other friend Bennet Yellin comes to my house and takes me to the airport. I get to the gate. The flight is cancelled. I call Bennet; he comes back and gets me. But not to worry there is another flight leaving tomorrow "we'll get you on that one". The curse is starting.
Next day same routine...dogs to kennel... close up house...Bennet to airport. Bad weather. Curse. Now, Dina's in Sydney with MY luggage. My underwear is in Australia... I'm in LA. Next day... same routine... dogs, house, ride... over booked. Curse. This goes on for days until I realize that if I left now... I would arrive in Australia the day AFTER my birthday (because of the international dateline) and would miss my birthday all together. The curse thickens. I call Dina, who is staying with Judy... someone she does not know... and I tell her I'm not coming and to enjoy the vacation she's having with my frequent flier miles. She can't talk... she's going to the beach! FUCK!
I go home. I get the dogs OUT of the kennel. I fill the house with food. I open the shutters and have myself a good sit on the pity pot. (This is the time I watched "Schindler's List" to try to cheer up). While I'm watching the movie the phone rings. It's a flight attendant in San Francisco. She tells me the flight to Sydney is wide open and if I can get to SFX I can make it out tonight.
Adrenaline rush. The dogs go back to the kennel. I close up the house. I take the food and bring it next door. "Here take this. I beg you ... take me to the airport". They are eating dinner and get up from the table to take me.
We get to the airport; the line to SFX is out the door. They've had mechanical trouble and two planes did not take off; these are the people who didn't get on the earlier planes. I think. "How could all these people piss off my mother?" I'm desperate. I find a flight attendant... "Get me on that plane and I'll get you a free facelift." "Honey, you'll get on that plane if you have to go as luggage". The plane to Sydney leaves at 10 p.m., the plane from LAX lands at 8 p.m., we have plenty of time. Oh you'd think so, wouldn't you! We are held on the runway for one and a half hours. Curse. I land in SFX at 9:35. We land at gate 6, the flight to Sydney leaves from gate 96. So I run... run like I've never run before. I get to the gate three beats short of a heart attack... it's 9:58. There are 14 standbys. I'm 14. They take 13 standbys and close the door. The stress of the last three days hits me. I start crying like a five year old who just lost his Dancing Elmo.
The counter rep, a huge, doe eyed, Black woman sees me crying. She leans over the counter and puts her arms around me. I will never forget this act of love till the day I die. "I don't know if I should tell you this or not," she begins. "You just flew up from LA, didn't you?" I nod through my tears. "Well, honey, there was a misconnect in LA. 138 people missed the plane. If you had stayed in LA, you would have been on your way to Sydney." And I instantly know that god did not want me in Australia on this birthday. "Ok, I'll get back to LA." We have closure. I turned around and the United counter was dark, the American counter was dark, Continental, Delta...the entire airport was dark. No one was flying out of SFX that night. I was stuck in San Francisco. Curse...no wait...this is not a curse. San Fran is a great place to celebrate your birthday. I'll get a hotel room, I'll see a show, and I'll go out to dinner.
I start calling around for a hotel room but there appeared to be a gay horse breeder or a gay cow breeder or a gay goat breeder convention in town and there wasn't a single room available... not one. Not a Motel 6, not a Marriott, nothing! Now it's midnight and I'm wandering around SFX.... it's my birthday, no one cares. I am exhausted and find a corner to lie down on the floor and fall asleep... and that's how I spent my birthday...sleeping on the floor of San Francisco International Airport in my navy blue cashmere rain coat.
And as I'm drifting off I hear my mother's voice whisper in my ear....thinner ."
You can see why everyone loves him, right?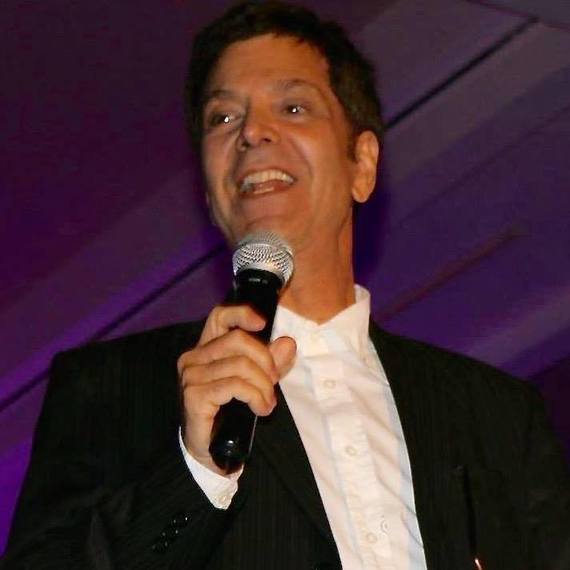 (This Huffington Post article is dedicated to the memory of Steve's mother Leona Grell who passed away on September 25th, 2015)
Calling all HuffPost superfans!
Sign up for membership to become a founding member and help shape HuffPost's next chapter