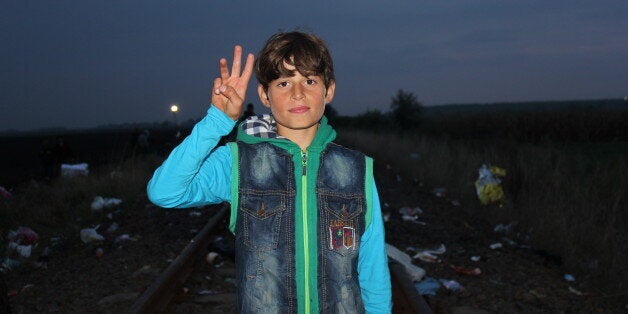 To those who don't want to open their arms to the people making their way, with dignity, into Europe: I ask you to at least, take a moment and look at Mahmud. He lifts his arm and, with his fingers, forms a "V" for victory; but the gesture does not conceal the weariness of a boy who has just fled a war.
Mahmud had just crossed the Serbian border and got to Röszke, after walking three kilometers along train tracks. I asked him if I could take his picture as he arrived. My heart was breaking, but I did my best to smile; I wanted to give him a sense of strength and encouragement. He still needs to survive the hell of crossing Hungary -- the nation run by Prime Minister Viktor Orbán, a xenophobic populist and a coward.
Mahmud no longer has the facial expressions of a child. Life has showed him its ugly face too soon. At just 10 years-old, Mahmud has been forced to flee his city -- Aleppo, the largest city in Syria -- which has been converted, since 2012, into a living hell, after its siege by bloodthirsty dictator Al-Assad.
More than four million Syrians, many of them children, have fled the country since the beginning of the war. Most of them have been received by three neighboring countries: Turkey, Lebanon and Jordan. Yes, you read that correctly: four million people, compared to the 160,000 that the European Commission has proposed we distribute throughout Europe.
But the EU interior ministers, who met in Brussels this Monday, have not yet come to an agreement. Representatives from Hungary, the Czech Republic, Slovakia and Romania -- countries that have both near-dictators and refugees in their histories -- have simply said no. And the rest, the vast majority, have decided not to approve the proposal without their support.
In Europe, we will not be able to restore the childhoods of the thousands of Mahmuds, but we can at least give them the opportunity to grow up in a land of peace and freedom. Is that too much to ask?
To the European leaders who have embarrassed us with their miserable haggling over refugees -- paralyzing Europe in the face of emergency -- I ask you to, at the very least, come meet Mahmud and the thousands of other Mahmuds that enter Europe through its border with Hungary. Hopefully, they might see for themselves how the refugees are received: with grime, dirt, and police brutality.
They could at least have the dignity to look them in the face.
This post first appeared on HuffPost Spain and was translated into English.
Popular in the Community