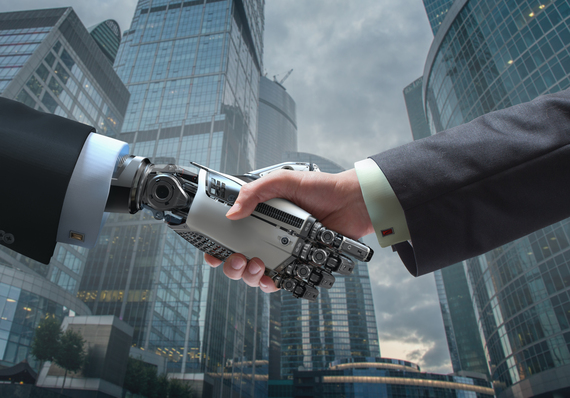 There was a time when you needed a substantial amount of wealth in order to make it worth hiring a wealth manager or even getting a wealth manager to pay attention to your puny investment funds. That picture is changing fast.
"If the old way [of investing] was pricey, stodgy and personality-driven, the new way is designed to be cheap, tech-centric and person-free," says reporter Samantha Sharf at Forbes. The new robo-driven investing was born out of the need to democratize investing by catering to the next generation with wealth... millennials. Studies show tomorrow's income earners have little faith in the current financial management industry. Their willingness to pay fees, as we've seen in their music and movie consumption, is minimal. Millennials also haven't exactly stockpiled large amounts of wealth yet. No sizable savings, coupled with no great trust in advisors, staggering student debt, and a distaste for large fees, leaves the wealth management market open for disruption.
Enter the Robo-Advisors
New startups like Betterment and Wealthfront began offering much lower cost financial services to those with much less money to invest. Because they use technology, algorithms and software to manage the transactions, the investment scene became affordable to a much wider group of people. Typically, robo-advisor managed funds cost less than half the fees of traditional brokerages and will work with much smaller investments and account balances.
We're also seeing more unique takes on the theme. For example, Acorns rounds up your purchases to the dollar and then invests your round-ups for you. Blooom focuses on investing your 401K insuring that you're getting maximum benefit. Expect even more specialized first-time-investor products to enter the fray.
Word travels fast and wide. Inexpensive, fast, responsive, and ever-watchful, robo-advisors are grabbing the attention of older, more entrenched investors and their older, more moneyed companies as well. Schwab launched its own robo-advisor, Intelligent Portfolios™, earlier this year and by all metrics it's done well. Morgan Stanley, Wells Fargo, and Bank of America are each reported to be planning automated services. As the heavy hitters enter the robo business they bring along their more established clientele. It's projected that robo-advisors will manage $2 trillion in assets in the U.S. by 2020.
One of the most recent examples of how a stalwart "2-martini lunch" firm meets the hood-ied Silicon Valley startup is the recent acquisition of FutureAdvisor, one of the best regarded startup robo-advisor firms, by BlackRock. I visited the newlyweds in a high rise mega-complex in New York City. Seated amongst the suits was Bo Lu, the unassuming but smart-as-heck CEO and co-founder of FutureAdvisor.
In a carefully crafted offering, FutureAdvisor will now be a part of Black Rock offerings to its brokers and advisors but will still offer its product to what Lu calls "the average American investor." Lu also shared that while robo advice platforms are often thought of as targeting millennials, FutureAdvisor's platform has just as many high-wealth clients who are interested in and already investing this way.
"Historically robo-advisors have been passive products," says Lu, who thinks that more interactive, responsive financial advice based on personal goals is quickly becoming the norm. Larger, more established firms that incorporate robo-advisors will be able to scale better and faster than a robo-advisor startup on its own he said, when asked about the acquisition.
Another large, well-entrenched global company, Syntel is deploying what they call SyntBots, an autonomic computing platform designed to automate IT for the banking and investment sectors amongst others. "Customers want things done in #digital time, not in #legacy time," tweets Nitin Rakesh, Syntel's CEO. Via a phone conversation, Rakesh shared that "we're just in the infancy of robo-advisors." Rakesh thinks robo-advisors will be managing more than just wealth as they move into areas like insurance, retail, and medicine; wealth management is just another manifestation. As AI and machine learning improve, the ability of a robo-advisor to learn and adapt to the consumer's personal needs will improve in step.
So these days when you're shopping for a robo-advisor you're going to choose from a trendy boutique startup, a new service from your existing investment firm, or some meetup-type hybrid. Each will have a set of factors to consider. What's the minimum required investment? (Betterment, for example, has no minimum). Are there humans with whom to consult should you need them? What's the transaction fee? How many products (and from whom) are offered? And that's just to name a few considerations. You can find a good chart that's always being updated at NerdWallet.
Regardless of your choice, it's pretty clear that human wealth managers are now battling computers and software for their client's business. Logical and unemotional, the robots are looking pretty good. The question remains, who's programming the robots and what's in it for them?
Robin Raskin is founder of Living in Digital Times (LIDT), a team of technophiles who bring together top experts and the latest innovations that intersect lifestyle and technology. LIDT produces conferences and expos at CES and throughout the year focusing on how technology enhances every aspect of our lives through the eyes of today's digital consumer.
Calling all HuffPost superfans!
Sign up for membership to become a founding member and help shape HuffPost's next chapter