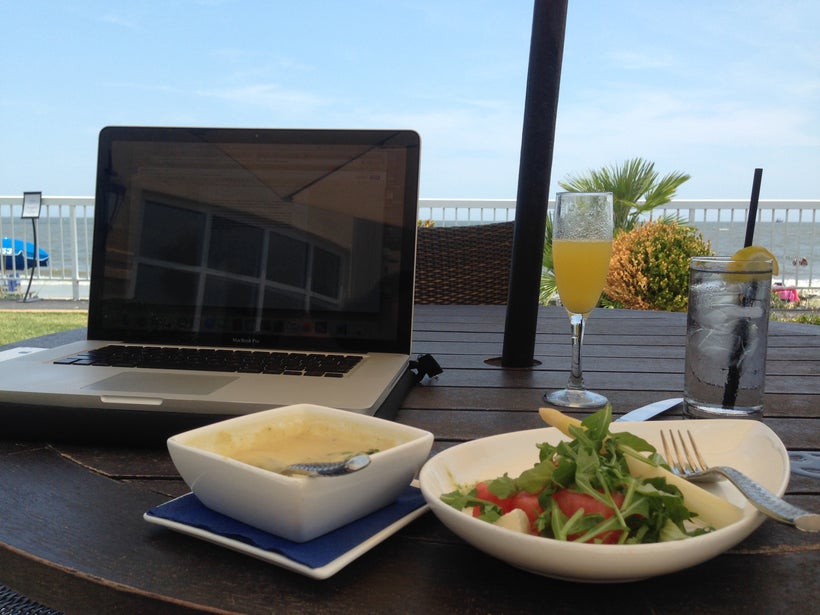 Sometimes inspiration flows easily and sometimes we have to relax and allow it to flow. When you are feeling like nothing is quite working and you are "trying" too much. The best thing to do is change direction, relax, do something that brings you to a different state of mind.
Prior to coaching, I spent many years doing graphic design, and I loved the creativity when it flowed. What I found was that when it wasn't flowing, or I wasn't feeling it, try as I might it was fruitless. It was like banging my head against the wall. So instead, if I took a few hours to do something fun, or take myself to lunch, the beach, even the movies. My mind loved the break and in my new direction of focus, it allowed the creativity and inspiration to flow in. So rather than spend hours trying too hard to create something when it isn't flowing. Allow yourself space instead, and it will just flow in.
Remember that your greatest inspiration comes when you are in alignment and flow. So act from that place. What I mean, is take the cues. If you are sitting at your desk and writing, and it feels flat (me 2 hours ago)...ask yourself what you'd rather be doing. I wanted to be sitting on the ocean with a mimosa. As you can see from the above photo, that's exactly what I did. Minutes after sitting down, the inspiration flowed in. As I'm writing this right now I can feel how much more in alignment and flow I am when I just allowed myself to DO what I really wanted.
That brings me to what most of us do...deprive ourselves of what we really want. Now I could have easily told myself this morning to stay at my desk until this post was finished and THEN I could go do something fun. The reality is, I would have sat there frustrated until I wrote a mediocre post and then been in a crap mood for the rest of the day "trying" to have fun.  See the difference, I certainly hope so. I am so super happy right now, and it flows through me, oh, and the most important part...easily. When you put your desires first, your life is magically easy.  
There is a myth, or let's just call it what it is, a lie, that being selfless is the most rewarding way to BE. If you've ever had a day at the spa, or even a massage, you know, that after a little time for yourself you can give SO much more. So why spend your life giving and slowly dying inside, when you could live the life you truly want to live, deserve to live, AND give more to all of those you love, and choose to give to. I have clients that feel invisible to their husbands. They feel unappreciated, and unnoticed really. What I lovingly say to them is...how would someone else know you want to be appreciated if you don't appreciate yourself.
I want you to really read this, hear this, and take it in.
How would someone else KNOW you want to be appreciated if YOU don't appreciate yourself.
I have head all of the excuses, so if that is what you are doing right now...just stop. There is NO reason you can't appreciate and give to yourself. In fact if you don't, things will not change. Others won't shower you out of the blue with daily appreciation if you don't take ANY time to do it for yourself. Take yourself to lunch, buy yourself flowers, drink champagne on a Tuesday. Then watch what happens. Yes, you can thank me next week when your husband, boyfriend, roommate or girlfriend shows up with flowers and champagne.  If you think you don't have the money, time, or energy. Just go take a long bath with the door locked, music on, and bubbles to the tippy top. Go sit in your back yard or front porch with a nice chilled glass of wine. Giving, as I'm sure your know, doesn't take money, it takes desire. If you desire to give to yourself, it will be or become easy.
Doesn't that make sense? I certainly hope so….and you're welcome!
So next time you are internally cussing out those around you for not taking the time to give you what you really want. Forgive them, they just don't know. Why? Because you don't show them that it is important to you. If you don't take time to give yourself what you desire, no one will know that you value that...that you want that.
TaraBella is a Life Coach, writer, expressive arts therapist and mentor.  Since 2007 she has been on a mission to be a shining light and inspiration daily. With a focus on self-love and authenticity, her passion is to help women discover their own inner passion and live truly empowered and authentic lives!
If you'd like to work with me, or you have a question, or just want to say hello, please come over to my site and email me, or PM me from my Facebook page.
Calling all HuffPost superfans!
Sign up for membership to become a founding member and help shape HuffPost's next chapter
This post was published on the now-closed HuffPost Contributor platform. Contributors control their own work and posted freely to our site. If you need to flag this entry as abusive,
send us an email
.