I recently watched a lecture by Gabrielle Bernstein called, "Meaning is the New Money." It was a fabulous panel discussion about how to make money doing good in the world. While she talked about many inspiring and important elements, the thing that stood out to me the most was this:
The outside world will reflect your inner belief.
Meaning... if you have doubts about yourself, the world will seem to doubt you too. If you lack confidence and belief in your unique beauty, men will fail to see it too. If you believe that you're not worthy, not "cool enough" or that people won't like you, they will show you that you're right.

Everyone we meet is simply a mirror, reflecting our beliefs and perceptions back to us.
This is an incredibly powerful truth.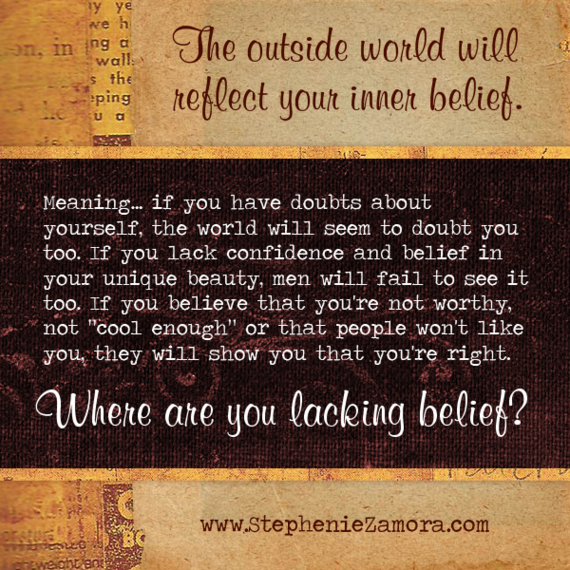 So what do you do when the world seems to be working hard to bring you down, show you you're not good enough and make you feel like crap?
Take responsibility and look inward.
Gabby provided some ah-mazing questions to ask yourself in her lecture. When you find yourself in situations with naysayers or when you feel like you're receiving a push back from the universe, ask yourself one of the following:
What is it about me that's not in full faith?
How am I not supporting myself?
Where are you doubting yourself or lacking belief in your beauty, worthiness, or abilities? Where are you saying to the world that you're not ready, not prepared or not educated/experienced enough?
Until you start believing in yourself, you'll continue to receive a reflection that's unsupportive, resistant, and negative.
Other people's actions and reactions to us can be a powerful indicator of where you're lacking faith in yourself. Instead of getting upset and angry with these people, take the time to ask yourself how you've invited this response in to your life.
Think of a recent situation where you experienced a naysayer, negative attitude, lack of support or push back. Ask yourself one of the above questions and take time to really explore the possibilities. Don't get angry at the person, get honest. Where are you lacking belief in yourself?
Stephenie Zamora is the founder of www.stepheniezamora.com, a full-service, life-purpose development, design and branding boutique. Here she merges the worlds of personal development and branding to help young women build passion-based businesses. Click here to download her free guide, "The Unexpected Trick to Transforming Your Life With ONE Single Question."
Related