That loud chorus of 'ayes" you just heard came from the leaders of six of the most powerful organizations in what used to be known as the Film Capital of the World. Yes, Hollywood is now aggressively dealing with the fact that Hollywood (the birthplace and generic name for all entertainment on film) may now be Hollywood in name only. But many of the big-player power brokers are coming to the rescue. How is this for a front line that can get you to the Super Bowl? .... SAG-AFTRA, the California Film Commission, FilmL.A., Teamsters Local 399, the Film Musicians Secondary Markets Fund and the Producers Guild of America. In movie town and in movie terms, they carry major weight, and they have now put it squarely behind one of the most welcomed efforts to BRING HOLLYWOOD HOME TO HOLLYWOOD.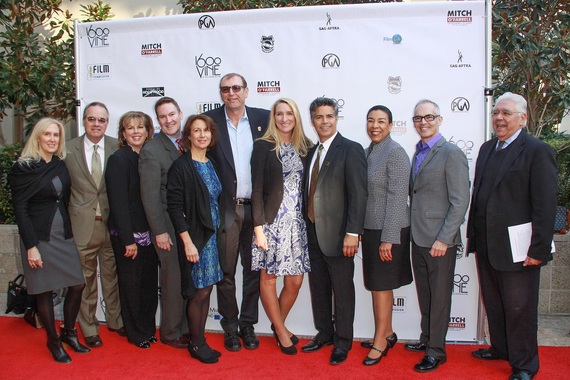 Photo courtesy of Riley Jamison / 1600 VINE

Susan Sprung PGA, Paul Audley FilmL.A., Ilyanne Morden Kichaven SAG-AFTRA Los Angeles, Kevin James City of Los Angeles, Amy Lemisch California Film Commission, Steve Dayan Teamsters Local 399, Jane Austin SAG-AFTRA Los Angeles, Esai Morales actor/ SAG-AFTRA Los Angeles, Kim Roberts Hedgpeth Film Musicians Secondary Markets Fund, Councilman Mitch O'Farrell, Senator Art Torres of Klein Financial

It is called the MADE IN HOLLYWOOD HONORS, and it just signed its bright light with a whoopla on the Heart of Hollywood Terrace of that neighborhood's most glittering luxury apartment complex, 1600 VINE, a MIHH sponsor which stands on the former site of the iconic Hollywood Brown Derby. The event was the passing out of the 5th Annual MIHH kudos to the producers of Disney's "Inside Out," and Paramount's 'Anomalisa," the two current Oscar-nominated features which were made in the town whose name describes the glamour of the great films and great stars who helped shape the character of our entire country not to mention film art.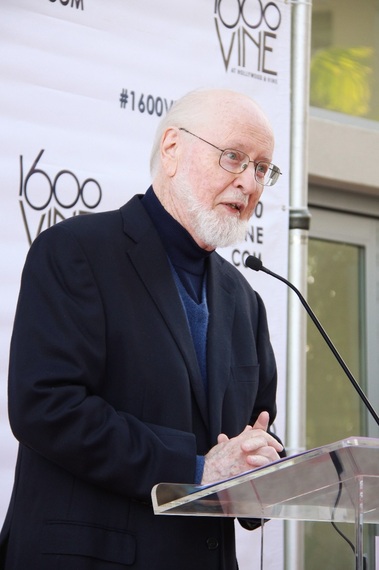 Photo courtesy of Riley Jamison / 1600 VINE
Legendary Composer John Williams
Adding significance and even a glow of royalty to the occasion was the introduction of two new categories, the MIHH Diversity Leadership Award which went to "Straight Outta Compton" for "encouraging more inclusive employment practices and showcase of the diversity of California-based productions." And John Williams. Who could be more royal to the film art than legendary composer John Williams who has earned more Academy Awards than anyone other than Walt Disney. Maestro Williams very duly became the first recipient of the MIHH Lifetime Contribution to Hollywood Tribute.
The Los Angeles City Council, with the LA mayor's Film and Television department now joining in, came up with the MIHH incentive because two of its top leaders, former Councilman Tom LaBonge and still-serving Councilman Mitch O'Farrell, are madly in love with the Hollywood of old, dedicated to making the sound stages and streets of Hollywood (and all of its filming facilities and locations throughout California) hum once again with the pitter-patter of little superstar feet and the cries of "action" and "that's a print." They were tired of great hordes of production rushing off to far-off Hollywood-wannabe cities and countries who hold producers in trance with tax incentives. The California Film Commission (one of MIHH's enthusiastic backers) has now achieved legislation in which the State of California and the Hollywood state-of-mind can meet and beat those Euros and Canadian dollars and Icelandic whatever-they're-calleds.
But production wanderlust has its own inertia. Once you've had a chance to spend four months on the Riviera and get paid for it, you sort of forget the words to "There's No Place Like Home" or "Hooray For Hollywood," much less "America The Beautiful." No one is incorruptible. They even forget the craftsmen in Hollywood who built the town and were at the base of the industry's success.
Getting Hollywood back to Hollywood is a big job, but the Made In Hollywood Honors now has the organizational players who can get that job done. The shame is that in the five years of the MIHH acknowledgements, there were only a handful of locally-made features to honor each year. On the other hand, in that brief period such MIHH films as "The Artist," "Argo," "Frozen" and "Big Hero 6" have gone on to win Academy Awards in their categories, and films like "American Sniper," "Whiplash," "The Croods," "Her" and "How To Train Your Dragon 2" collected MIHHs for showing that Hollywood still knows how to get it done best.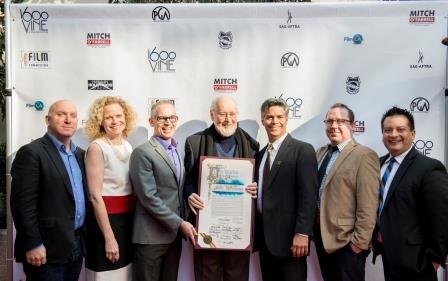 And this years winners are: Legendary composer John Williams, joins Los Angeles City Councilman Mitch O'Farrell (to his right) and event host Esai Morales (to his left) with fellow honorees (from left to right) Straight Outta Compton producer Scott Bernstein, Inside Out screenwriter Meg LeFauve, and Anomalisa producers Joe Russo and James Fino
Calling all HuffPost superfans!
Sign up for membership to become a founding member and help shape HuffPost's next chapter