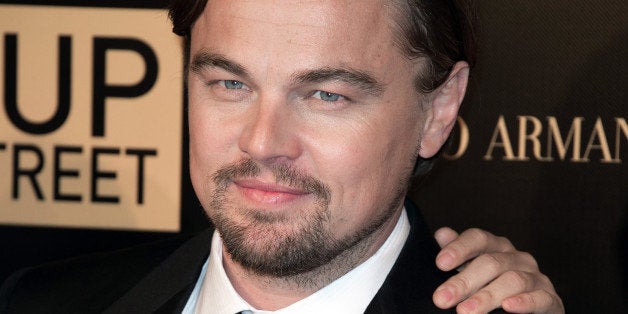 Did you get a weird sense of déjà vu while Oscar-cramming all the movies before Sunday's big awards show? It's not just because you can chart your dating style based on the Oscar-nominated movies (as we explained earlier this week) -- it's because this year's crop of best acting nominees in the lead and supporting roles somehow manage to represent the archetypes of every person you've ever dated. To wit...
1. The One You Date for Their "Potential": Christian Bale, American Hustle
On paper, these people are all wrong for you: Maybe they're already married, for example, or unemployed, or a con artist. But there's something charming about them -- maybe it's their incongruous body confidence, or their tenderness toward stray animals or children -- that takes you off-guard and convinces you that they have the ability to be a great person. While you hang around waiting for this person to change, you find yourself forgiving everything from premature hair loss to infidelity.
2. The Bad Boy/Unavailable Woman: Leonard DiCaprio, The Wolf of Wall Street
It's lust at first type with these partners: You find it hard to believe that someone so hot/charming/rich/sought-after would be interested in little old you. As soon as you have sex for the first time -- which may or may not be on the first date but, let's be honest here, probably is -- this person becomes a little more distant, a little harder to reach, a little less likely to call, a little more likely to show up drunk or high. You hang in there - often through bouts of infidelity, emotional abuse and unreciprocated oral sex -- because you want to believe that you are the one to make this bad boy/unavailable woman change their playa ways. See also: Michael Fassbender, 12 Years a Slave.
3. The High School Nerd Who Grew Up Hot: Sandra Bullock, Gravity
If only you'd noticed this person back in high school when there was zero competition and you had no date for prom! If only you'd joined chess club! If only you'd asked for their help on your college application essay! Instead, you track this person down on Facebook many years later and try to pretend that you're more than just a superficial asshole who finds it hard to pay attention to what ugly people are saying. If this is true -- hey, maybe you grew up to be a nice person -- then this could be The One.
4. The One You Underestimate Because They're Less Attractive Than You: Jonah Hill, The Wolf of Wall Street
This is the person you treat as Plan B -- someone who will always pick up the phone when you call (or when you booty call), who will always be your plus-one when you're invited to your cousin's wedding, who will always boost your ego and who will probably be willing to marry you if you don't find someone better. You treat them like a back-up plan because they're less attractive than you, or not as smart, or not as successful, or not as charming. And then they up and surprise you with a makeover/I.P.O./super-hot partner, and you're left in the dust.
5. The One You Overestimate Because of Their Accent: Amy Adams, American Hustle
We're talking to you, Juan Pablo Bachelor contestants! Before you take the relationship any further, ask yourself, would you still sleep with/date this person if they sounded like the Nanny/Pee-wee Herman? A sultry accent (even a fake one) can certainly make up for a nose like Gerard Depardieu, or a goiter, but it can't make up for Tea Party-politics or an inability to ask an intelligent question.
6. The Hot Mess: Meryl Streep, August: Osage County
When you first meet, you're incredibly turned on by this person's brand of crazy, be it addiction or chronic narcissism or rage or stalking. You have wild, unpredictable sex -- in public, in the middle of the night, in the middle of the day. You have phone sex and kinky sex and group sex and acrobatic sex. Until, eventually, the sex starts to slow down -- to, say, just once a day -- and you realize that the craziness outside the bedroom isn't worth the craziness inside it. See also: Jennifer Lawrence, American Hustle; Barkhad Abdi, Captain Phillips.
7. The Surprise Hit: Matthew McConaughey, Dallas Buyers Club
This person woos you with persistence or proximity until you finally give in and go on a date. Or maybe you drunkenly hook up after happy hour drinks and then realize you actually kind of like them. Or a mediocre date ends in mind-blowing sex and suddenly the next date is awesome. This person is not your type, and they don't check any of your boxes, but somehow, it works. When friends found out you dated this person, they'll be all like, "You dated them?" and you'll smile slyly and say, "You have no idea."
8. The Secretly Needy One: Cate Blanchett, Blue Jasmine
When you first start dating, this person is cool as a summer's breeze. They're confident, carefree, independent and possibly even independently wealthy. But the deeper into the relationship you get, the more you realize that this person is an insecure black hole of neediness (and possibly even broke). Even worse, they resent their own neediness, which leads them to strike out at the people they need the most. You just better hope they don't threaten social media embarrassment or worse when you dump them.
9. The Intellectual Connection: Judi Dench, Philomena
You make each other laugh, you make each other think, you make each other want to be better people. Unfortunately, however, this person just doesn't inspire you in the sack. Everyone thinks you're perfect for each other -- especially you parents -- and you probably are... if only you could get past that sex thing. Hey, maybe you'll look each other up again on Facebook when you're 80 and past caring about sex.
10. The One with Big Dreams: Bruce Dern, Nebraska
They tell you they want to be president (maybe of the local knitting club, you think). They tell you they want to make movies (but they never do). They talk about how awesome it would be to fly to Paris on a whim (you never go). They show you their poetry and ask if you think it's good enough for The New Yorker (it never is). They have big hopes and dreams -- for life, for love, for your relationship. But somehow, all you get out of the relationship is a beer belly and a commemorative baseball hat (and a sense that the relationship lasted a lot longer than it actually did).
11. The Delicate Flower: Jared Leto, Dallas Buyers Club
If only this person would realize what a catch they are! They're sweet, smart and fun to be around... until the sensitivity kicks in. A night in bed frequently ends in hugs and tears and warm cups of tea, while you rub their back and insist they're good enough for you. Once in a blue moon, these hugs and teas and cups of tea are enough for this person to blossom into a ten-feet-tall sunflower, and you live happily ever after. More often, though, you end up feeling more like a therapist than a lover.
12. The Right Person, Wrong Time: Lupita Nyong'o, 12 Years a Slave
Maybe you were too young, or too stupid, or too ambitious, or too into blondes at the time, or circumstances prevented you from being together. Life's like that sometimes. Fortunately for you, there's Facebook, opening the possibility for a second chance.
13. The One You Grew Apart From: Julia Roberts, August: Osage County
It was all so right, until it went so wrong. You were the envy of all your couple friends, and you used to look down your noses at couples who needed marriage therapy or spa weekends away from each other or forced date nights. But maybe if you'd allowed yourself a little marriage therapy or a spa weekend away from each other, or a cornball "date night," you'd still be together. Or maybe you still would have slept with your executive assistant/tennis coach, who knows?
14. The One with the Bad Perm: Bradley Cooper, American Hustle
Everything about this relationship is perfect, except for their bad perm. Or maybe it's their refusal to pluck their eyebrows. Or their inattention to pubic grooming. Or their preference for pleated khakis over flat-front pants. Or their goatee. If you can suck it up and move on from this trivial detail, you may well live happily ever after. But, more likely, you'll obsess over this one thing until it snowballs into a serious relationship deal-breaker. Too bad.
Popular in the Community