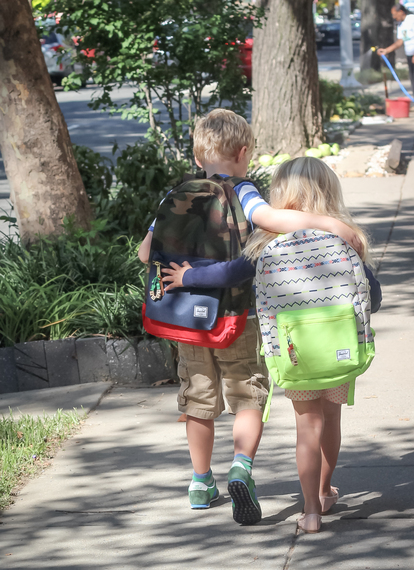 Although our kids have been going to some form of school since they were two-and-a-half years old, most of the "issues" we've all had with school to this point have really been about their relationships with adults -- getting them to comfortably separate from us, adjusting to and trusting their teachers, learning to follow new rules, etc. They are just now getting to the age where their relationships with other kids at school are starting to define important aspects of their lives.
The significant role that these school years have on shaping personalities is something I've been thinking about as our kids get older, but really came to a head when the kids and I listened to an interview of one of our favorite kids' book authors recently. We are all big fans of Andrew Clements, who is well known for writing "school stories" such as Frindle and Lunch Money. In explaining the reason that he writes those kinds of stories, he said that it was because everyone's life is a school story. Everyone has their own stories from school and their own ideas on how these interactions helped shape them as a person. That stuck in my head and when I also ran across a blog post written by Emily McDowell (a favorite illustrator and designer of mine) discussing how school interactions contribute to "limiting beliefs" we have about ourselves, I really started to think about how to approach the concept with my own kids.
School pickup used to center on our kids telling me what they ate for lunch, how much outdoor recess time they got, or something new they learned that day. The kids now pop in the car eager to tell me about all kinds of new things they navigated with kids at school that day. Who excluded who from playing, who made fun of their outfit or their hair, who caused a disruption at recess. To be sure, they go to a wonderful school that is all over all of these things. Moreover, I'm no fool -- I'm sure my children are not always on the "right side" of all instances they raise.
The easy response is to simply proscribe "behavior." To tell them simply to be kind and nice and surround themselves with kids who act similarly. And I do do that. But I've also been trying to encourage them to continue talking to me about things by sharing my own "school stories" and how those affected me (and others -- I wasn't always on the right side of behavior either).
It's a delicate balance -- I try not to overshare or project too much and introduce mature concepts they haven't encountered themselves yet. But I'm hoping that by taking this approach with our kids, they develop their own sense of how to work through these interactions by recognizing their own responsibility for other people. That maybe a few days of teasing another kid isn't just "left on the playground" for that person. No one ever explained it to me in that way when I was younger, but I can promise you that has been my own personal experience.
Perhaps our kids are too young to understand any of this. Some things you just have to learn for yourself. And there is value to developing certain parts of our personality in spite of and in reaction to school experiences. But if so many of these interactions that can seem trivial and just part of "growing up" actually have a lasting effect on people, I want our kids to try and and use their school stories as positive experiences for others and themselves.
Related