In oh-my-goodness-we-have-to-have-it news, Brooklyn pasta shop Sfoglini has invented Everything Bagel Pasta. You read that correctly, these fusilli are infused with the flavor of your morning everything bagel: poppy seeds, sesame seeds, garlic, onion and salt.
We have so many ideas for how to use this pasta, but so far, we think New York Mouth's suggestion is absolutely the best: "Serve them just like a bagel, with a sauce made from cream cheese and whole milk, bits of lox, thinly sliced red onion, chives and chopped tomatoes -– the ultimate New York meets Italy experience. Fuggedabowdit!"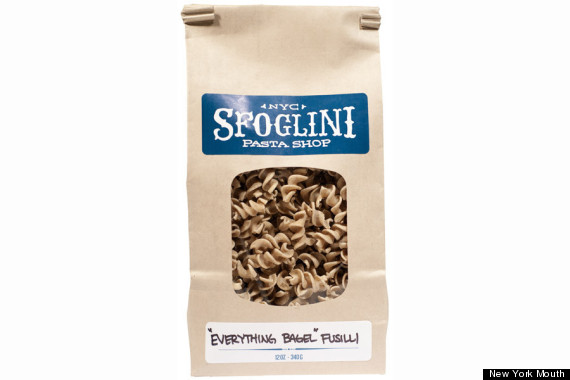 Our minds are absolutely reeling with flavor combinations. Anything that would taste good on a bagel will taste good with this pasta. Think capers and a cheesy sauce. Creme fraiche and caviar! Ham and cheese with mustard sauce! Sorry, we'll calm down.
It appears that Everything Bagel Pasta's popularity has grown so exponentially that it is currently out of stock. When it returns, you'll be able to get it from New York Mouth for $8 a bag. How will you serve it?
Update: Great news! This pasta is back in stock at New York Mouth! Go get some!