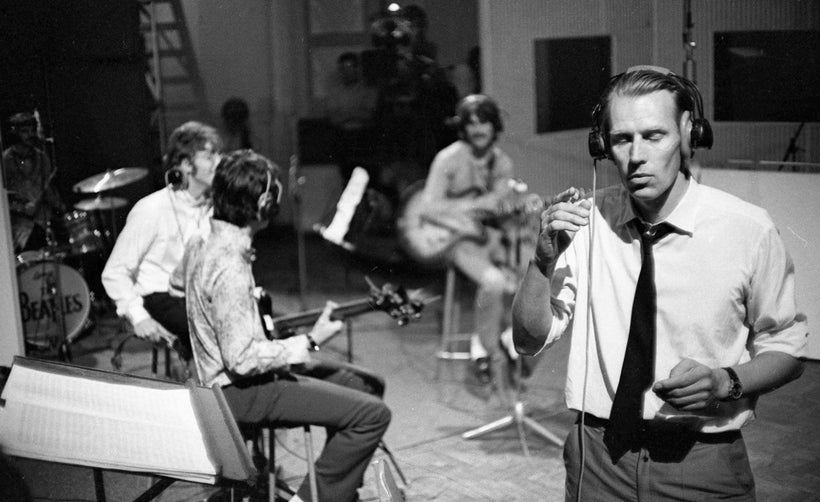 The Beatles' "All You Need Is Love" single saw its American release 50 years ago this week on July 17, 1967. It was an incredible moment for the bandmates and for the world, topping the charts across the globe and serving as the unofficial anthem for the Summer of Love.
Written primarily by John Lennon, "All You Need Is Love" was composed specifically as the Beatles' message to humankind for Our World, which was broadcast on June 25, 1967, to a worldwide television audience of some 400 million people in 26 countries. As Paul McCartney observed during the summer of 1967, "We had been told we'd be seen recording it by the whole world at the same time. So we had one message for the world—Love. We need more love in the world."
But in the days before the song emerged as the de facto theme for the Flower Power movement, "All You Need Is Love" was first given life in the recording studio under the supervision of Beatles producer George Martin. The band was fresh off of the groundbreaking release of Sgt. Pepper's Lonely Hearts Club Band, which had already sold some 2.5 million copies in just under a fortnight. In the wake of completing their landmark album, however, the group had been creatively amok, uncharacteristically plodding and disorganized in the studio. As Mark Lewisohn shrewdly observes, "The single-minded channeling of their great talent so evident on Sgt. Pepper did seem, for the moment at least, to have disappeared."
For Martin, the challenge of knocking the bandmates into shape for the live international telecast was fraught with challenges, given their professional disarray, and he was determined to leave nothing to chance. On June 14th, he assembled the band at London's Olympic Sound Studio, where they recorded a 10-minute backing track for the upcoming global telecast.
A few days later, they shortened the backing track to six minutes at an Abbey Road Studios session. During the initial June 14 session, the group recorded 33 takes of "All You Need Is Love," with Lennon on harpsichord; McCartney playing a double bass, complete with bow; Ringo Starr on his Ludwigs; and George Harrison plucking a violin, guitar-like, with mixed results. A few days later, Martin added a barrelhouse piano, while Lennon strummed a banjo, his lost mother Julia's instrument of choice.
But as it turned out, Martin had an even grander scheme in mind. Given free rein to compose an orchestral score, the producer imagined an elaborate sound collage that begins with an intentionally stilted version of "La Marseillaise," in a barefaced attempt to conjure up stereotypical notions of the French as the world's greatest lovers, and concludes with a pastiche of musical quotations. In addition to the French national anthem, Martin concludes the song with an instrumental montage that features "Greensleeves"—a rather appropriate choice, given the 16th-century tune's despairing phrases about a heart that remains forever in captivity—as well as a fragment from Glenn Miller's "In the Mood," which subsequently resulted in an out-of-court settlement for copyright infringement.
Martin also adorned the pastiche with a recurring phrase from Bach's Two-Part Invention in F Major, featuring the ever-faithful David Mason in a trumpet duet with Stanley Woods. In itself, the Our World broadcast was the high-water mark for the Beatles' much-vaunted dreams for universal hope and tranquility. Fearful that the bandmates would be unable to play to their full potential on the momentous occasion of the simulcast, Martin arranged for the group to accompany their prerecorded track, with a gum-chewing Lennon on lead vocals, McCartney on his Rickenbacker, Harrison playing his Fender on a four-bar solo, and Starr behind the drums.
McCartney and Harrison's guitars were decked out in newly painted psychedelia for the occasion. Their clothes were even more flamboyant, with McCartney dressed in a white sport coat and a garish, hand-colored shirt; Lennon paradoxically wearing a conventional pin-striped suit; Harrison adorned in an orange paisley jacket; and Starr enveloped by a heavy, beaded getup consisting of suede, satin, and pseudo-fur.
Martin's postproduction efforts for the upcoming single's release—which featured "Baby, You're a Rich Man" as its B-side—included the addition of Starr's introductory snare roll and some subtle tidying up of Lennon's vocals. Rather fittingly, "All You Need Is Love" witnessed the Beatles bidding farewell, in a manner of speaking, to their early years, as well as to the naïve, idealistic visions of love that brought them world fame in the first place.
Even today, 50 years later, the majesty of Martin's vision is as buoyant and inspirational as ever, providing the perfect coda for the Beatles' Utopian dream. As the song begins its protracted fade-out, Martin's arrangement of Bach's Two-Part Invention kicks into gear, with "Greensleeves" and "In the Mood" swirling joyfully in the background.
Meanwhile, Lennon delivers a nonsequitur reference to "Yesterday," followed closely on the heels by his buoyant duet with McCartney, as they provide a brief refrain from "She Loves You." As Alan W. Pollack astutely remarks, "To my ears, their quote from 'She Loves You' goes beyond the merely clever literary association of the lyrics to become the more profound musical equivalent of the wax models [of the Beatlemania-era bandmates] on the cover of Sgt. Pepper."
Ken Womack is an internationally renowned Beatles authority regarding the band's enduring artistic influence. His latest book, Maximum Volume: The Life of Beatles Producer George Martin (The Early Years: 1926-1966), is forthcoming in 2017. His previous Beatles-related books include Long and Winding Roads: The Evolving Artistry of the Beatles and The Beatles Encyclopedia: Everything Fab Four. You can learn more about Ken's work at kennethwomack.com.
REAL LIFE. REAL NEWS. REAL VOICES.
Help us tell more of the stories that matter from voices that too often remain unheard.
This post was published on the now-closed HuffPost Contributor platform. Contributors control their own work and posted freely to our site. If you need to flag this entry as abusive,
send us an email
.