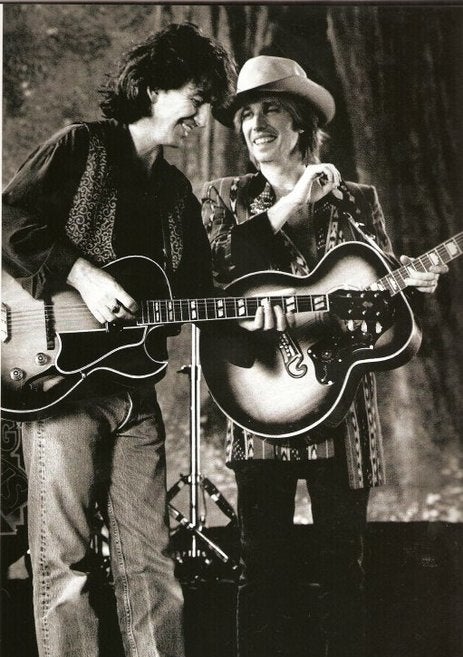 Today, I am going to tell you something you probably already knew: Tom Petty adored the Beatles. He loved them, yeah, yeah, yeah. Just like us, he enjoyed their music in capital letters, writ large—and instantly, also like most of us, from the very first moment he heard their arresting, awe-inspiring sound.
Petty was a 13-year-old Gainesville, Florida, native when he witnessed the Beatles' legendary performance on The Ed Sullivan Show on February 9, 1964. As he later recalled, "This was the great moment in my life, really, that changed everything. I had been a fan up to that point. But this was the thing that made me want to play music."
But it was more than mere inspiration, of course. The Beatles changed the way that Petty saw the world. As he watched the Beatles' set that evening with some 73 million other viewers, he was on the beginning of a journey that, in his own words, would "have a great profound effect on my life, and I thank them for that. I still think the Beatles [made] the best music ever, and I'm sure I'll go to my grave thinking the same thing."
Like the rest of us, Tom was a music fan with all the sincerity and reverence that the term implies. And when he developed a friendship with George Harrison, it was a genuine connection inspired by a shared passion for their craft. Like George, Petty was just as happy falling into the ranks of his bandmates as he was when he took the spotlight.
In 2011, Petty described Harrison's sense of spirituality as "the greatest gift he gave me. He gave me a way of understanding a higher power without it being stupid, or having tons of rules and books to read. But the best thing I can say to people that are curious about that is George was probably everything that you thought he was, and then some more. Very funny man; he could just kill me with his humor."
When Petty recorded his breakthrough solo effort Full Moon Fever, there was George, strumming his acoustic guitar and singing backing vocals on Petty's "I Won't Back Down," the song that emerged as his anthem of resilience for a new generation of music fans. And then there were the Traveling Wilburys. In the late 1980s, when Petty and Harrison formed the supergroup, along with Bob Dylan, Jeff Lynne, and Roy Orbison, their shared sense of humor was at the heart of the new band's origins.
The idea for the Traveling Wilburys emerged when Harrison convened Dylan, Lynne, and Orbison to record a B-side for his "This Is Love" single. The impromptu gathering morphed into a jam session at Dylan's place that produced the Wilburys' signature tune, "Handle with Care." Petty hadn't been originally slated to be a part of the session. Before the jam session ensued, Harrison realized that he had left his guitar back at Petty's house. When he stopped by to pick it up, he invited his friend along for the ride, and the rest was history.
The Wilburys' first and most beloved song came into being after George spotted a beat-up old box in Dylan's garage that sported the words "handle with care." In short order, the bandmates knocked the tune into shape, even going so far as to feature a pair of Beatlesque middle-eights.
With their sense of open-ended humanity and thirst for community, the lyrics in the bridge might as well have been the fount of a Beatles song—or, just as likely, a Tom Petty composition: "I'm so tired of being lonely / I still have some love to give / Won't you show me that you really care?"
For Petty, the notion of toiling alongside your friends for the greater good was an essential aspect of our humanness. Take the 2004 Rock and Roll Hall of Fame induction ceremony, for example. There was Petty yet again, whooping it up with Harrison's son Dhani as Prince performed his epic solo for "While My Guitar Gently Weeps." In a moment of deep retrospection, Petty admitted that he missed Harrison "terribly," but there he was, honoring his memory in fine style, just as he had done at the Concert for George, when Petty delivered a heartrending version of "I Need You."
But even still, there may be no more compelling evidence of Petty's abiding esteem for the Beatles than "Free Fallin'," the opening track on Full Moon Fever. In their beauty and simplicity, the lyrics remind us of our vital need to experience life outside of its inherent complexities, to feel things deeply and, whenever possible, with a sense of sweet release: "I wanna glide down over Mulholland / I wanna write her name in the sky / I'm gonna free fall out into nothin' / Gonna leave this world for awhile."
Ken Womack is an internationally renowned Beatles authority regarding the band's enduring artistic influence. He is the author of Maximum Volume: The Life of Beatles Producer George Martin (The Early Years: 1926-1966). The second volume in the series, entitled Sound Pictures: The Life of Beatles Producer George Martin (The Later Years, 1966-2016), is forthcoming in 2018. His previous Beatles-related books include Long and Winding Roads: The Evolving Artistry of the Beatles and The Beatles Encyclopedia: Everything Fab Four. You can learn more about Ken's work at kennethwomack.com.
Popular in the Community