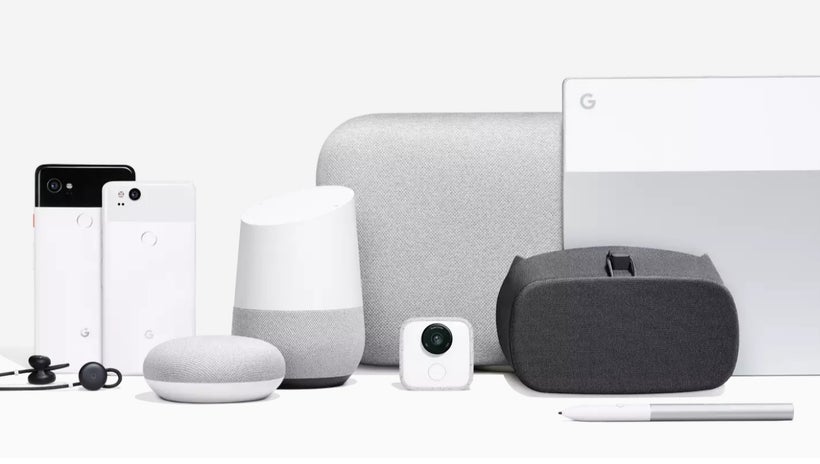 Google had a massive day today and introduced a treasure chest of new products including some very unexpected and innovative products. In true Google fashion, the overall emphasis was not on the hardware, it was on the software and machine learning abilities that Google thinks will bring major innovations in the future. That said, today's event had no shortage of hardware announcements so let's take a look at everything Google announced.
The Google Home Mini is essentially an Amazon Alexa Dot competitor with a small and likely not great sounding speaker, chromecast built in, and a microphone system for launching all of Google Home's commands. Essentially it is a Google Home with a smaller speaker. But with Google Chromcast and Chromecast audio built in, the Home Mini will drive sound to another more powerful speaker system with a simple voice command. Priced at $49 this is a great way of bringing Google Home to more rooms in your home.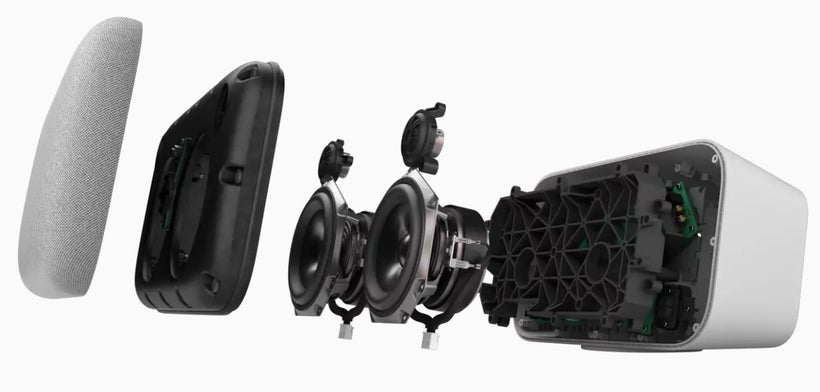 If Home Mini is the focus of the home over the speaker, the larger Home Max brings the focus to the speaker itself. With dual 4.5" woofers, smart sound that configures the audio based on the room it's in, and AUX inputs, the Google Home Max is basically an amazing speaker system with Google Home built in. Priced at $399 each, you might want to go ears on with this before picking it up.
It's not Google's first Chromebook and it likely will not be their last but just like before, Google's Chromebook is largely about the hardware. While the 1.2 GHZ Intel i5 processor might not look like much, Chrome OS allows these systems to run with lightning speed without killer specs. But Google has integrated a 360 design to allow folding, a 12.3" high resolution touch screen, up to 512GB of SSD storage, and a stunning aluminum body with Gorilla glass that's just 10mm thick. If you are looking for a small & light convertible laptop, the Pixelbook has you covered. Unfortunately a starting price of $999 prices the Chromebook into full featured laptop territory so all that thinness is going to cost you quite a bit.
This surprise announcement is a small cube camera with a clip that is meant to keep YOU at the center of your video clips. Clip it to just about anything stand it up on it's own and let the Clip's built in machine learning analyze the scene to and take video whenever it thinks something awesome is happening. With a 7 second limit at just 15fps, clips will likely look more like HQ GIFs than full fledged motion video. It also lacks a microphone and images will be pulled from the 7 second clips. Only the recordings you want to keep are saved to your device and sharing your videos will be up to you, but once the unit is powered on, the start/stop recording functionality will be up to the Google Clip. An interesting perspective for sure.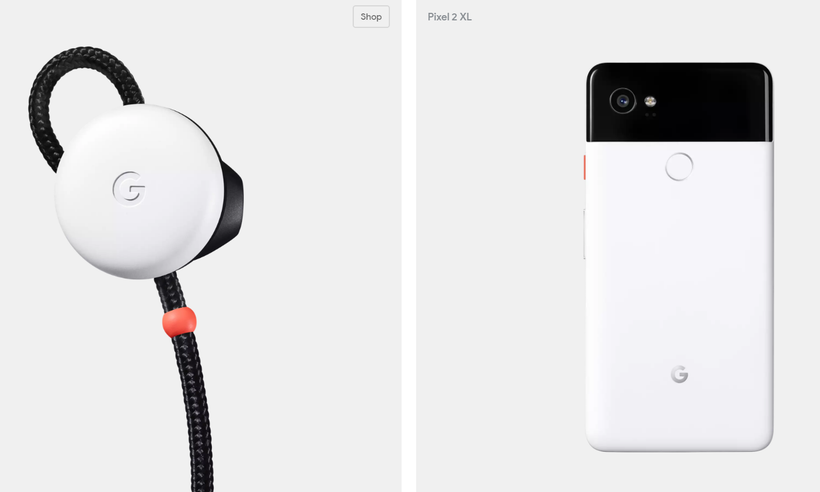 Now that the Google Pixel 2 phone has ditched the headphone jack, it was only time for a new bluetooth option. The Google Pixel Buds have an interesting but tasteful design packing 5hrs of listening time and up to 24hrs using the charging case. The main feature though is Google Assistant built in allowing you the same talking functionality of any other Google device. That means accessing music, messages, weather, and just about anything else with a quick tap of the earbud. Priced at $159, this is a compelling option if you are looking for a bit more than a basic wireless headset.
The Google Pixel 2 comes in 2 flavors, the regular and the XL which brings a 6" screen and slightly curved edges. While the standard pixel looks very similar to last years model, the new XL boasts smaller bezels with rounded corners to look more like a 2017 high end smartphone. While many of the achievements are built in through software updates and machine learning, the Pixel 2 will give you an award winning camera with portrait mode from a single camera, new squeeze gestures for accessing Google Assistant, unlimited photo storage, water resistance, and new front facing speakers. In all honesty, the standard Pixel 2 looks to have awkwardly large bezels which bring back memories of older HTC devices while still maintaining a reasonably high $650 starting price. Meanwhile the Pixel 2 XL might look the part but asks a $200 premium for that killer screen. The $850 XL provides 64GB of internal storage while 128GB will set you back a staggering $950.
Follow Dan Watson - Stay tuned and follow me for more updates!
REAL LIFE. REAL NEWS. REAL VOICES.
Help us tell more of the stories that matter from voices that too often remain unheard.
This post was published on the now-closed HuffPost Contributor platform. Contributors control their own work and posted freely to our site. If you need to flag this entry as abusive,
send us an email
.