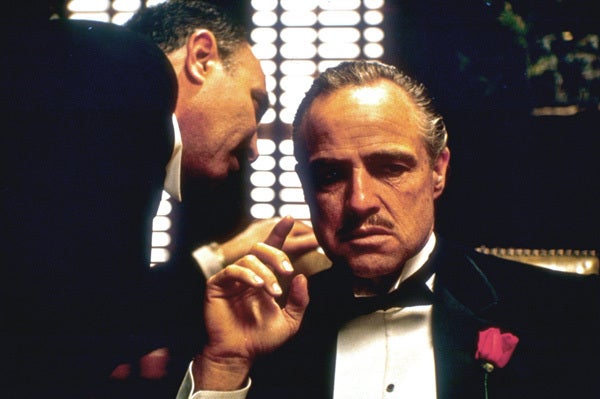 This post was a collaboration between Nina G & Gina Davis, PsyD
***Does contain language Mobsters/Joe Pesci characters might use.
With the school year approaching, it is important for students to know what supports are available when they stutter. As two women who stutter and who also happen to share an unhealthy obsession with mafia movies (Nina's mother even named her dog after Connie Corleone, so there is a legacy), Nina G and Gina Davis, PsyD have identified clear parallels between classic mob movies and how the Office of Disability Services (ODS) at colleges and universities can support students who stutter (SWS). Many SWS don't realize that they are legally protected and have the right to receive accommodations through their school's ODS. Technically, SWS don't always have to go through the ODS to receive certain accommodations, but much like asking The Godfather for a favor, it can't hurt to inquire (and in this case, there's no risk of getting whacked). This article outlines four reasons why SWS should consider becoming an "associate" of the ODS at their college or university:
1) Make your professors an offer they can't refuse.
Section 504 of The Rehabilitation Act of 1973 and the Americans with Disabilities Act (1990) provide protection for students with disabilities, including SWS. In accordance with these laws, higher education institutions must provide reasonable accommodations in order to ensure equal access for students with disabilities. Though accommodations are usually determined on a case-by-case basis, some common arrangements include extra time on tests, a quiet room for exams and note-taking. Once the ODS at your college or university has approved your accommodations, your professors are, under most circumstances, legally required to execute them. Think of your ODS counselor as the consiglieri who is "making your professors an offer they can't refuse." Of course, your disability consiglieri won't go so far as putting a horse's head in your professor's bed if they mark you down for stuttering during a classroom presentation, but they can still advocate for you.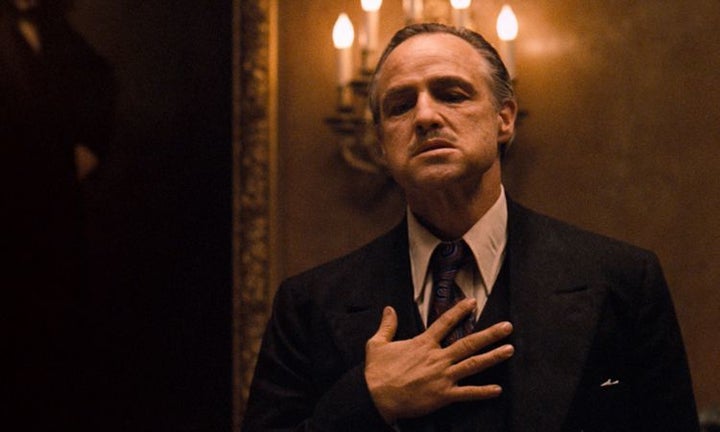 2) "When did I ever refuse an accommodation?" - Vito Corleone in The Godfather
Accommodations are defined as appropriate modifications and adjustments made in a system (e.g. a college or university) to ensure a level playing field for students with disabilities. Ask for an accommodation from your disability consiglieri, and as long as it's reasonable – bada bing, bada boom! – request granted. Some accommodations for SWS, depending on their courses and major, can include alternatives to public speaking, such as writing responses and one-on-one presentations to the professor. In addition, SWS can receive priority registration, which allows them to select classes and instructors with teaching styles that fit the students' needs and preferences. Having a priority registration accommodation is a lot like Henry Hill and Karen getting the star treatment at the Copacabana in Goodfellas…without having to slip the Registrar a twenty-dollar bill. Keep in mind, however, that accommodations cannot make fundamental alterations to course or program objectives, so if a class requires an oral presentation for the purpose of teaching students how to effectively present in front of a group, getting out of doing the class presentation altogether isn't an option.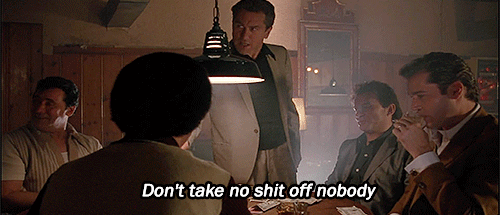 3) "Don't take no shit off nobody." - Jimmy Conway to Spider, the stuttering character in Goodfellas
Many SWS can benefit from learning how to self-advocate. Although talking about your stuttering to professors and classmates can sometimes frustrate you to the point where you feel like stabbing someone in the neck with a pen à la Joe Pesci in Casino, your disability consiglieri is, in essence, your advocate. They can provide you with the tools and support you need to communicate with others about your stuttering in a way that feels empowering and effective. For example, Nina and Gina both did presentations on stuttering at their universities to educate their communities. Effective self-advocacy involves knowing what your civil rights are and working within those parameters. And if your school isn't providing you with the support and accommodations you're entitled to, you can always "go to the mattresses" Sonny Corleone-style. In disability speak, that means working with the Office of Civil Rights (OCR) to clarify your rights and lodge formal complaints because: "It's not personal, Sonny. It's strictly business."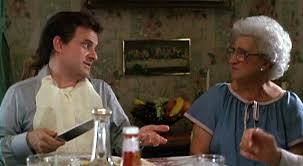 4) "When you're here, you're family."
Okay, so this quote actually comes from the Olive Garden commercials (Paulie Cicero cooked better gravy in the pen), but the sentiment still applies. When you join the disability community, you become a member of an unofficial crew who can serve as a source of support and protection. Your family, friends, or partner won't always understand what you're going through because they don't stutter, but when you get in "this thing of ours" (quoting Tony Soprano), you can find a community of people who reflect and relate to your experiences. In the famous opening line of Goodfellas, Henry Hill reminisces: "As far back as I can remember, I always wanted to be a gangster." We are all searching for a sense of community and belonging, but in this case the gangster suit and shiny shoes are optional.
We admit that the ODS at your college or university isn't exactly like the mafia, and that's probably a good thing. But as a student who stutters, it's important to be educated about your rights and how you can take an active role in ensuring that you have a positive academic experience. When you step into the light of stuttering and disability empowerment, any feelings of fear or helplessness around being a student who stutters will "sleep with the fishes" – just like Luca Brasi in The Godfather.
Gina Davis, PsyD: Dr. Davis has stuttered since the age of four. She is a clinical psychologist with a private practice in the San Francisco Bay Area. Visit her online at www.ginadavispsyd.com.
Popular in the Community