Keeping a clean business reputation is crucial to your success. This is how you gain trust and the confidence of your customers. Due to do the internet growth, in the last ten years, the importance of reputation has increased.
There is an entire industry dedicated to business reputation management, and companies around the world earn as much as $5000 to $20000 monthly per client.
What business reputation involves?
Nowadays, most businesses work both offline and online. The idea is to keep everything under your radar, and not to have bad reviews or complaints about your services or products. Another very important thing to consider is to check where your website is being mentioned around the internet, and act before your reputation is ruined.
Should you hire a business reputation company?
If you own a small or a medium sized business, there is no reason to consider paying thousands of dollars on a monthly basis. However, if you work on a large corporation, companies specialized in reputation management, might be of interest for you. I'm not going to insist on this, because I want to show you some tips and tools that will help you learn how to handle this process by yourself.
How to identify your reputation threats?
In order to maintain a clean profile for your business, you will have to identify your reputation threats. I will show you after, how to handle these problems.
1. To start, you will have to check Google's results for your company reviews or complaints. You can use the following key searches (replace the word "company" with your brand name):
company review
company scam
company complaints
company opinion

2. Check the first top 10 results for all the keywords, and select the ones that you consider to be negative. Create a list, so you find and deal with them later.
Another thing you can do is to type in Google your company name, and check the key phrases suggested. All these suggestions are based on what people are searching on Google.
3. The next step is to verify what websites are pointing links to your business. To easily do this, you can use the tool found on MonitorBacklinks.com.
After connecting your domain with your Google Analytics account, you will receive alerts via email, when a website links to your business. This way, you can verify all the new backlinks that are linking to your business website.
For instance, let's consider this scenario. You have a baby toy store, and suddenly, an adult website links to you. This would be inappropriate and terrible for your reputation. By knowing this ahead of time, you can try to remove that backlink before it's too late.

4. To know when your company's name is mentioned on other websites or blogs, you can use Google Alerts. This is a free service offered by Google, and it allows you to setup email alerts when your brand is found on the internet.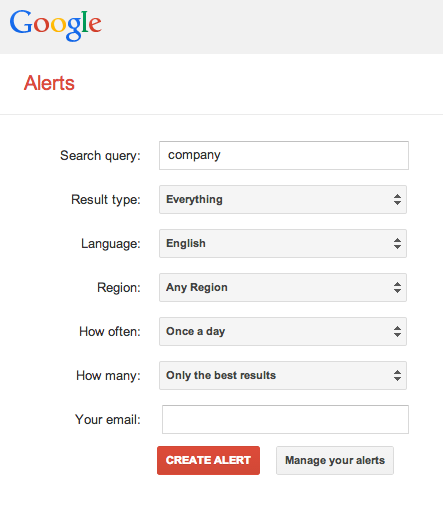 This is a great way to find reviews or complaints that don't contain a link to your website, and don't rank on the first positions on Google.
5. Now you will have to search for your brand name on social media. People who don't own a website are most likely to post their reviews on social media. To check your Twitter mentions, you can use a tool found on Topsy.com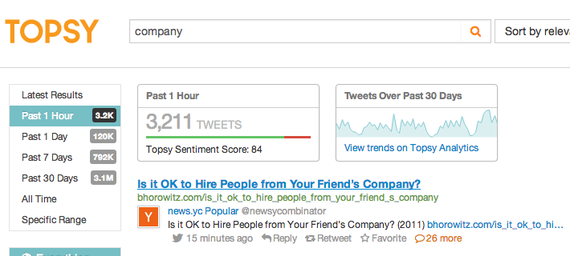 With Topsy, you can verify all your mentions on the last hour, day, seven days or the past 30 days. These messages are sorted by their influential score.
If you want to verify all your social media presence, you can use SocialMention.com
This tool acts similar to Google Alerts, but it checks more mentions, including social media.

And that's how you can find all your reputation threats. Once identified, you will have to sort them by their priority and decide where you should act.
How to deal with reputation threats
First thing is first. Always keep an eye on the top 10 results in Google for your company's name. The last thing you would want is to see negative reviews ranking on the first results. If you find such websites ranking high, treat the situation with diplomacy and try to understand why the user has left a negative review. Find the reason he is not pleased with your services, and find a way to make him change his mind. Always treat your customers with respect.
Another reputation thread would be to have links to your website from gambling or adult websites. After identifying these backlinks, contact the webmasters and request them to remove your links. If no action is being taken and you get no reply, contact their hosting company, and inform that a website hosted by them is spamming your website. To find who is hosting any website, you can use Whois.com.
The last reputation threat can come from social media. Just as you would do with the other negative reviews, treat the customer with respect and try to identify the reason he is complaining. Always try to fix such problems with patience.
How to protect your business reputation
These are several things you should consider for protecting your business reputation online:
Hire only people you can trust. Especially those that will manage your online presence.
Treat all your customers the same way.
Always offer quality services, and don't give reasons for people to complain.
Monitor your online mentions and the backlinks of your website
Just as I said at the beginning of the article, reputation it's vital to any business. Nowadays, people are searching for online reviews before buying a product or a service. If you never given reasons for people to write negative reviews, your reputation will remain intact.
How do you manage your business reputation?
Support HuffPost
The Stakes Have Never Been Higher
Related
Popular in the Community