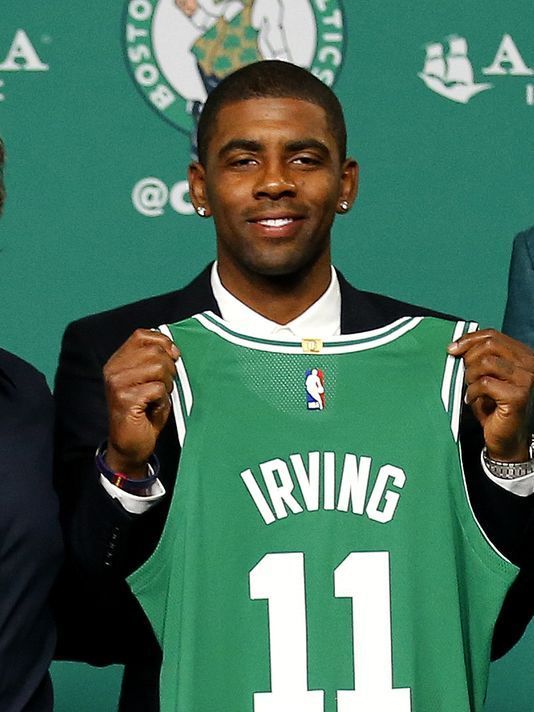 The Boston Celtics have officially introduced Kyrie Irving as the most recent addition to their roster for the 2017-2018 season. On Friday the Celtics held an introductory press conference for both Irving and all-star free agent acquisition Gordon Haywood. Both players, Head Coach Brad Stevens, General Manager Danny Ainge, and other Celtics front office members including Owner Wyc Grousbeck were on hand for the press conference. Despite the fact that Irving is walking away from a team that went 1-2 in the last three NBA finals, and the growing doubt from skeptics around the league and fans, regarding his decision to leave Cleveland, Kyrie's decision to leave Cleveland is great for the NBA and may prove to be greater for his longterm career. Here's why you can't be mad at the young star's decision to join the Boston Celtics.
Kyrie Irving Is His Own Man
From the very moment the press conference began, Kyrie Irving asserted himself as the alpha male on the Boston Celtics roster. Upon being asked the very first question from a Celtics reporter, Kyrie took a moment to send his support to the victims of Hurricane Harvey, and to those protesting in Charlottesville. He also took a moment to send his condolences and well wishes to former Celtics players Isaiah Thomas and Jae Crowder, both of whom lost family members during the 2017 season, and both of whom were traded from the Celtics in order to get Kyrie to Boston. The moment was classy, tasteful and a sign that Kyrie understands that the game of basketball is not bigger than the game of life. In a subtle way, Kyrie showed us that he's in control by redirecting the conversation away from basketball and on to what he felt were topics that he wanted to address. That's a chess move few kings can appreciate.
This Is What Kyrie Wanted
During the press conference, Irving confirms that he himself requested to be traded from the Cavaliers. This can't be overlooked or overstated because to date, the biggest accomplishment in his six year career came as a member of the Cleveland Cavaliers when they won the NBA Championship in 2016. All that being said, Kyrie wanted out of Cleveland. When asked by a reporter from the Associated Press: What do you think the next step in your evolution is, and why you think it took switching locations to do it? Irving went on to say "It's my time to do what's best for me and my intentions, and that's going after something bigger than myself and honestly being in an environment that is conducive for my potential. My intentions are to be happy and with a group of individuals I can grow with". Some would expect that after being to three of the last NBA finals and winning one of them, Kyrie would be happy in Cleveland. The problem with that that logic begins with your expectations. When Kyrie talks about an environment that is conducive to his potential, he's alluding to his legacy and future. He wants to maximize his potential and further his legacy, and at the age of 25 with his best yet to come, can you really blame him? I wouldn't go as far to say that Kyrie was miserable in Cleveland, but I would argue, based off the things he said in the press conference, that he believes that he'll be happier somewhere else. His happiness is important to him, and he's happier now that he's no longer playing in Cleveland.
Grateful And Unapologetic
Throughout the press conference Irving was asked questions that forced him to reflect on his time in Cleveland. In an era in which being passively aggressive, petty, and downright disrespectful is viewed as good entertainment, Irving took the high road and spoke positively of his experiences in Cleveland. Not once did he diss Lebron James, or talk negatively about any one within the Cavaliers organization. He acknowledges Lebron James as one of the games' greats, even so far to say that he learned a lot from Lebron during their time as teammates in Cleveland. That being said, he also admitted that they haven't spoken since he requested to be traded. Should he have reached out to Lebron? Does Irving owe Lebron an explanation for wanting out of Cleveland? Again, I think we have to temper our expectations. Kyrie not speaking to Lebron is noteworthy from the standpoint of them having history together. But Kyrie, aside from acknowledging Lebron's impact on his career, doesn't feel like he owes Lebron anything. Kyrie believes that his contributions to the Cavaliers 2016 NBA Finals Championship is equal to his then teammate Lebron James. Evidence of this is found during the press conference in which Kyrie repeatedly questions the notion that one person is responsible for carrying a team. Kyrie's opinion may not be popular, and some fans may not agree with him. At the sametime, can Lebron really be upset with Kyrie? The same Lebron who left Cleveland for Miami back in the summer of 2010? NBA insiders and fans may not agree with Irving's choice to leave, but his convictions are real, and there is truth in what he's saying about his contributions to the 2016 Finals Championship victory. Don't agree with me? See below for a nice reminder.
The Boston Celtics have one of the league's brightest minds in Head Coach Brad Stevens. Couple that with the young, dynamic talents of Kyrie Irving, Gordon Hayward, Jaylen Brown, rookie Jason Tatum and veterans Al Horford and Marcus Morris, and the Celtics have a very strong and potentially dangerous roster...on paper. It's still too early to tell exactly what all this potential will result in on the court. It's also too soon to call this team great, or to expect them to dethrone the 3-time defending eastern conference champions, Cleveland Cavaliers. This could all be amazing and make for some extremely entertaining basketball this season and for years to come, or it could end up being a failed attempt at making the Eastern Conference as exciting as the Western Conference. Either way, we have another compelling storyline and something else to look forward to this upcoming NBA season.
Popular in the Community