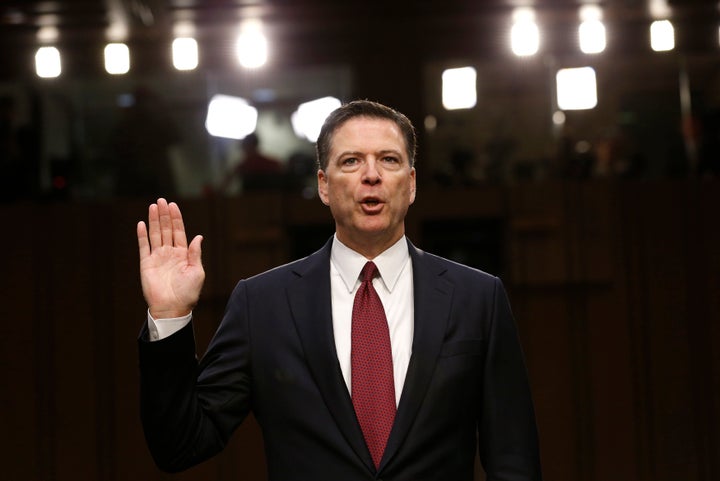 TOP STORIES
Thanks as always for being loyal readers and bearing with us on the linking issues yesterday ― now onto the news! 
WHAT YOU NEED TO KNOW ABOUT THE DOJ REPORT ON HOW FORMER FBI DIRECTOR JAMES COMEY HANDLED THE HILLARY CLINTON INVESTIGATION The report stated that while Comey and the FBI showed no political bias, Comey "deviated" from bureau procedures. Rudy Giuliani is using this to push to end the Mueller investigation, citing the "bias" shown in the report. And Hillary Clinton responded with these three words, after the report cited Comey's own use of a private email account. [HuffPost] [Tweet | Share on Facebook]
'STARBUCKS DISCRIMINATES AGAINST OLDER EMPLOYEES, ACCORDING TO FORMER EMPLOYEES' "A HuffPost investigation finds former staffers feel the company is intent on replacing older managers with younger, lower-paid workers." [HuffPost]
OUTRAGE CONTINUES TO MOUNT OVER MIGRANT CHILDREN SEPARATED FROM PARENTS AT THE BORDER Hundreds protestedacross the country, while House Republicans circulated a proposalThursday that would end the practice. And take a look at the Trump muralcausing waves in a Texas facility holding 1,500 children. [HuffPost]
STEVE SCALISE RETURNED TO THE FIELD A YEAR AFTER THE SHOOTING THAT NEARLY KILLED HIM He even made the first out in the annual congressional baseball game. [HuffPost]
ALL THE WAYS TRUMP'S CHARITY IS ACCUSED OF BREAKING THE LAW In the bombshell lawsuit from the New York Attorney General's Office "claiming President Donald Trump's charitable organization was 'little more than an empty shell' that his campaign and for-profit company used like an extra bank account." [HuffPost]
ROSEANNE NOW HAS A NEW EXCUSE FOR HER RACIST TWEET Involving anti-Semitism. [HuffPost]
STUDY: A PERSON'S RISK OF DEPRESSION RISES ON THESE MEDICATIONS One in three Americans are taking medications that list depression as a potential side effect. [HuffPost]
WHAT'S BREWING
ALL OF THE PHOTOS OF THE QUEEN HANGING OUT WITH MEGHAN MARKLE The dress! The hat! The giggles! Body language experts had a field day. [HuffPost]
ACCORDING TO BILLY BOB THORNTON, THERE'S ONLY ONE REASON HE AND ANGELINA JOLIE GOT DIVORCED We wonder if she agrees. Also, who kept the vials of blood? [HuffPost]
A REAL-LIFE HACKER HAS SOME TIPS ON HOW YOU'RE GIVING UP ALL YOUR INFO ONLINE Starting with those new homeowner photos. [HuffPost]
WHAT GEORGE LUCAS WOULD HAVE DONE FOR EPISODES VII-IX Fans may not have loved it. [HuffPost]
THOSE SNICKERS COMMERCIALS WERE ONTO SOMETHING The science of being "hangry." [Quartz]
BEFORE YOU GO
Calling all HuffPost superfans!
Sign up for membership to become a founding member and help shape HuffPost's next chapter