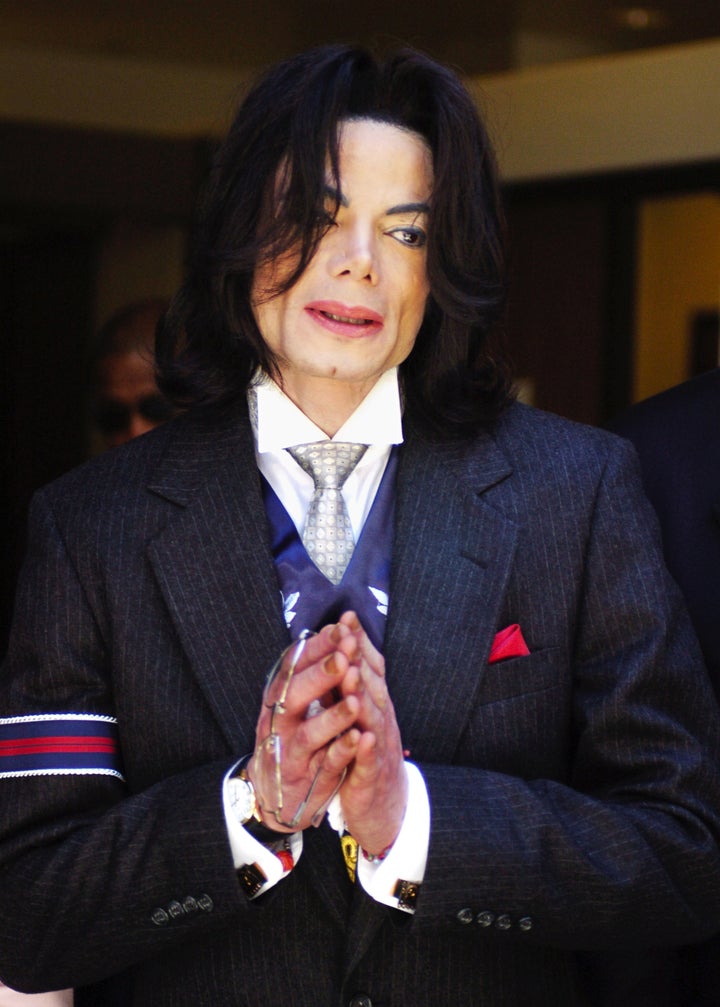 On Tuesday, RadarOnline released a previously unseen police report from the raid on Jackson's Santa Barbara estate, detailing the singer's large collection of pornography and images of nude children. 
While the report itself had yet to be made public, much of the contents of the documents had been used as evidence for prosecution during Jackson's 2005 molestation trial. The release of the report 11 years after the trial and seven years after Jackson's death seems to have caused a considerable amount of confusion. With that in mind, here are a few things you should know about the newly surfaced report. 
The police report obtained by RadarOnline is legit.
The Santa Barbara Sheriff's Office released a statement on Tuesday explaining, "The documents with a header titled Sheriff's Department that contain a case number appear to be Sheriff's Office documents."  
The majority of the 88-page report consists of documents with a Sheriff's Department header and case number, however, the authenticity of the photographs and images included alongside those documents is harder to assess. "The photos that are interspersed appear to be some evidentiary photos taken by Sheriff's investigators and others are clearly obtained from the internet," the Sheriff's Office said. 
Jackson was not in possession of images that constitute as "child pornography."
Police state in the report that images found at Neverland Ranch didn't meet the "legal requirements" to be considered "child pornography." Police found nude photos of children, as well as photos of children in various states of undress.The images may not be pornographic, but context is key. The police report repeatedly states that the materials found in Jackson's home "can be used as part of a 'grooming' process by which people (those seeking to molest children) are able to lower the inhibitions of their intended victims and facilitate the molestation of said victims."
These images, as well as those from Jackson's pornography collection, were submitted as evidence.
In January 2005, prosecutors sought to introduce numerous "homosexual and heterosexual picture books, videos and magazines seized on November 13, 2003 from the defendant's master bedroom suite at Neverland Ranch." The Santa Barbara District Attorney's office wrote, "The listed materials are admissible and relevant as circumstantial evidence on the issues of the defendant's intent, motive and method. They are adjuncts to his plan to seduce young boys, and demonstrate evidence of his preparation for their seductions. They are evidence of his method."
During the trial, prosecutors presented evidence claiming that fingerprints belonging to Jackson, his 13-year-old accuser and the accuser's younger brother were found on porn magazines seized from Jackson's home. At the time, CNN reported that 12 prints from Jackson were found on eight different magazines, five prints from his accuser were found on three magazines, and two prints from the accuser's younger brother were found on a single magazine. The fingerprint evidence was important because it supported the accuser's testimony that Jackson had shown him pornography.
In later court proceedings, prosecutors actually showed jurors some of the X-rated materials found at Jackson's estate, such as Hustler and Barely Legal, according to The New York Times.
The accusations against Jackson included:  
The accuser's testimony was called into question by the defense, who was able to get him to admit that he told a teacher at his school that Jackson did not touch him. He later explained that he only said that Jackson didn't touch him because he was being bullied. "All the kids were already making fun of me at the school and I didn't want anyone to think it had really happened," he said.
Most of the information in the police report came out during the trial.
The police report details Jackson's large collection of pornography, as well as numerous pictures of nude and semi-clothed children. Some of these images were found in photography books, including Cronos by Pere Formiguera, which again, the police report notes does not meet the legal requirements to be considered child pornography, but can be used to "groom" potential victims.
The book Room to Play by Simen Johan, which features sexualized images of children whose faces have been superimposed on adult bodies, was again viewed in this context. Authorities also found numerous photos of children located inside a safe in the employee break room of Jackson's home.
All of this was submitted as evidence in 2005, but prosecutors focused on Jackson's commercial pornography collection -- not that it helped their case. After the jury acquitted Jackson on all charges in June 2005, jury foreman, Paul Rodriguez, told CNN, "Those are adult magazines. Anybody can own them. It doesn't prove the charge."
The Michael Jackson Estate released a statement on Tuesday night and made the point that the police report seems oddly timed to the anniversary of the singer's death. While that may be true, the contents of the report bring some clarity to one of the trials of the century. 
Calling all HuffPost superfans!
Sign up for membership to become a founding member and help shape HuffPost's next chapter
BEFORE YOU GO
PHOTO GALLERY
Celebrity News & Photos