"Stranger Things" returns on Friday, October 27, and to say we're excited would be an understatement.
Before all the nostalgic '80s garb and middle school romance hits us harder than a Demogorgon to the face, let's recap season one.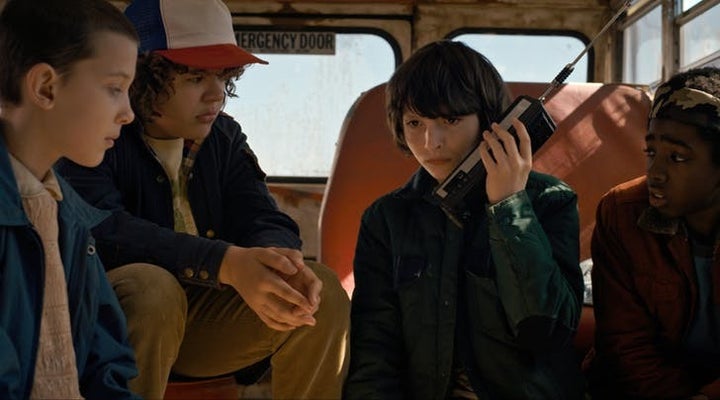 In the season one finale episode titled "The Upside Down," we learn Will Byers (Noah Schnapp) is stuck in the Upside Down and things aren't looking great. While Will floats around in oblivion, a faceless monster (d/b/a Demogorgon) decides to post up in Hawkins, and the results are terrifying.
In the episodes leading up to the finale, Will's mother, Joyce Byers (Winona Ryder), desperately searches for answers as to why her son has gone missing. Her house (the site of Will's disappearance) is haunted by the Demogorgon via moving walls, flickering lights and a series of strange phone calls in which she can hear Will breathing. She eventually enlists the help of Hawkins local law enforcement's finest, Chief Hopper (David Harbour) and taunts the creature in an attempt to sacrifice herself and save Will.
Meanwhile, the threat of impending doom also lingers over Will's three best friends, Mike (Finn Wolfhard), Dustin (Gaten Matarazzo) and Lucas (Caleb McLaughlin). When the trio embarks on a journey to find Will, they stumble upon Eleven (Millie Bobby Brown), a young girl with a shaved head. Although she doesn't say much, Mike asks Eleven if she'd like to join his family. He promises endless waffles and some pretty cool company (if he says so himself).
Via flashbacks, we learn Eleven has supernatural powers. She was captured by the government and forced to undergo terribly inappropriate styles of observation. She was forced to do horrible things, like kill, which is the reason she ran away in the first place.
Cut to Mike telling Elle he "like-likes" her and asking her to go to the Snow Ball dance with him. They share their first kiss, and it's so middle school that we can actually feel the electrical current from braces meeting braces. Magical. 
Inside the laboratory (Eleven's home turf), men in hazmat suits tend to a gooey-looking hole in the wall while scientists observe from afar. But this isn't your ordinary cleanup on aisle four—it's actually a portal that leads to another dimension: the Upside Down.
Welp, as it turns out, Eleven is responsible for the parallel universes colliding, which means she's the reason the Demogorgon escaped in the first place. But it also means she knows how to retrieve Will from the Upside Down before the portal closes once and for all.
Cue: Operation Get Will Back.
Mike's older sister, Nancy (Natalia Dyer), and Will's older brother, Jonathan (Charlie Heaton) team up and create a search party of two to go look for Will in the woods, but no dice.
Hopper and Joyce brave it and venture into the Upside Down. Finally, they find Will and succeed at rescuing him. Thankfully, the little guy is alive, but he's in need of some major medical TLC. Mike, Lucas and Dustin visit him at the hospital. They're happy their bud is alive, but they're way more excited to give him the skinny on Elle's totally awesome superpowers.
Nope, not over yet. Mike, Eleven and the boys then head over to the middle school where they become trapped by Dr. Brenner (Matthew Modine) and his laboratory cronies. Noooo! Enter the Demogorgon! The creature corners the gang in a classroom, and Eleven experiences the gnarliest nosebleed of her life in order to save her pals and kill the monster.
Just when we think we can finally breathe a sigh of relief that Eleven survived and the Demogorgon is out of their lives forever, out crawls a tiny slug monster from Will's mouth. And that's when we threw our hands up at season one, too.
Netflix, Friday, October 27? It's a date. 
Calling all HuffPost superfans!
Sign up for membership to become a founding member and help shape HuffPost's next chapter