"This Is Us" finally returns Tuesday, September 26, and We. Are. Ready.
Season two promises to reveal how and why we lost Jack (Milo Ventimiglia), illustrate what the future holds for the adult Pearson children and even bring back our dear William (Ron Cephas Jones) as an apparition. Before we mentally prepare to become one with our emotions again, let's recap where season one left us.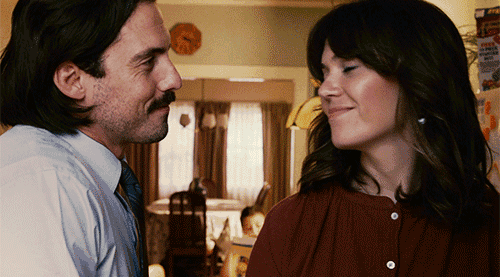 Via flashback, we learn that Jack recently returned from Vietnam and was living with his jerk of a dad when he first meets Rebecca (Mandy Moore). Ah, yes, it all began when a young, moustacheless Jack worked on a neighbor's car to earn some cash and, as a bonus, the neighbor set him up on a blind date (calm down — it wasn't with Rebecca). Itching to spend his newly earned pocket change, Jack sauntered over to his cousin's dive bar to try his luck at a high-stakes poker game. Lo and behold, Jack won the pot, but before he could make it rain, he was assaulted by a group of thugs (ordered by his weaselly own cousin, no less). 
Nursing his injuries and ego, Jack decides it's a good idea to rob his cousin's bar instead of going on his blind date. He reenters the watering hole, when, suddenly, he hears the sweet, angelic voice of Rebecca, they fall in love and the rest is history.
Cut to the '90s, where Jack has returned to the alcohol abuse that had caused a rift in his marriage back when the Big Three were but wee babes. Planning to confront Rebecca for turning her back on their family and the affair he assumes she's having with her old flame and now current bandmate, Ben (Sam Trammell), a nearly blacked-out Jack dangerously gets into his car and drives to her out-of-town show. He somehow arrives in one piece seconds after Ben attempts to kiss Rebecca. Although he doesn't witness Ben's bold advance, Jack still proceeds to give Ben's face the ole one-two treatment. Outraged, Rebecca drives her inebriated husband home and years of resentment, sacrifice and anger pour out of her.
After they finish yelling things they'll never be able to take back, Rebecca tells Jack to go and stay with Miguel and she will stay in their home and care for the kids. In the past, Jack slept by the door of their bedroom after a fight, but this time things are different. Before he walks out the door, Jack tells Rebecca this is just the beginning of their love story.
The plot shifts one last time to the present-day Pearsons. Kate (Chrissy Metz) decides to pursue a singing career like her mom, Kevin (Justin Hartley) flies to L.A. to audition for a Ron Howard movie and leaves Sophie (Alexandra Breckenridge) behind—again—and Randall (Sterling K. Brown) wants to adopt a baby. 
And now our lower lip is trembling.
REAL LIFE. REAL NEWS. REAL VOICES.
Help us tell more of the stories that matter from voices that too often remain unheard.