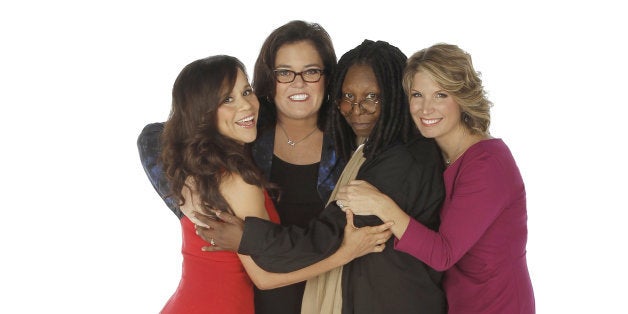 The View garnered its best ratings in eight years for its 18th season premiere last week, after a dramatic on screen and behind the scenes facelift. For the first time since it began in 1997, The View premiered without its star, creator, and executive producer, Barbara Walters, who retired in May.
Co-host Sherri Shepherd was ousted after seven years, in which her only noteworthy contribution was wondering if the earth was flat. Co-host Jenny McCarthy received the ax after one lackluster season. Only the panel's moderator, Whoopi Goldberg, survived the bloodbath. Rosie O'Donnell -- who famously left the show in 2007 after an on-air spat with then co-host Elisabeth Hasselbeck -- rejoined the panel.
The new cast is rounded out with actress and activist, Rosie Perez, and political commentator and former George W. Bush White House Communications Director, Nicolle Wallace. The show also has a new studio, new set, new logo, and new executive producer for the first time in 17 years.
Over the years, and in particular since O'Donnell left, The View has fallen flat and failed to generate much buzz. For a time, they were able to get by with whatever crazy talking point from the RNC Hasselbeck was spouting, and liberal co-host Joy Behar's predictable abhorrent reaction to it. Once Behar left and Hasselbeck was fired, the show became a ghost of its former lightening rod self.
With this new cast, The View stands to reverse its slow march to irrelevance. The first day began with an inauspicious start when the co-hosts spent most of the hour fawning over each other, in an uneasy love fest. Meanwhile, the audience waited with baited breath for any sort of fireworks.
The second day didn't disappoint when sparks flew between O'Donnell and Wallace.
O'Donnell took umbrage with Wallace's comment that President Obama "doesn't like people." Wallace meant that the president isn't a natural people person like former President Bill Clinton, who never met a hand he didn't want to shake. O'Donnell countered by comparing Wallace's remark to Kanye West's infamous statement that President Bush "doesn't care about black people."
With that one exchange, there was hope for The View's future again. Although O'Donnell's argument fell flat, it made for spirited conversation and good television. It's what makes O'Donnell compelling to watch. Unlike many plastic parrots on daytime television, O'Donnell wears her raw emotions on her face. Love her or hate her, right or wrong, she's real.
O'Donnell is also unpredictable. Everyone expected O'Donnell to reserve most of her sparring for Wallace. But on the third day she mixed it up with Goldberg instead, over whether it's okay to shame your child in public. This time Goldberg was the odd woman out when both Wallace and Perez agreed with O'Donnell that it's never acceptable.
Serious moments as well as lighter ones peppered the first week. This was a huge improvement from the dull conversations of past seasons. In recent years, it wasn't uncommon for Goldberg to look as if she'd rather be anywhere else. This week Goldberg was a lively and engaged participant.
Another memorable moment centered on a study out of the UK that said most women can't identify their vagina in a drawing. A huge drawing appeared on-screen and Goldberg proceeded to give an anatomy lesson, while cracking jokes in the process, causing Wallace to quip, "I can't believe this is my job now!"
The highlight of the first week, however, was Goldberg and Billy Crystal's tribute to the late Robin Williams. It was poignant to hear them reminisce about their friend, and touching to see the normally unflappable Goldberg tear up multiple times. The flashback footage of the trio during their opening performances for Comic Relief through the years was brilliant and worthy of an entire show in its own right.
Although The View turned in an impressive first week's performance, the show still has minor wrinkles to iron out:
-Wallace and Perez are awkward interviewers, but should improve as they gain experience.
-Wallace and Perez appear deferential to Goldberg and O'Donnell, rather than as equals.
-Goldberg and O'Donnell both come across as the moderator.
-Wallace needs a haircut or a barrette. Every few seconds she runs her hands through her hair to pull it away from her eyes and face.
Despite these minor wrinkles, The View's makeover was a success. The first week of Season 18 marked a new beginning for a show that had lost its way the last few years. Now The View is water cooler fodder again which not many shows can say after 18 seasons.
Calling all HuffPost superfans!
Sign up for membership to become a founding member and help shape HuffPost's next chapter