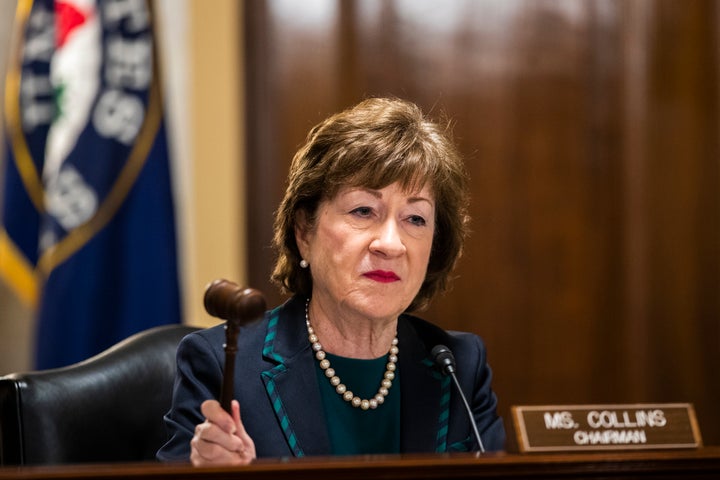 After backing Republican Sen. Susan Collins in 2014, the political arm of the major gun control advocacy group Everytown for Gun Safety announced on Tuesday that it's endorsing one of her Democratic challengers in this year's Maine Senate race.
Maine House Speaker Sara Gideon, one of at least three Democratic candidates in the primary race, earned the endorsement for being a strong proponent of universal background checks and red flag legislation, Everytown for Gun Safety Action Fund said in a statement.
"A vote for Sara Gideon is a vote against Mitch McConnell, who has made the Senate the place where desperately needed gun safety bills go to die," John Feinblatt, the president of Everytown for Gun Safety, said in a statement. He praised Gideon for having "walked the walk" on tightening Maine's gun laws while serving in the legislature.
The group's shift in support marks the latest hurdle for Collins. The four-term senator is facing her toughest reelection campaign yet, following backlash over her votes confirming Brett Kavanaugh to the Supreme Court in 2018 and acquitting President Donald Trump during his impeachment trial earlier this year.
Winning Collins' seat in November is key for Democrats to win control of the Senate.
A spokesperson for Collins' campaign did not immediately respond to a request for comment.
Gideon said Tuesday that she's proud to have Everytown's support.
"There's no reason that Washington can't come together to put commonsense gun safety laws in place that keep our communities safe," she said in a statement to HuffPost. "It's time to put an end to Mitch McConnell's obstructionism and fight for the health and safety of Maine people and communities, and that's exactly what I'll do in the Senate."
Gideon has scooped up several other key endorsements since jumping into the race last June, including from NARAL Pro-Choice America and EMILY's List, a political action committee that backs female Democratic candidates who support abortion rights.
She also nabbed Planned Parenthood Action Fund's endorsement in January. The group had backed Collins during her 2002 reelection campaign and presented the senator with an award in 2017 for her work on reproductive health care issues.
Gideon's rivals in the Democratic primary include former Maine gubernatorial candidate Betsy Sweet and attorney Bre Kidman.
The Maine primary is now set for July 14 after it was rescheduled due to the coronavirus pandemic.
Gideon was one of nearly a dozen candidates endorsed by Everytown on Tuesday. Other endorsements included Democrats Mark Kelly in Arizona, John Hickenlooper in Colorado, Tina Smith in Minnesota and MJ Hegar in Texas, all of whom are running for the Senate.
Popular in the Community