It was an ungodly 5 a.m. on a recent Saturday, and the strains of a rousing English soccer club anthem, "When the Spurs go Marching In," strutted out from the Greyhound Bar in Northeast Los Angeles across Figueroa Street. Inside the very cool, hip bar, which is the official home for the LA Tottenham Hotspur Supporters Club, was about 90 members singing, chanting and wearing their love of Spurs on their sleeves. That morning was special for LA Spurs members as live from England on big screen television, we played and eventually beat (2-1) our much abhorred North London rivals, Arsenal. It's a rivalry as heated as the Yankees and Red Sox. Only more!
One "Gooners" supporter in his team's colors, found his way into the Greyhound and stayed all through the game, for some inexplicable reason, to feel the brunt of our clever but irreverent chants -- "North London is ours/ F**k off back to Woolwich/North London is ours!" Their team originally started out in Woolwich in southeast London before it moved, so hence the mockery made of their non-north London roots.
Anyway, this one interloper was in no danger, as he may've been if he was in London, as this is laidback LA after all. Nevertheless, on his forlorn, losing march out, we wittily serenaded him with "One is the Loneliest Number..."
To be honest, L'Arse, as some have come to call them during their French manager Arsene Wenger's reign, have mostly had it over Spurs during the life of the English Premier League -- home to arguably the most competitive, blood and thunder soccer in the world. But on that day, the worm may've turned with Spurs going undefeated by our great rivals this season. So, hope springs eternal for the passionate LA Spurs contingent, who consist of men, women and kids, older British ex-pats and younger Yankee Doodle fans. The club includes Hollywood types like prime-time Emmy award-winning (Two and a Half Men) sound mixer Bruce Peters, and guests like actress Marina Sirtis (Counselor Troi in Star Trek) and screenwriter Ben Ripley (Source Code).
Created in 2005, LA Spurs is the largest Spurs supporters group in North America with over 1,000 registered members, and it's officially recognized by Tottenham Hotspur Football Club. LA Spurs founders included Rolfe Jones (first club president and now treasurer), Jason Maxwell and Kate Sukham. But before 2005, the Spurs flag was mostly flown by Jones and LA Spurs passionate talisman, Graeme "Rudgey" Rudge. Jones admits "initially, wherever we went we seemed to be the only Spurs fans" but that changed when Jones met Maxwell and Sukham:
"Kate developed our web page. Jason and I started a web ring with the email addresses of Spurs fans that any of us met in LA. The group soon grew to 20. In the early days we met at Pasadena's Lucky Baldwins and a lot of private homes. In 2010, just prior to THFC touring the USA and playing San Jose, the LA Spurs became official. As guests of our brothers in arms, San Francisco Spurs, 200 of us went up from LA to the game in San Jose. At the "Legends" evening, our LA Spurs were presented with a signed THFC shirt with LA Spurs on the back and we were now official."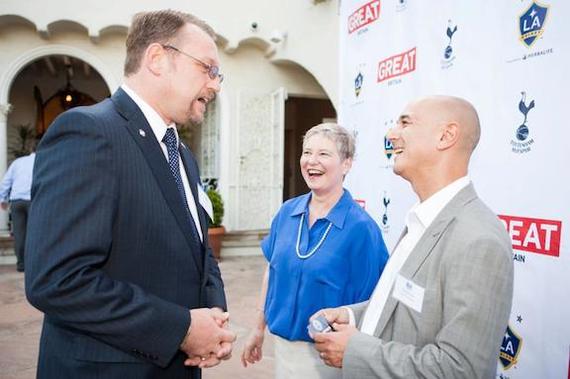 LA Spurs Rolfe Jones with British Counsel-General Dame Barbara Hay and THFC Chairman Daniel Levy - Photo by Daniel Brookman
Now under the new presidency of another ex-pat and realtor Brian Moore, LA Spurs often now sees members like Greg Palmer, Cris D'Annunzio and Mark Banuelos bring their whole family to the televised games, creating a whole new generation of passionate fans singing "Everywhere we go/It's the Tottenham boys, making all the noise..."
And LA Spurs have found its spiritual home at the Greyhound with its great food, drinks and atmosphere. It's owned by Cleveland-born Spurs supporter, Mateo Glassman:
"It's a dream come true. To see these guys and girls...coming to MY bar, and flooding the place is one of the best joys. This is my first business and to have something as special as this, something I can enjoy is really amazing. Our recent North London derby win is one of the best memories I will have as a sports fan."
As to why Americans become new Spurs fans, TV soundman Peters suggests: "I wanted to follow a team that wasn't a sure top four club, one without loads of money like Chelsea, Man U, City or The Arses. Yet, a team that had a great history but still has a chance to win something in the current environment...Spurs fit the bill!"
On March 1, the Greyhound will host LA Spurs when the "Lilywhites" play in the League Cup Final against another huge London rival Chelsea ("Cheatski"), and when we hope to repeat our magnificent 2008 League Cup victory over the same team. Come on you, Spurs!
REAL LIFE. REAL NEWS. REAL VOICES.
Help us tell more of the stories that matter from voices that too often remain unheard.