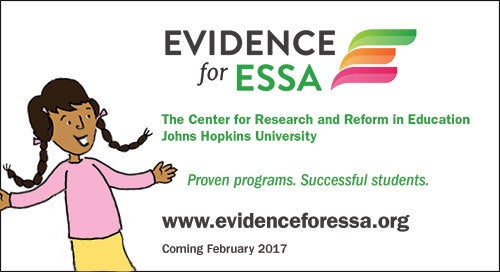 Our Center for Research and Reform in Education at Johns Hopkins University is excited to announce that in February we will release a free website that reviews every math and reading program for grades K to 12 to determine which meet the strong, moderate, or promising levels of evidence defined in the Every Student Succeeds Act (ESSA).
Our new website, Evidence for ESSA, is designed for education leaders at the state, district and school levels, to provide information to state chiefs, superintendents, principals, teachers, parents, and anyone else interested in which programs meet the ESSA evidence standards.
The ESSA evidence standards are as follows:
1. Strong: A program has at least one randomized study with a significant positive effect.
2. Moderate: A program has at least one quasi-experimental (i.e. matched) study with a significant positive effect.
3. Promising: A program has at least one correlational study with a significant positive effect.
There is also a fourth category which is sometimes referred to as "evidence-building and under evaluation," but this category is not well-defined enough to allow current research to be assigned to it.
The ESSA evidence categories seem clear enough, but which specific programs qualify for each? The What Works Clearinghouse (WWC) can be helpful with this, but the WWC was not created with ESSA in mind and does not make the correlation between evaluations and the specific ESSA definitions.
The ESSA evidence standards matter. School improvement funding requires that programs meet one of the top three categories, and seven other competitive grants provide bonus points if applications promise to implement programs in the top three categories. Other ESSA provisions encourage using research-based programs and practices. ESSA has aroused a lot of interest in evidence, and it's reasonable to assume that if evidence is readily available, education leaders will use it to make better decisions for their children.
The Evidence for ESSA website we will release in February is extremely easy to use. Users indicate what subject and grade level they are interested in and the website will show them programs meeting the strong, moderate, and promising evidence levels. Users can click on a program tile and go to a one-page summary including a program description, brief research review, and practical information on costs, professional development, technology requirements, and so on.
Users may use filters to find information on programs with evidence for particular groups (such as African Americans, Hispanics, Whites, and English Learners), and communities (urban, suburban, or rural), as well as program features (e.g., technology, cooperative learning, tutoring).
In the future, users will be able to find out about "ambassador schools" using specific programs, which they may wish to contact or visit, and we will add commentary and advice from program users and developers.
Evidence for ESSA will direct users to the key studies that validate that a program meets the ESSA standards. No one has to take our word for it. We'll just help users through the information jungle to find the treasures they need.
In creating the site, we've been aided by a distinguished Technical Working Group: Dr. Kent McGuire, Dr. Barbara Schneider, Dr. Jerry D'Agostino, Dr. Robin Jacob, and Dr. Olusola Adesope. We've also had advice along the way from members and staff of stakeholder groups, including the Council of Chief State School Officers, Chiefs for Change, National Title I Association, AASA: The School Superintendents Association, National Association of Elementary School Principals, National Association of Secondary School Principals, American Federation of Teachers, National Education Association, National School Boards Association, National PTA, National Association of State Boards of Education, Association of Educational Service Agencies, National Rural Education Association, National Rural Education Advocacy Consortium, Results for America, and America Forward.
Development of our website has been supported by start-up funding from The Annie E. Casey Foundation.
So watch this space! If you believe as we do that children benefit when their schools choose and effectively implement proven programs, you're going to love this site. And based on feedback we receive, we're committed to continuing to improve it and to add additional subjects as long as we are able.
It's long been said that education needs its own version of Consumer Reports – authoritative, well researched, and incredibly easy to use and interpret. We hope Evidence for ESSA will be just that, and we invite you to join with us in offering ideas for enhancement over time.
This blog is sponsored by the Laura and John Arnold Foundation
Popular in the Community