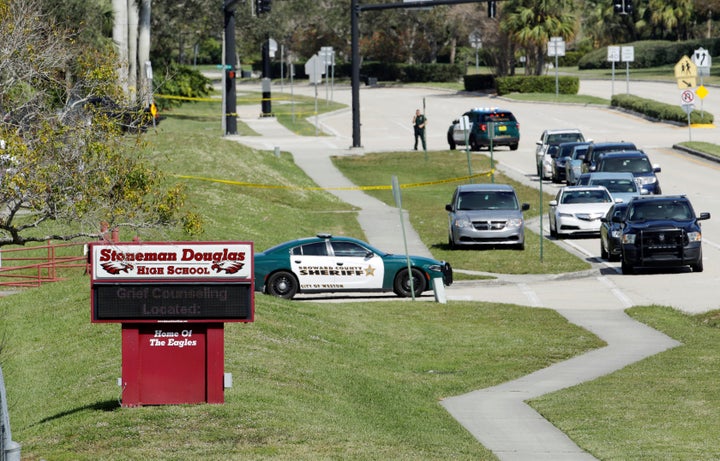 WASHINGTON ― Law enforcement officials in Florida have reportedly not yet found ties between the Parkland school shooting suspect and the white supremacist paramilitary group Republic of Florida, despite claims from the group's leader. Those claims were widely circulated by news outlets on Thursday.
As of Thursday evening, it was seemingly too soon to say what might have motivated Nikolas Cruz, 19, to allegedly shoot at least 17 people to death at his former high school. It was likewise too soon to say whether Cruz held any white supremacist views. So far, though, the evidence linking him to this specific white supremacist group is thin. (We will update this story if that changes.)
Jordan Jereb, an ROF leader, told the Anti-Defamation League on Thursday that Cruz participated in training exercises with the group, but that the group hadn't ordered Cruz to carry out the school shooting. Multiple media outlets, including HuffPost, picked up the ADL's report and repeated the claim that Cruz was an ROF member. In several reports, Jereb, an obscure white nationalist figure, was the sole source.
"We are still doing some work, but we have no known ties between the ROF, Jordan Jereb or the Broward shooter," a Leon County Sheriff's Office spokesman told the Tallahassee Democrat. The sheriff's office has arrested Jereb at least four times since January 2014 and has been monitoring ROF's membership, The Associated Press reported.
By Thursday evening, Jereb appeared to be backing down from his claim.
"There was a misunderstanding because we have MULTIPLE people named Nicholas in ROF," a user named @JordanJereb posted on Gab, a social media platform popular among fascists and racists. "Are you really going to blame ME for the lying jew media? We know they are liars. Fuck em," the user wrote. (HuffPost messaged the user, who had posted about ROF months before Wednesday's shooting, but was not immediately able to confirm his identity.)
HuffPost has not found evidence that Cruz was affiliated with ROF — or that he had even interacted with anyone in the group. Jereb did not respond to repeated requests for proof of Cruz's involvement with ROF. Cruz's Facebook and Instagram were taken down after the shooting. On one of his since-deleted Instagram profiles, Cruz's Twitter avatar wore a "Make America Great Again" hat and he shared pictures of an assortment of guns and knives.
The FBI and the Broward County Sheriff's Office, which is investigating the shooting, declined to comment.
The existing reporting on the supposed ties between Jereb and Cruz is inconsistent. Jereb told the Miami Herald he has never personally met Cruz. But ABC reported that three former classmates of Cruz identified him as part of the ROF. The former classmates claimed that Cruz was "often seen with Jereb." Jereb's last address listed in public records is in Tallahassee, 430 miles from where the shooting took place. ABC didn't immediately respond to a request for comment on how it verified the identities of Cruz's former classmates.
A spokesman for the ADL, which first reported the supposed tie between the ROF and Cruz, told HuffPost on Thursday that "it is for law enforcement to 100% confirm that he was a part of this group."
"Given what we found today and the timing of the case, there is no doubt the information raises a red flag and should be investigated further," the spokesman said.
As reports of Cruz's supposed link to ROF appeared in the media, members of an "alt-right" white supremacist forum claimed the entire story was an attention-grab by Jereb, or possibly a hoax aimed at tricking media outlets into pushing a false narrative.
Jereb already comes across as a caricature of a Florida white nationalist, and he has been seeking attention for his views for years. "Jereb was a weird character even in the extremist underworld to which he so badly wanted to belong," the Southern Poverty Law Center, which monitors hate groups, wrote in 2014. Most white supremacists avoid the SPLC, but Jereb "wanted desperately to be mentioned in these pages," the group wrote. "He flooded us with pleas for attention."
The SPLC has not been able to confirm any ties between Cruz and ROF, Heidi Beirich, the director of the group's intelligence project, told HuffPost. "It may seem odd that Jereb would bring attention to his group by claiming a connection to Cruz, but Jereb has always been somewhat of a publicity seeker," Beirich said.
In 2016, Jereb was arrested for allegedly threatening a high-ranking staffer of Florida Gov. Rick Scott (R). The Tallahassee Democrat reported at the time that Jereb was "known to ride a bike through neighborhoods wearing para-military garb. He has filmed numerous run-ins with law enforcement."
On Thursday afternoon, members of The Right Stuff, a white supremacist forum, claimed that the story of Cruz being tied to ROF was false. "Started out as an inside joke until Jordan Jereb literally told the media that it was true and that he was affiliated with a school shooter," a TRS user posting under the name "Jordan Fash" wrote.
Fash posted screenshots of an ABC reporter messaging a user named "Ethan" on Instagram asking for information about Cruz. Ethan told the reporter that Cruz was an ROF member. "It was common knowledge he did rallies with ROF, I frequently saw him conversing with Jordan Jereb in person," the user said.
The ABC reporter declined to comment. ABC didn't immediately respond to a request for comment on how it reported its story.
It didn't take long for other far-right extremists to latch onto a possible reporting flub as a way to attack the entirety of the mainstream media. Cameron Padgett, the campus fixer for Richard Spencer's college speaking engagements, tweeted that the media "will do anything to smear white people."
In his quotes to the media, Jereb elevated anti-feminist and anti-Semitic views, and claimed that Cruz "probably used that training [with ROF] to do what he did."
There tends to be an information vacuum after a mass shooting, and trolls and propagandists often take advantage of the confusion in order to promote their own interests. After the shooting at a Texas church last year, right-wing conspiracy theorists were quick to claim that their political enemies — everyone from Sen. Bernie Sanders (I-Vt.) to anti-fascist protesters — were somehow connected to the shooter. Trolls will also routinely claim that Sam Hyde, a real-life comedian, is behind a mass shooting before the real shooter has been identified. In the immediate aftermath of a shooting, it's easy for false information to spread rapidly.
In 1999, Bill White, a former leader of the National Socialist Movement, injected himself into the conversation surrounding the Columbine High School massacre by suggesting that shooters Eric Harris and Dylan Klebold might have visited White's extremist website before the rampage. White, who identified as an anarchist at the time, managed to garner national attention for his obscure website, which urged kids to build bombs, blow up schools and slaughter football players.
Ashley Feinberg contributed reporting.
Popular in the Community