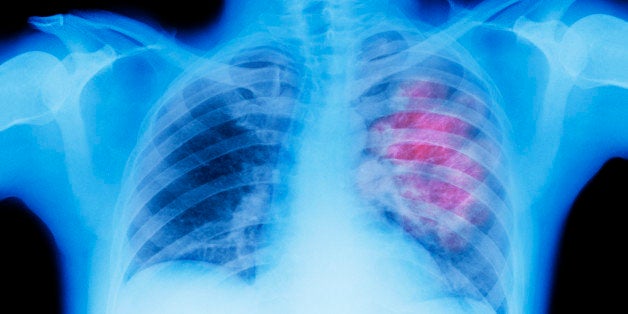 The stockpile of evidence confirming -- and reconfirming -- the lifesaving value of lung cancer screening continues to grow.
The latest study, published in the Annals of Internal Medicine, reexamines all the data from the 53,000 participant National Lung Screening Trial (NLST), and looks specifically at the impact of computed tomography (CT) screening on high risk 65- to 75-year-olds.
Their finding? CT screening is as beneficial for those at high risk in that age group as it is for those at high risk between the ages of 55 and 65.
This reinforcement of the NLST findings follows on the heels of an actuarial analysis published two weeks ago which found that CT screening is equally as cost-effective in those two groups -- and, in fact, more cost-effective than mammography screening or colonoscopy screening.
A series of other studies published within the past three months further underscores the effectiveness of lung CT screening in shifting lung cancer diagnoses to earlier stages when it can be more easily treated and even cured.
These studies come at a critical time, as the Centers for Medicare and Medicare (CMS) is currently deciding whether or not to cover CT screening for those at high risk.
"Risk" is currently defined by smoking history and age. People between the ages of 55 and 80 are considered at "high risk" if they have a 30-pack-year history, a pack-year being equal to the number of packs smoked a day multiplied by the number of years a person smoked. This includes former smokers who have quit within the last 15 years.
Last year, the government agency that evaluates new procedures, the U.S. Preventive Services Task Force (USPSTF), gave a B grade to CT screening of those at high risk. Under the health care reform law, a B grade by USPSTF means CT screening for that targeted population must be covered without copay by commercial insurers of the under 65 population.
However, that requirement does not extend to Medicare coverage, and CMS has been pondering what to do since February.
Given that 60 percent of lung cancers are diagnosed in people over 65, Medicare coverage for those at high risk should have been instituted immediately.
Instead, CMS selected a panel of outside reviewers who decided in April that the evidence was not strong enough and actually recommended against coverage!
This bizarre recommendation left lung cancer patients and the medical professionals who treat them astonished that evidence from scores of national and international studies, including the NLST, one of the largest trials in the National Cancer Institute's history, coupled with the two-year review and positive recommendation by USPSTF, could all be so cavalierly dismissed.
What kind of public health policy would cover screening for someone considered at-risk before the age of 65 and discontinue it after that age when the risk actually increased?
To many, this seemed like a continuation of the stigma that has held lung cancer to a different standard than other cancers -- wrongly insinuating that lung cancer patients are less deserving of research funding and compassion.
226,000 people will be diagnosed with lung cancer this year, primarily at late-stage, and without screening, another 159,000 will die. Many of them could have been saved had they been diagnosed early.
CMS is not bound by the bizarre recommendation of April panel. But, by law, CMS must issue its draft decision no later than November 10 of this year.
It could, of course, issue its decision before that.
Whenever issued, the only fair decision will be full coverage without strings attached for the Medicare population.