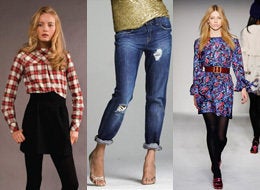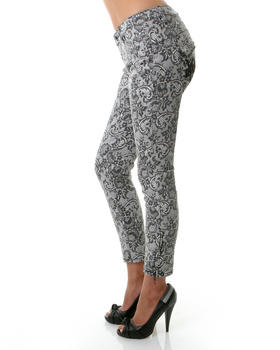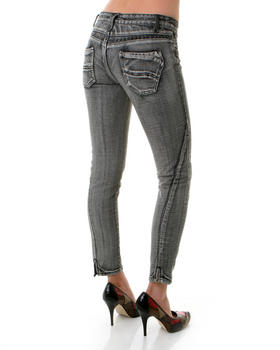 There's a "classic skinny jean," but it has metallic embroidery, and the benign-seeming dark-wash flare pair is called "tight boot cut jean." I wouldn't advise that anyone who keeps her clothes on at work buy a garment with "tight" in the name, because even if it does look harmless, who knows what's in store after a wash or two.
So the jeans are unattractive (and tastelessly named). But more than that, I'm always a bit insulted when celebrities design things they wouldn't wear. I get the strange feeling that Heidi Montag is not showing up to Koi with a mock-croc (vinyl? PVC?) bag. Retailers were even getting miffed at Victoria Beckham for failing to support and promote her dVb denim line adequately - although at least the clothes themselves are decent-looking.
So what gives? Why are celebrities falling all over themselves to design low-quality, often-unwearable, not-that-stylish clothes? There are lots of other ways to promote yourself. (See what I did just there?) I have a hard time grasping why clothing lines are the vehicle of choice these days.
I'd like to see designing left to designers - it's tough enough to get a good gig in that industry, even with talent. And I'm much more eager to see the wares of someone with a good eye and refined taste than a flimsy minidress with a recognizable face near the display.