In the weeks leading up to the 2017 Women's March, thousands of people knitted pink yarn hats, dubbed the "pussy hat," as a symbol of solidarity for protestors across the world united in a quest for equality.
And this weekend, at the March 24 March for our Lives events scheduled to take place in Washington, D.C., and in cities across the country — where protesters will encourage lawmakers to enact more sensible gun-violence prevention legislation — there may also be pussy hats. But the headlining accessory this time around is a pair of knit gloves with "evil eyes" sewn into the palms.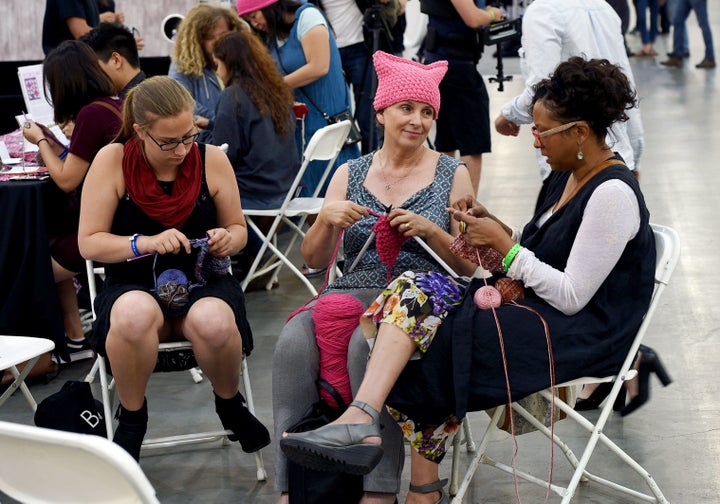 "Individually, to show the eye on the palm, you can put out your hand in a 'stop' gesture — as in we must stop gun violence; enough is enough. In a group, you can raise your hands above your head to show the eyes — this is the universal gesture of 'hands up don't shoot' and a reminder of how vulnerable our children are in a country with weak gun control," Suh's website reads.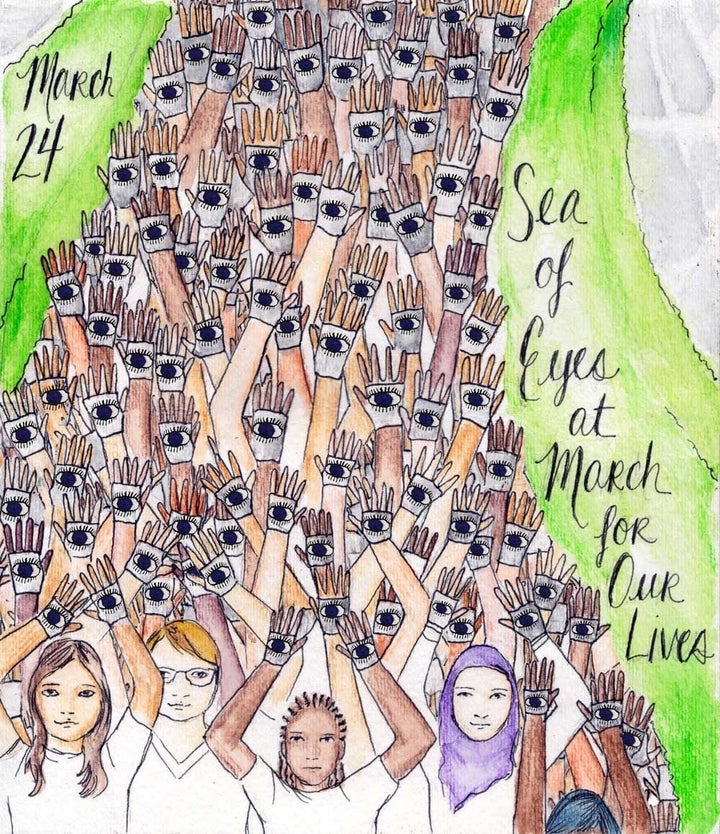 She says it's in perfect in alignment with women's issues, a cause she felt passionately about after the 2016 presidential election. "Women's rights are human rights, and there are a lot of issues specific to women — elder care, health care, and yes, gun control. We are mothers, students, and teachers, so I don't think that there's any issue that is off limits for women to advocate for," she tells Yahoo Lifestyle.
While the meaning behind the "pussy hat" is more easily deconstructed — both a nod to President Trump's comments about grabbing women and to the cat ears knitted into the headwear — the evil eye gloves are perhaps less obvious in their symbolism.
"The evil eye is the symbol of protection, just like the pussy hat was a symbol of protection for women who went to [Washington] D.C. to march," Suh explains. "These eyes are meant to show that people are watching — history is watching — what Congress will do next. I think it's really powerful."
Of course, not everyone offered glowing endorsements of those pink hats. They were called vulgar, pointless, and gender normative. As of yet, the evil eye gloves haven't caused as loud a stir, likely because they've been a recurring motif in fashion for years. On Fall 2016 runways, for instance, Givenchy and Alexander McQueen both showed collections with evil eyes and the Eye of Horus on garments and accessories. There are entire sections on retailers' websites devoted to evil eye jewelry.
"If you're going to talk about the evil eye, you've also got to talk about hands," wrote Racked in 2016. "The hamsa hand may be the most popular — and ancient — protective symbol against the evil eye. An open hand with an eye in the palm, this design has origins in the Babylonian Empire as an emblem of its goddess, Inanna. … Cultures the world over agreed on one thing: This amulet embodied female power." So maybe those knit gloves do make sense. 
As for whether protest fashion encourages "slacktivism" — the idea that throwing on a T-shirt with the slogan of any given cause célèbre replaces measurable political action — Suh, for obvious reasons, isn't so harsh to those who aren't ready to run for office but might be ready to knit a pair of gloves.
"Clothing items are symbolic, but they're also a gateway to larger action," Suh says. "Also, it's important to let people know they're not alone — that they don't have to work in a vacuum when other people are visible and brave enough to show themselves."
Read more from Yahoo Lifestyle:
Calling all HuffPost superfans!
Sign up for membership to become a founding member and help shape HuffPost's next chapter