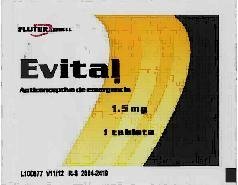 The U.S. Food and Drug Administration is warning consumers not to take Evital, marketed as a an emergency contraceptive, because it may not be safe or effective at preventing pregnancy.
The potentially counterfeit emergency birth control is most often distributed in Latino communities in the U.S., according to the FDA. Its packaging reads: "Evital Anticonceptivo de emergencia, 1.5 mg, 1 tablet."
Evital is not the first fake birth control to circulate around. The FDA cracked down on fake contraceptive patches -- with no active ingredients -- back in 2004, according to WebMD.
Emergency contraceptives have become increasingly accessible in the last decade. Since 2006 women ages 17 and older can purchase most morning-after pills over the counter at health centers and pharmacies. It's available to girls under 17 by prescription only.
The pills contain the same kinds of hormones found in regular birth control pills.
The FDA warns you should see your doctor if you've taken Evital and experienced health problems.
If you have any information about Evital, you can email the FDA at CDER_Ingredient_Adulteration@fda.hhs.gov. And if you've ever experienced an adverse health reaction from taking Evital, you can report it to the FDA here.
Related