Ages ago, when I first got cable TV, I got it for one reason: the Travel channel.
If you've watched the Travel channel over the years, you know it has ... well, evolved. Or maybe "devolved" is a better way to say it.
This is one of the reasons I love public TV--PBS--so much. The travel adventures we are introduced to on PBS are pure, unadulterated, real. Untarnished by commercial interests. Authentic.
This includes Richard Bangs' Quest series, which currently airs on the "Create" channel of my local PBS station (hi, KCTS!). Richard travels all over the world, but it was his exploration of Switzerland--my ancestral homeland--that made me think, "I need to interview this man!" His way with words is mesmerizing, almost putting viewers into a travel trance. You come away from his shows feeling you truly have, somehow, been transported along with him, traveling and exploring far away in some distant land.
Richard Bangs has often been called the father of modern adventure travel, having spent more than 30 years as an explorer and communicator, pioneering "virtual" expeditions on the World Wide Web and leading first descents of 35 rivers around the world. Richard has authored over 19 books, 1000s of magazine articles, produced a score of documentaries, and currently produces and hosts a series of public TV specials. He also is a regular contributor to the Huffington Post.
Thank you, Richard, for your time!
Pam Stucky: I am a big planner when it comes to travel, but I know people who look down their noses at that, thinking nothing beats spontaneity while on the road. What's your philosophy on that debate?
Richard Bangs: Looking down noses is not polite. I think the answer to this is personal, and depends on how each individual approaches the travel experience. There are many who enjoy the research phase as much as the actual experience, and research is in itself a cerebral exploratory. There are others who prefer the "Man from Mars" approach, and do no pre-research so it is as though they have dropped in from outer space, and the experience is entirely personal, unfiltered through previous eyes and interpretations. I am a bit of a hybrid in that I prefer the freshness and surprise that comes from not knowing or expecting too much....imagine rounding a corner and seeing the Taj Mahal for the first time never having seen a published image...Wow! That would knock you back...same with Angkor Wat, the Pyramids of Giza, Machu Picchu, Victoria Falls, The Great Wall, etc., etc. Instead, because we have all been so overexposed to these icons, the actual experience is usually disappointing, as we witness the actual thing in less than the optimum photo rendition....it is harshly midday; it is crowed with tourists; hazed with pollution; it's buggy, humid, and hawkers are hustling.
So, I prefer to parachute into a place with minimal background research, and few expectations, and I find I am almost always delighted and awed, and even if some place has been seen and dissected by millions before, it feels like my own discovery. I am not swayed by brochure copy, by overly vivid travel writers, or even well-filtered Instagram.
However, when I return, notebook full of my own impressions, emotions and conversations, then I usually go into research phase, diving into volumes that touch upon what I found interesting, and seeking answers to the questions raised through my travels. It allows me a deeper understanding of what I experienced, and it gives me the chance to make the journey a second time.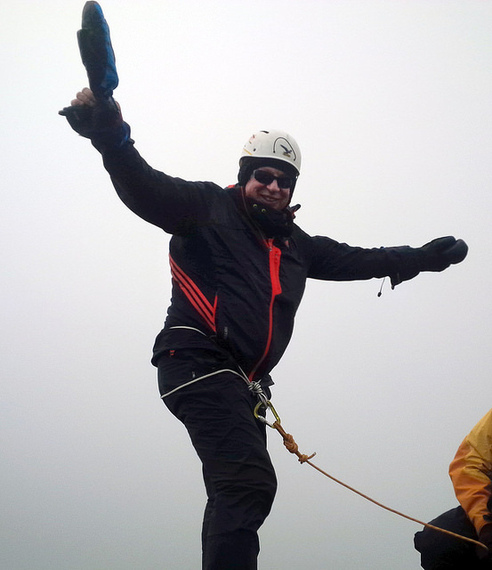 Climbing Cotopaxi. Photo: Richard Bangs.

PS: Having reached midlife, I've lately been reading a lot of books about happiness and midlife and the like. One thing that stands out is that every researcher points to "purpose" as one of the keys to wellbeing and a good life. Therefore, the title of your show Adventures with Purpose is especially intriguing to me. What was the "purpose" you intended to highlight in the title?

RB: I spent the early part of my career exploring the hidden crooks of the wilderness world, and was delighted to share the magic of these special places uncovered...but over time as I returned I couldn't help but notice how these extraordinary spaces had been degraded, dammed, diluted, desiccated, or outright destroyed...I also knew that when folks found a personal connection with these places, they then treated them as though family, and would fight for preservation and integrity.....but, visitation numbers would always be low...figures inversely related to remoteness....so, I set out to reach a broader, influential audience, PBS, and moved forward with a series of specials that hopefully celebrate a destination, but also tells its stories in an evocative, emotive way, one that elicits connectivity, inspiration to visit, and to become involved....I believe it's working.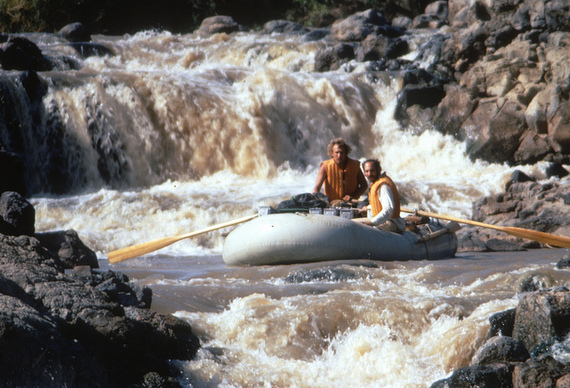 First descent of the Awash River in Ethiopia, with Lew Greenwald. Photo: Richard Bangs.

PS: Clarify for me: what is the difference between your Adventures with Purpose series and your Quest series?

RB: I made the first descent of the Omo River in Ethiopia in 1973, and decided we should record the effort with the tools available, including 16 mm movie film. The result, The Omo River Expedition, ended up on PBS, so that began a long relationship. The current series is called Richard Bangs' Quests, and is an evolution from Richard Bangs' Adventures with Purpose, though the underlying mission remains the same....a quest to understand and celebrate the assets of a destination, and extract what lessons might be learned and applied elsewhere, from pioneering environmental practices to progressive policies to the unsung heroes who make a difference. I also, at the core, believe the best way to preserve a wilderness or threatened culture is through visitation, as then the place and its issues become personal, an emotional attachment is knotted, and a constituency is formed which will invest the time, monies, and resources to save that which is meaningful. I think this is achieved in a couple ways with the PBS series (and all media with which I am involved) in that I hope to inspire viewers to actually come and visit a place featured; and if they can't, then at least I hope I can impart enough of the wonder and beauty virtually to entice support when the inevitable time comes.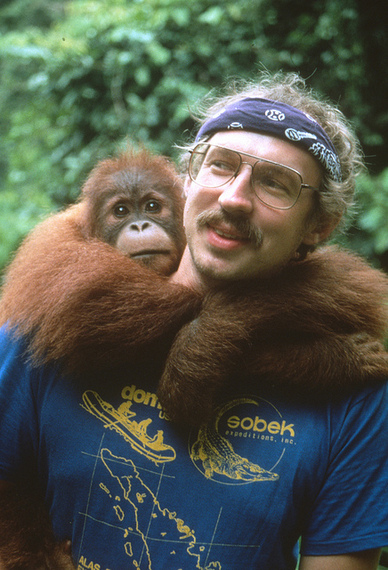 Richard in Sumatra at the Bahorok Orangutans Center. Says Richard: "Turning point in my career. I decided not to live with orangutans and instead write for a living."

PS: Why do you travel? What are you seeking when you travel? What do you find?

RB: I was inspired by the mythopoetics a generation before me. Once a province of the improbable, "adventure travel" was something seen in the pages of National Geographic, not available to the average Jane or Joe. The only adventure travel on Main Street was when a well-planned vacation went wrong. Then the likes of Edmund Hillary, Tensing Norgay, Jacques Cousteau, Thor Heyerdahl and others of that ilk changed it all by showing it was possible, accessible, and with enough passion, practice, and will, it could be undertaken, and relished. I was a beneficiary of these pioneers, and enjoyed the confluence of airline deregulation, political borders smoking away, and a period of relative affluence which allowed a new generation to seek and delight in adventure travel. I started Sobek at this magical intersection, and, with alacrity, began to chronicle our explorations. What a magnificent ride it has been.
Wait! There's so much more Q&A! What does Richard think about failure? What are his thoughts on travel writing? Or on our short-attention-span culture and how it affects travel? How did an early experience with a river impact the course of his life? All this and so much more is covered in the rest of the interview with Richard here!
Somewhere between funny and philosophical lies the truth in Pam Stucky's writing. Pam is the author of several books including the Wishing Rock series (Northern Exposure-esque contemporary fiction, with wit, wisdom and recipes); the Pam on the Map travelogues (wit and wanderlust); and the YA Sci-Fi The Universes Inside the Lighthouse (wonder and wisdom). Pam's driving forces are curiosity, the pursuit of happiness, the desire to thrive and the joy in seeing others do the same. Pam is currently working on writing novels and screenplays.