Despite valiant efforts made by parents, toy creators and even kids themselves to convince brands to produce gender-neutral toys, the divide between "boy" and "girl" products remains vast.
Blue stuff and action figures get relegated to boy land, pink stuff and dolls are in the girl aisle and, more often than not, the dolls are increasingly feminized. They are thin, have large eyes, long lashes and are dressed provocatively. As we've pointed out before, however, these characters (some iconic), weren't always so sassy. Once upon a time, Strawberry Shortcake was a round-faced little girl with freckles, long sleeves and bloomers. Trolls used to be, well, just trolls, not "Trollz," their sexy, slim, smooth-haired doppelgängers.
Perhaps the most shocking transformation is that of My Little Pony, a toy that was introduced in 1983 and has been revamped several times. Most recently, Hasbro introduced "Equestria Girls," dolls that are pony-girl hybrids (think "goth" Barbies with blue or green skin and a colorful ponytail) along with a special DVD to be released in August. Per a press release, the humanized figures are supposed to represent My Little Pony characters as teenage girls in high school.
The image on the left is an original My Little Pony from 1983, on the right, is 2013's Equestria Girl.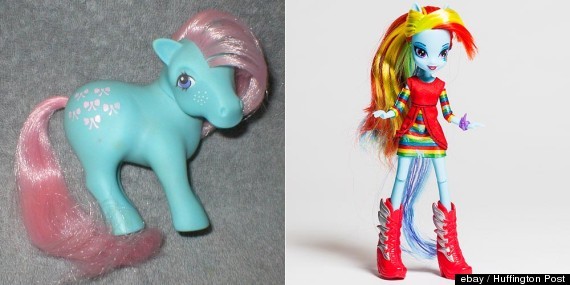 The release goes on to describe these characters with words like "glamour," "stylish," "ultra-chic," and it is noted that each doll features her own signature "cutie splash," an individual design that is similar to the "cutie mark" on her pony alter ego.
But, did the beloved Little Pony really need to become all of these things? John A. Frascotti, Hasbro's chief marketing officer, says yes. "We are responding to the desire by our fans to experience the brand in more ways," he told the New York Times.
Author Peggy Orenstein (whose book, "Cinderella Ate My Daughter," sparked a national conversation about how "princess culture" affects young girls), has a different answer. Orenstein pointed out, in an e-mail to The Huffington Post, that the Equestria Girls are necessary from a business perspective if Hasbro wants to compete with similar toys in the market. However, she says:
It's up to parents and those who give a hang about girls actual development and well-being to say absolutely neigh.

You want a sexualized, self-objectifying girl? Give her sexualized, objectified dolls. You don't? Have some conversations with the other parents in your community about the potential impact of self-sexualization and self-objectification on girls' development -- including negative body image, eating disorders, depression, low self-esteem, poor sexual choices, etc. -- and choose from the many other toy options that are rising up in response to this inappropriate trend.
Click through the gallery below to see My Little Pony's transformation over the years (do not miss the video at the end), and tell us what you think of its "makeover" in the comments.
This story appears in Issue 62 of our weekly iPad magazine, Huffington, in the iTunes App store, available Friday, August 16.
Related
Before You Go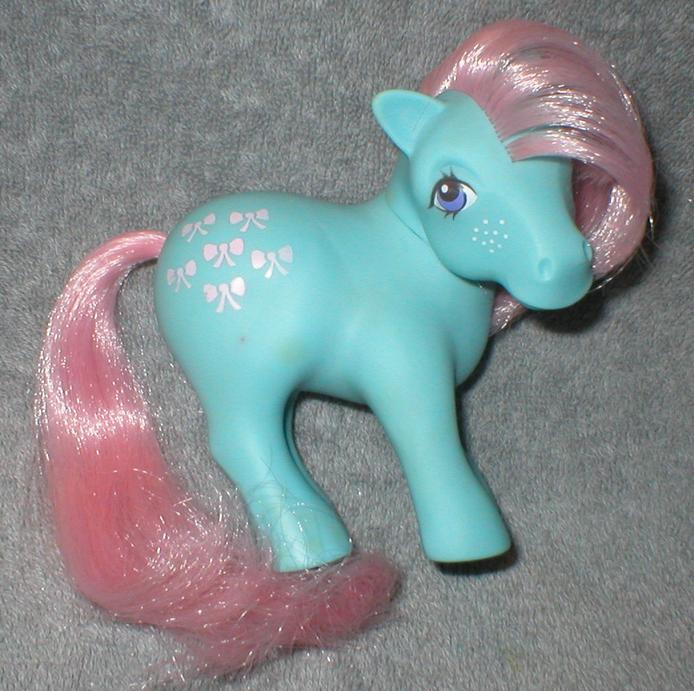 The Evolution Of My Little Pony