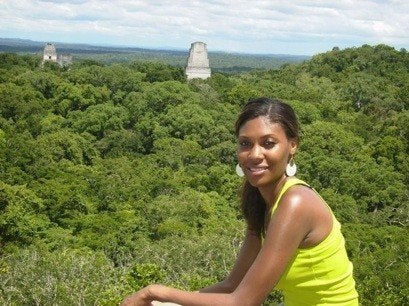 I'm not sure that there is a precise moment in time when travel migrated from a passionate past time to simply a way of life for me. I cannot look back and say that there is an "A-ha!" instant in which I can directly attribute a certain experience, destination, or person to the way my life has evolved. Travel is an art form, a stimulant, and a mode of expression. Above all for me, it has become a lifestyle.
Traveling around the United States, vacationing with family, and studying foreign languages, were all predecessors to developing my fervor for traveling abroad. I began studying the French language at 13 years old. To this day, I vividly recall loving the sound of the language, because to me it was uncommon and melodic. Growing up in Florida, Spanish was routinely spoken at school, in supermarkets, and on television. Signs and instructions were listed in both languages. I wanted a language that took me away from my daily experiences and that gave me inspiration.
After high school, I enrolled in college with a major in International Business. I also continued enriching my foreign language skills in college. The School of Business and Industry at Florida A&M University was one of the university's strongest programs and annually listed as one of the top business schools in the country, particularly for its professional development curriculum. I landed two yearlong employment contracts during my undergraduate and MBA studies, in France and Italy. During my university matriculation, I began planning extensive travel itineraries for my friends for our spring break vacations. I also began to get exposed to airline and hotel reward programs.
In my six years at FAMU, I had experienced most of Europe. I fell in love with Paris' city life, ate my first gelato in Italy, adored the shopping quarters in London, witnessed the running of the bulls in Pamplona, and countless other jaunts as a young woman feeling like she had been kissed for the very first time. While working in Italy, I met a person who would forever change my life.
I returned to the States, working for Fortune 500 companies. In every work agreement, I would negotiate for bonuses and vacation time. The vacation package for me was always critical. The bug bit me and there was no turning back. I continued traveling any way I could and in any moment -- at every holiday, for long weekends, attending conferences.
After a few years, my friend Teri Johnson and I got together and developed Travelista TV. The firestorm of traveling multiplied immensely as we jaunted from country to country. My attraction to a certain type of man, even in high school, was targeted towards someone who traveled, had a passion for discovery, spoke a foreign language, or actually was foreign. Extra points if they had all four characteristics!
Forty-three countries later and no chance of slowing down, I have now returned to Italy and my romantic love where I am learning the art of la dolce vita. Between work and fun, I manage to log a minimum of six international trips a year. At least two are new countries that I've never visited before. The others are places that I know well, where I return to visit friends or locales that I love.
People say that at some point in my life the bug will leave me or that I will have to curtail the travel because of the economy slowing. Because travel is a lifestyle for me, not a pastime, I make the finances of the trip work. Traveling to countries where the dollar is stronger against the local currency is a sure bet. We rent apartments in certain destinations because it makes economic sense and affords the possibility to live like a local and entertain new friends. With Travelista, I've earned frequent flyer and stay privileges at select hotels.
For those like myself, traveling is not a seven day break out of a calendar year. Travel and discovery is my life and I have had the good fortune of combining work and pleasure into a lifestyle.
Popular in the Community