 Brandon Peele and his business partner Dane founded EVR1 a year ago with the intention of creating "gear and goods that are equal parts rugged utility and 20th century spiritual totem." Everything they make -- from pocketknives, key chains and iPhone cases, to watches and pendants -- is produced in a sustainable way. That means the goods are made from upcycled leather and truck tire tubing, by hand and largely electricity-free.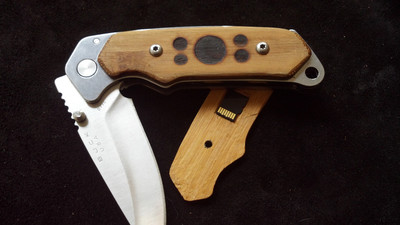 "We strive to have our products embody what the brand stands for: Connecting all of humanity to the present moment and the long march of human progress at the same time," explained Brandon.
And I must say, they do that in a really cool way. I've never before encountered anything quite like EVR1's awesome sauce... Almost all of the goods they make contain a micro SD card. Although these chips are only the size of a dime, they can hold vast amounts of data. Brandon and Dane decided to load onto the SD cards all of humanity's greatest written works: Plato, Lao Tzu, Gilgamesh, the Bible, the Bhagavad-Gita, many ancient and modern spiritual masters and even Wikipedia. In addition, they included a broad selection of manuals and intellectual texts that capture humanity's practical wisdom: metallurgy, farming, construction, first aid and dictionaries of many languages.
The goal of the SD cards, according to Brandon, is that "you get to carry with you this little time capsule, a literal and virtual library of Alexandria. It offers a concrete, visceral way to connect, in the midst of your everyday life, to the power of the human spirit and our interdependence."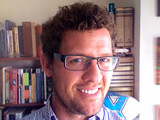 Once they had launched the EVR1 brand, Brandon and Dane felt it important to create an award that recognizes people for leadership in human evolution and the march of progress. "The Kai Zen Master award is our carte blanche to say who we think is awesome, who inspires us," Brandon said. "But on another level, it gives us an opportunity to put that person's work in a broader context."
I'm honored and excited to be sharing with you the recipient of EVR1's first annual Kai Zen Master award: David Eagleman, PhD.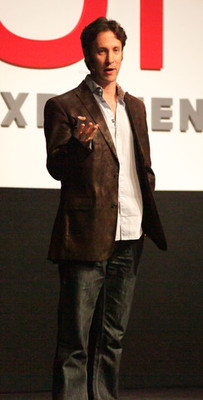 Dr. Eagleman is an accomplished neuroscientist, Guggenheim Fellow, Council Member of the World Economic Forum and Board Member of the Long Now Foundation. Brandon calls him "our generation's Carl Sagan."
Dr. Eagleman has brought complex questions of personality, ego, identity, perception, consciousness and certainty to the mainstream via talks at TED, Being Human, and Poptech, as well as his New York Times best selling science book Incognito.
In addition, Dr. Eagleman is a philosopher, having proposed the term Possibilianism as a middle ground between Atheism and faith. Possibilianism asserts that we know far too little about reality to state there is no God, yet far too much about existing religious traditions to believe that any one of us has a comprehensive lock on God, reality or ethics. As such, we must remain in a state of wonder. In that vein of thinking, Dr. Eagleman's book Sum: Forty Tales of the Afterlives explores potential end of life scenarios, from the heartbreaking to the absurd.
Lastly, Dr. Eagleman is a scholar activist, the founder and Director of Baylor College of Medicine's Initiative on Neuroscience and Law. The Initiative's goal is to help Americans explore the meaning of justice and retribution in a world where there is so little evidence of a discrete self.
The Kai Zen Master award is "long on merit but short on actual reward," Brandon explained. EVR1 is sending Dr. Eagleman one of their unique handcrafted products as a token of their admiration, along with a blog post explaining why he was chosen as the award's first recipient. Above all, Brandon and Dane want to honor Dr. Eagleman's contributions to human evolution as a true Renaissance Man.
In speaking with Brandon about the Kai Zen Master award and his admiration for Dr. Eagleman, I felt intrigued by what had drawn him into his chosen line of work with EVR1 and his propensity for philosophical contemplation. Brandon laughed. "To me it seems like common sense that people would be thinking about this stuff all the time, but I realize that isn't the case. I just live in Berkeley."
Brandon, in fact, only came around to his way of thinking recently. He grew up in Chicago, an all-American sports-playing kind of boy. In college, he joined a frat and "drank myself silly," then went into investment banking with Merrill Lynch. Surprisingly, it was a course he took while completing an MBA at Columbia University that turned Brandon's world upside down. A course called Creativity and Personal Mastery.
"That course exposed me to the concepts of an ideal day, job and life, to philosophy, happiness and meaning." Each week, the students had to complete a different thought experiment. For example, you had to eat one meal a day for a week in solitude and silence. You had to interact with everyone for one week as if you would die at the end of that week. All along, you had to write, journal and reflect.
"The goal of the course was to light a fire under people so that they would demand more from themselves, commit to making the world better and more soulful." Brandon smiled. "Obviously, it worked as planned on me."
Brandon came out of the course in an existential crisis. He was hit by the realization that he'd been working hard to earn money, traveling, drinking, chasing girls and "all that stupid stuff," with no focus on a larger connected reality or holistic view of human existence. He began his quest for meaning, reading spiritual books, traveling to India, meditating, seeking out a therapist and otherwise finding meaning and purpose. Meanwhile, he kept working at startups.
Then one day, in the midst of a massage at the Imperial Spa in San Francisco, Brandon was hit with the idea for EVR1, and it took him over completely. He realized that he had to create goods that were useful, sustainable and spiritual. "I literally went home, registered the domain name and started sketching out products and writing the brand manifesto. EVR1 is my Moby Dick."
Well, congratulations to Dr. David Eaglemen, first ever recipient of the Kai Zen Master award. And congratulations, as well, to Brandon Peele, for taking the leap into the Life Out Loud. You're a role model for all of us in seeking out your life purpose and creating a company built on your values of sustainability, connectedness and honoring the long march of human progress.

Photo credits: Brandon Peele
Related
Popular in the Community