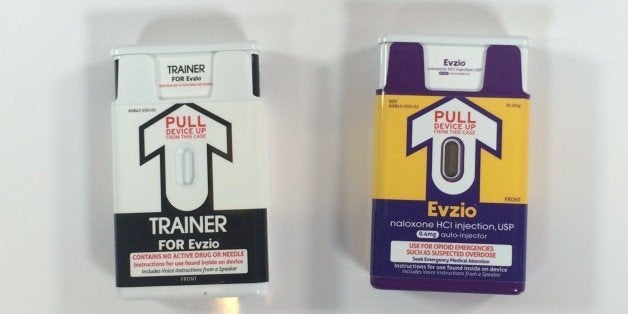 INDIAN WELLS, Calif. -- Naloxone, a medication known as the "overdose antidote," can reverse the effects of an overdose from opioid drugs like heroin, Vicodin, OxyContin and morphine. Although Naloxone has saved tens of thousands of lives, and has been approved for use against drug overdose by the Food and Drug Administration since 1971, it's typically only administered by medical professionals.
That began to change last April, when the FDA fast-tracked the approval of a device called Evzio. The device administers Naloxone as an auto-injectible, similar to the way epinephrine can be injected with an EpiPen. And it's going to be widely available to universities, colleges, community organizations and local police and emergency authorities at a cost comparable to the federal supply schedule pricing -- in other words, near the lowest possible cost that a federal institution, such as Medicare or the Department of Veterans Affairs, would pay for the device.
The rollout is a collaboration between Kaleo, the pharmaceutical company that invented the device, and the Clinton Foundation's Health Matters Initiative. It was announced at a panel session Monday, the second day of the Clinton Foundation Health Matters Summit. Speaking at the panel session, former President Bill Clinton described the initiative as "something which I think will save a lot of lives."
"In five years, the goal is to save 10,000 lives per year," said Kaleo CEO Spencer Williamson in an interview with The Huffington Post prior to the announcement. More than 16,000 people died from opioid drug overdose in 2013, according to the Centers for Disease Control and Prevention.
During an opioid overdose, the drugs cause a person's breathing to slow down so much that respiration may cease entirely. The average time it takes for emergency medical services to arrive varies from region to region. Brain cells, however, begin to die within four minutes after someone stops breathing, Williamson told HuffPost.
"The goal is to improve access and ensure that Naloxone is in the hands of people when a life-threatening overdose occurs," he said.
For people with health insurance, or coverage through Medicare, Medicaid, the VA or TriCare (the armed forces' health plan), Evzio typically costs less than $30 out of pocket. But for people who lack health coverage and who don't qualify for Kaleo's assistance program (which extends to people without health coverage who earn up to 150 percent of the federal poverty line), prices climb as high as several hundred dollars. The average wholesale price for one unit of Evzio, which includes two Naloxone delivery devices and one training device, is $575, according to Williamson.
Williamson declined to put a specific number on the estimated discount or the anticipated new price of Evzio, saying that federal supply pricing is a "moving number" and constantly in flux.
Rain Henderson, CEO of the Clinton Foundation, described the federal supply pricing as the "the floor," saying, "You can't go any lower than the rates that the federal government gets." But supply is another crucial issue when it comes to Naloxone access, she said.
"The manufacturing landscape has been changing quite dramatically, and the pricing and the availability of Naloxone has been unpredictable," Henderson told HuffPost at the summit. "That makes it very hard for community groups, organizations [and] policymakers to plan for how to purchase Evzio."
"For us, the point was to create a predictable and affordable supply," she went on, "so you could have more organizations purchasing Naloxone and using a device like the Evzio auto-injector to save people's lives."
The makers of Evzio say it can be used by anyone, at any time, with little or no training. When activated, the handheld device begins "speaking" to the user, reciting instructions on how to administer the medication. According to Kaleo's research, 90 percent of people can use Evzio properly with no prior training, and 100 percent are successful if they have been trained.
Williamson told HuffPost that because Evzio is shelf-stable, caregivers who serve opioid addicts can stock the product for up to two years and deploy it as soon as it's needed during an emergency, as opposed to waiting what could be several crucial minutes for emergency medical crews to arrive.
"We have seen physicians very much embrace the product, because they see it as a way to really empower patients and their families to manage their challenging medical conditions," said Williamson. "The open-arm reception to the product and awareness of the problem has been really exciting for us, and more than what we anticipated."
Meghan Ralston, a harm reduction manager with the Drug Policy Alliance, applauded Monday's news in an interview with HuffPost.
"The rising cost of Naloxone is an important thing we should all be talking about," said Ralston. "Kaleo, by doing anything to make Naloxone in any way more affordable to anyone -- good for them. Kudos to them."
At the moment, it's already possible for individuals to obtain and administer generic forms of Naloxone, either as an injection or a nasal spray. Laws vary by state about whether a prescription is needed to purchase the medication. Ralston pointed out that different formulations of Naloxone are beneficial to different types of people.
"Evzio is a completely distinct way of using Naloxone, because it talks," she said. "Would an 8-year-old have an easier time using Naloxone via Evzio on their accidentally overdosing grandmother? Probably."
"Anything that helps get Naloxone into an overdosing person is a good thing," she added. "One hundred percent."
Shoshanna Scholar, executive director of the LA Community Health Project in Los Angeles, expressed cautious optimism about the potential impact of an Evzio discount. Because Kaleo won't disclose the discount or the new price of the product, Scholar said she can't yet tell whether the new initiative will be able to help organizations like hers, which specializes in community-based Naloxone distribution.
In 2014, the LA Community Health Project conducted 652 trainings in overdose prevention and Naloxone administration, and at least 77 lives have since been saved as a result, according to Scholar. The majority of those overdose reversals, she said, were cases either of drug users saving each other's lives, or family caregivers saving the lives of someone they loved.
At Evzio's current cost, Scholar can only afford to train community members with generic injectable Naloxone. But if the eventual discount proves significant, she might consider stocking up.
"If it were possible to lower the rates significantly today, tomorrow it would be in the hands of people who are most likely to be at the event of an opioid overdose," Scholar wrote in an email to HuffPost. "We need to keep the volume of the Naloxone we distribute at the level it is at or higher to meet the increased demand."
Related
Before You Go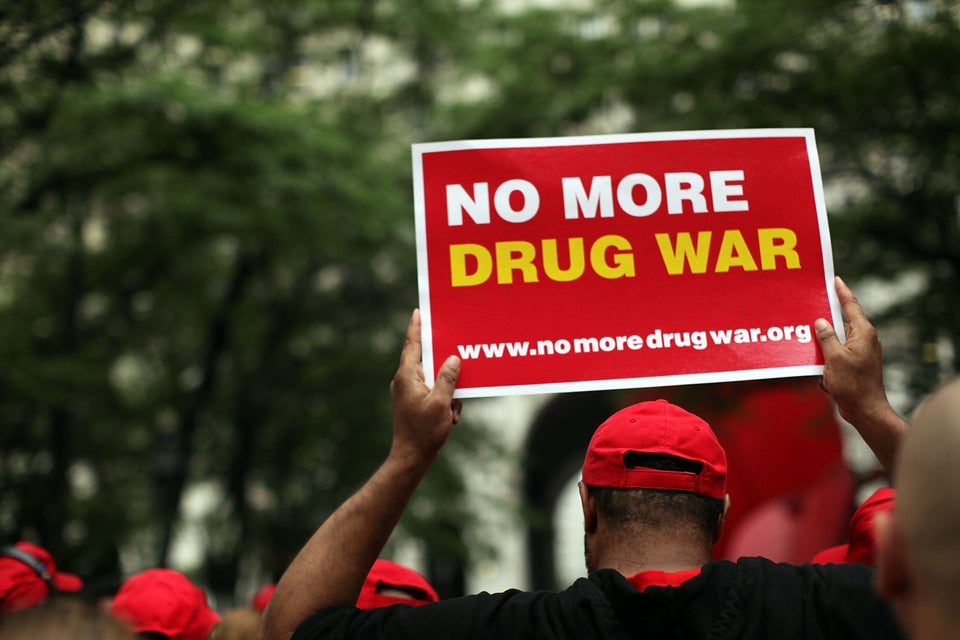 27 Reasons Why The U.S. Shouldn't Lead The War On Drugs