 FREDERICKSBURG, Va. -- The Virginia Republican Party took a post-convention victory lap on Tuesday in a parking lot outside gubernatorial candidate Ken Cuccinelli's headquarters. While the gatherers had come to propel the top of the ticket to a November victory, it was Cuccinelli's newly minted sidekick who stole the show.
Lieutenant gubernatorial candidate Bishop E.W. Jackson was an unexpected nominee, the product of a convention process that doomed the more conventional choices. He's also a nominee with baggage, weighed with a lengthy history of anti-gay, anti-Muslim, anti-Obama remarks.
Jackson made no attempt to soften the edges on Tuesday, despite whispers from Virginia Republicans that his selection may doom Cuccinelli's chances. Instead, Jackson charged forward with gusto.
"We are going to explode the lies and the myths about the conservative movement!" Jackson said from a pickup truck parked next to a neighboring salon. "I'm sure you all know, they are attacking me already -- I don't fit the mold."
"One reporter, I think it was The Huffington Post, actually wrote, 'We know this guy's way out there because he actually says we're going to get government off our backs, off our property, off our guns, out of our families, out of our health care, out of our business, out of our lives, and out of our way.' So, guilty as charged."
A crowd of about 160 stood in the hot sun, applauding and cheering.
Within hours of winning the nomination at the state Republican Party convention on Saturday Jackson had become a much-discussed figure. Within hours, opposition research was coming in waves. Jackson had compared Planned Parenthood to the Ku Klux Klan, said President Barack Obama had a "Muslim perspective" on the world and noted a connection between homosexuality and pedophilia.

Cuccinelli, whose appeal has been based, in part, on his socially conservative views, has spent the campaign shifting his message to the economy and crime. Jackson's selection seems to complicate that, even more so that he won't back down from past statements.
"I don't have anything to rephrase or to apologize for," Jackson told reporters. "I would just say, people should not paint me as one-dimensional. I have a whole lot of concerns." He mentioned jobs and the economy.
It seemed a reasonable enough request. But part of the problem facing Jackson is Jackson himself. Rather than moving the conversation to economic policy, he seems eager to stay engaged in social policy debate. He waded into abortion on Tuesday, which he said was having a "devastating impact" on black people.
"Thirty-seven percent of abortions happen in the black community," he told reporters. "Only 11 percent of the people in the country are black. Something's wrong here, particularly when you consider the history of Margaret Sanger. I mean, she didn't begin this with clean hands. She began thinking about how do we limit the populations of feeble-minded people, minority people.
"I think the press ought to at least explore this and say, 'Well, you know, is there anything to this idea, since it was formed that way ... that there's some sort of effort to make sure there's no growth in the minority population.' Now maybe there's not. I'm not saying there is."
For Virginia Republicans -- perhaps even the GOP at large -- the first round of events by the lieutenant governor candidate seems unlikely to have assuaged fears that the party hasn't learned the lessons of 2012.
Comments about abortion and rape sunk the 2012 Senate candidacies of Rep. Todd Akinin Missouri and Richard Mourdock in Indiana. In the wake of those failures, former Bush hand Karl Rove formed a super PAC to guard against right-wing challengers. Presumed 2016 presidential hopeful Louisiana Gov. Bobby Jindal (R) warned Republicans not to become the "stupid party."
It's too early to judge Jackson the type of candidate they feared. But his nomination has some Republicans already sounding the warning. Lt. Gov Bill Bolling, who Cuccinelli outgunned for the gubernatorial nomination, has criticized Jackson.
"These kinds of comments are simply not appropriate, especially not from someone who wants to be a standard-bearer for our party and hold the second-highest elected office in our state," Bolling told Politico.
Most in the Fredericksburg crowd seemed unconcerned about the past.
"The media's bias is to bring up dirty stuff to anyone who tries to straighten the country out," said Fleta Del Bianco, of Spotsylvania, Va. "He is a great speaker, a great orator."
Chris Garofalo, 20, a student at Christopher Newport University, acknowledged that to some Jackson could come across as fringe. But Garofalo defended him nevertheless. "He's very passionate, and there's bigger things than marriage," Garofalo said. "The main point is the economy."
Support like this will have to be sustained over the next few weeks, as the drip, drip, drip of Jackson's past comments keep coming. The website TPM reported Tuesday that Jackson lent his support against a plan to desegregate public housing in South Boston, which he called "social engineering."
"I think that maximum emphasis needs to be put on the ability of people to choose, even if that means some housing developments are predominantly of one race or another," Jackson told station WGBH in 1988.
The revelation by itself won't sink his campaign. But his general election campaign is only three days old.

Support HuffPost
The Stakes Have Never Been Higher
Before You Go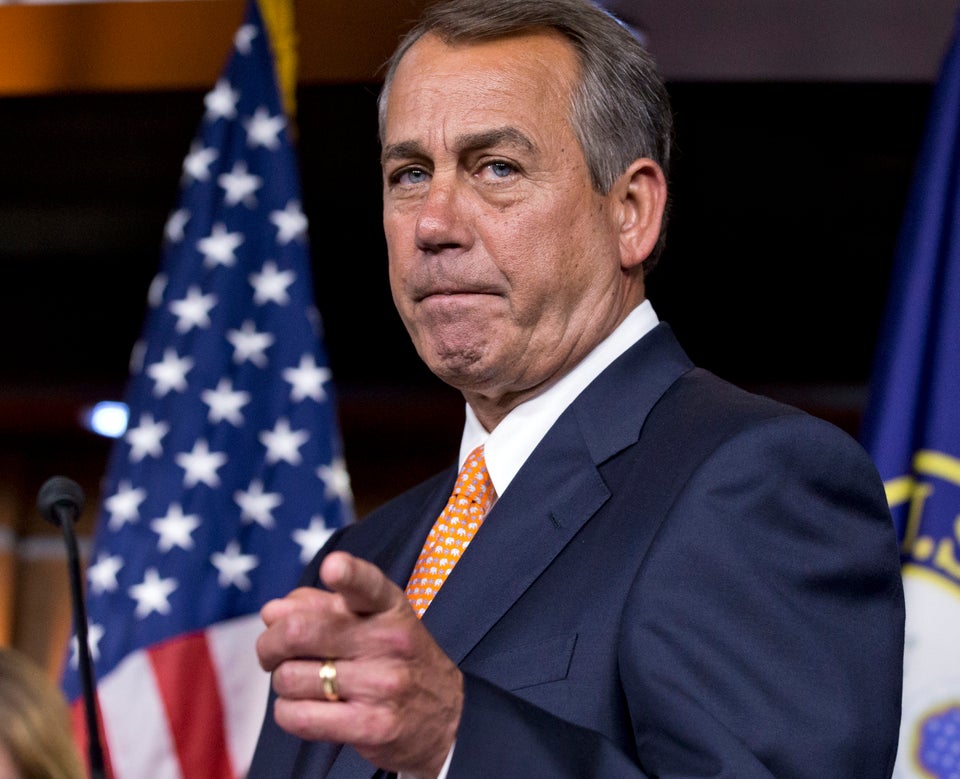 Conservatives Pointing Fingers
Popular in the Community