Whether he's playing a revered Jedi (Star Wars I, II, III) or a befuddled albeit loyal son (Beginners), Ewan McGregor sports a certain élan not often present in most of today's leading men -- aside from George Clooney perhaps. Having discernment for the roles he takes on certainly helps, but the way McGregor fully embodies the characters he plays is not only enjoyable to watch but downright rare.
You can spot McGregor's one-of-a-kind depth in his latest endeavor, Salmon Fishing In The Yemen, too. (The film opens in select theaters today.) Based on Paul Torday's popular novel, McGregor morphs into fisheries expert Dr. Fred Jones, whose life takes a curious turn when a sheik lures him to help bring salmon fishing to his Arabic homeland. Oscar-winner Simon Beaufoy's (Slumdog Millionaire) makes the film feel like a more grounded, sensible rom-com and with Emily Blunt and Kristin Scott Thomas on board under the direction of Oscar-winning director Lasse Hallström (Chocolat, Slumdog Millionaire), the film could be quite a catch at the box office.
I caught up with McGregor recently to get a rundown of his Fishing experience, but I wound up gathering enough fodder that helped deconstruct his overall allure. Follow along: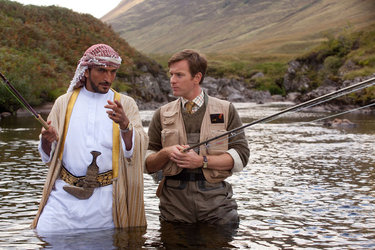 Shot in London, the Highlands of Scotland and the desert of the Yemen, Fishing ... offered McGregor the kind of opportunity he just can't say no to: Doing something new and different. "It's a lovely character to play," he says of Dr. Jones. "I've never played 'him' before. I was just captured by the story as I read the script. I thought it was a really lovely love story. I like the complications in it -- he's in an unhappy marriage; [Emily Blunt's character] is in love with her boyfriend. And yet, this is an unusual premise for a love story to complicate it like that. I thought it was very real."
Most of the Fishing ... cast and crew hadn't worked together prior to the shoot, but one person took McGregor by surprise. "I never worked with Lasse Hallström -- he's sort of bonkers in a way," McGregor says. "He likes to appear that he doesn't know what's going on, but it's all a game. He almost plays at being 'hands off,' but you know he's absolutely eagle-eyed about what's going on and he's very precise with his notes. I like him. He's a very lovely, funny man. And Emily Blunt is so divine. She's very similar to the way I do things -- able to really throw yourself into a scene."
It's not rocket science, it's basic math: Good acting + good looks x discernment in choosing roles (from Trainspotting and Moulin Rouge to Ghost Writer and Beginners) = the SAG/Emmy/Golden Globe-nominate creature that is McGregor. "You're always looking for something interesting in the person you are going to play -- always looking for a good story arc," he says of how he chooses his parts. "I just approach reading scripts like reading books. If they grab me, they grab me. If they don't, they don't. I try not to complicate it any more than that. It's the story. I just read it for the story and if it feels like the movie script, movie beats that you are familiar with, then, generally, I will not want to do it.
"Because I think it's all about the script," he adds. "You can make a poor film out of great script but it's difficult to make a great film out of a poor script. I really do believe it's the foundation of everything. The script has to be something you really connect to."
That Was Then, This Is Now
On how the "entertainment business" has shifted, McGregor says, "My world of cinema, where I operate, is disappearing -- that mid-budget drama, films about people in real situations be it big or small. You can find it in very low-budget films like Beginners. Those are the films where I really thrive. Those are the kinds of films I really want to do. It represents who I am as an actor, but it's very difficult to find nowadays because the bigger budget stuff is 'brand' stuff that we already know about -- fairy tales or super heroes or prequels or sequels.
"I've done a fair bit of that," he goes on. "But when I think about me as an actor, I think about films about real people in real situations -- without super powers. That's one of the reasons why I began shooting the pilot for HBO, The Corrections. [Based on Jonathan Franzen's page-turner, McGregor morphs into a Marxist academic cum crime boss squire.] It's the story about a very American family and it's amusing but at the same time kind of heartbreaking."
McGregor says he digs acting. Here's why: "I never tire of it. I love not knowing what is going to happen. I love that you have somebody to act with who gets into that spirit of magic with you, like Emily Blunt. And I like the opportunity to explore our world while being in other people's shoes. It's a very satisfying way to look at the world and make some type of comment about it. Most of the time you hope that your work reflects you somehow. And in a very personal way, when you're pretending to be somebody else, you flavor everything with you -- you're inside all of it. Your thoughts about how you play a character filter through your own experiences; sometimes through your imagination... if you're playing somebody in outer space, in a galaxy far, far away for instance."
On some of the best advice he's been given, McGregor shrugs. "I don't know what it would be. A lot of people give you advice by how they are -- by how they act. Don't they? The people you love and respect are supposedly advising you by example."
Calling all HuffPost superfans!
Sign up for membership to become a founding member and help shape HuffPost's next chapter