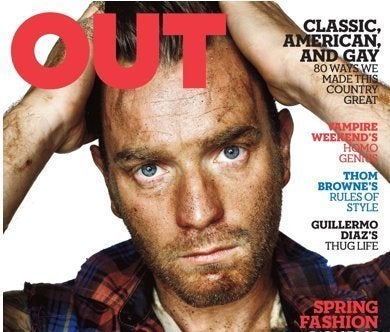 Ewan McGregor covers Out magazine in conjunction with the overdue release of 'I Love You Phillip Morris,' slated for March, in which he and Jim Carrey play gay lovers. McGregor, who has never met a nudity vehicle he didn't like (his penis appears in 'Trainspotting,' 'The Pillow Book, 'Velvet Goldmine' and 'Young Adam,' to name a few), tells the magazine about what it feels like to expose himself and kiss Jonathan Rhys Meyers.
On his first full-frontal exposure, during a Holocaust play in drama school:
"I remember getting a kind of rush out of that first time, a slight feeling of power about it, you know?"
On playing a bisexual character in 'The Pillow Book':
"There's tons of sex in that film. We didn't even bother putting clothes on between scenes. I had quite a full-on sex scene with a 75-year-old Japanese guy. We're kissing, and I remember going, He's got a mustache and that's kind of weird. Oh! That's definitely a scrotum. That's odd."
On kissing Jonathan Rhys Meyers in 'Velvet Goldmine':
"I remember when I kissed Johnny. It was just a rush at the end of the day. It was just an electrical moment, because you look around and some of the British electrician guys -- who are all mainly closeted homosexuals, I think -- were sitting around going 'Fuck, no.' But I like kissing boys on screen. As a straight guy, it's quite an interesting proposition. Anything on a film set that takes you by surprise like that, that gets your blood up, is good."
On his shifting onscreen sexuality:
"I'm always interested in playing different people, in different situations. It doesn't matter to me whether someone is in love with a man or a woman. I find the idea of love and romance interesting. I'm a sucker for it. I like playing someone who's falling in love because I like the sensation of it."
Popular in the Community