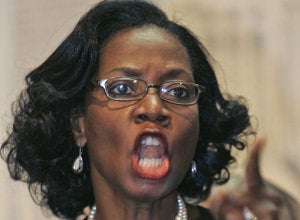 CHICAGO - A former Chicago alderman who admitted taking payoffs from developers and hiding money from the tax collector was sentenced Tuesday to four years in prison and ordered to forfeit $20,000.
"As God is my witness, I'm no monster," Arenda Troutman said tearfully, pleading for mercy from U.S. District Judge Ruben Castillo.
Troutman, 51, pleaded guilty last August to taking payoff money and campaign contributions from developers in exchange for zoning changes in her South Side ward and other favors. She also admitted omitting $10,000 from her income tax returns.
Prosecutors said Troutman deserved a sentence of at least 46 months, the minimum under federal sentencing guidelines, because they say she associated with street gang members and used them as campaign workers.
The case against Troutman began as an investigation of the drug-selling Black Disciples street gang, Assistant U.S. Attorney Joseph Alesia told the court.
Federal agents have said reputed Black Disciples leader Donell Jehan was once seen driving Troutman's SUV. Troutman has said she thought he was a businessman.
Castillo said he knew Troutman was not a monster but took issue with her claim that she didn't realize some of her friends were "unsavory characters." The judge told the 17-year City Council veteran that she was too smart not to know that some of her friends were street gang members.
Castillo acknowledged that Troutman had been a good mother to three boys, one of whom she reared as her own son after taking him into her home. But he said she fell prey to the corruption that has plagued politics in this city and state.
Troutman got into politics as a supporter of former Mayor Harold Washington.
"You could have been great like him," Castillo said. "Instead what you did was join the wall of shame of politicians who sold their offices."
Former Judge Otto Kerner of the 7th U.S. Circuit Court of Appeals was sent to prison for corruption when he was governor of Illinois, and that should have been a lesson to other politicians, Castillo said.
"But they keep thinking that somehow magically they are not going to be convicted," he said. "For the life of me, I don't understand how that could be continually happening."
Related
Popular in the Community