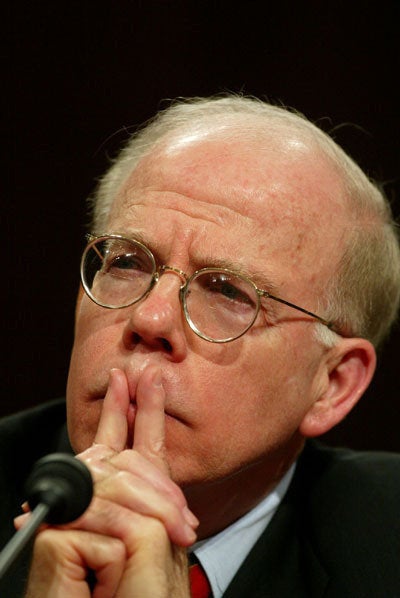 Two recently retired CIA analysts have told the Huffington Post that John McLaughlin, a former deputy CIA director, is being considered by the Obama transition team for the role of Director of National Intelligence.
Former CIA official Margaret Henoch, an early skeptic of debunked Iraq war intelligence provided by the source known as "Curveball," said Obama intelligence transition chief John Brennan is also being considered for the position.
Another agency analyst seconded the impression that McLaughlin is the name du jour in intelligence circles, expressing some reservation about the choice. "The thing about the hopefulness about change was that there really would be change," said the analyst, who requested anonymity due to having retired this year.
"Recycling people through, I just don't love it. So I'm sad to see re-treads, frankly," the analyst said. "Though I see why people want to reach out to experienced hands. Part of it is that they're in a difficult situation. ... The question is how you really reach down into the mid or lower levels, and find some smart people to talk to, and ask: where is the skill, where is the talent? Give me some names that nobody's heard of."
Separately, Henoch said she would rather see Sen. Chuck Hagel in the post.
"I think he's the right kind of person for the job: somebody with the right mix of stature, credibility and experience," Henoch said. "The guy putting order into [the intelligence community] has to be somebody with no further ambitions, since it's a dead end, politically. I would also say it shouldn't be somebody from the military, unless you could somehow convince Colin Powell to take it on," Henoch added.
Powell, who is reputed to not want a day-to-day role in any administration capacity, is nevertheless someone who "has seen personally what happens when you get burned by bad intelligence," Henoch noted.
As for some of those officials rumored to be heading Obama's intelligence transition team -- specifically, former National Counterterrorism Center chief John Brennan and former CIA intelligence-analysis director Jami Miscik -- Henoch was less complimentary.
"Both Brennan and Miscik have horrible baggage. Jami Miscik was running the analytic side when the Curveball analysis was forwarded. I was told by her then-deputy that they never realized there were ever any problems with Curveball, which is completly damning. He ran [the National Counterterrorism Center] for not very long. I'm not sure that two people brought through the ranks by George Tenet have the credibility, knowledge in the business, or the objectivity to put the agency in a good place."
The more recently retired CIA analyst had a more positive view of Miscik, but shared Henoch's disappointment over the raft of familiar names. "[Miscik is] really smart. I personally like her a lot. Obama could do way worse. And it's not that I don't think that people shouldn't get a second chance. I'm a big believer in second chances. But I think what this town needs desperately is massive change."
Henoch put it in similar, if slightly sharper terms. "Obama should take the top off of every single [intelligence] agency there is. Don't let those guys stick around."
Popular in the Community