A majority of Americans believe ex-convicts should be allowed to vote after they have been released from prison, a new survey released Tuesday found.
Only 18 percent of all Americans surveyed said convicted felons should permanently lose their right to vote.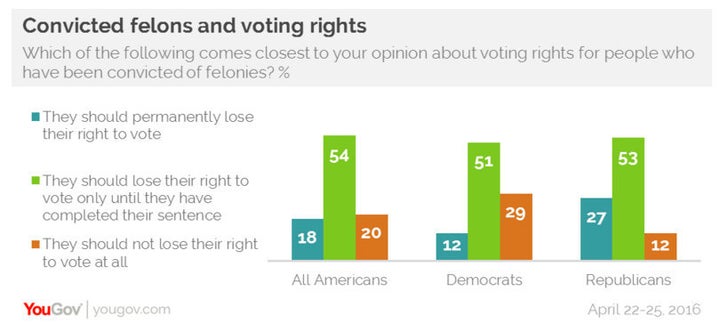 The United States is one of the world's harshest nations when it comes to stripping voting rights from citizens convicted of felonies, and the laws surrounding voting rights for current and ex-felons vary significantly from state to state. In states such as Kentucky, Iowa and Florida, convicted felons lose their right to vote permanently. Other states restore voting rights to ex-felons either when they finish their sentence or after they complete parole and/or probation. Only two states -- Vermont and Maine -- allow people currently in prison to vote. 
Nearly 6 million Americans have currently or permanently lost their voting rights as the result of a felony conviction due to this patchwork of laws, prison policy reform group The Sentencing Project found, and the laws have a racially disparate impact. In 2010, 1 in 13 black voters lost their right to vote, compared with 1 in 56 non-black voters. And if trends like these continue, 3 in 10 of the next generation of black men can expect to lose their right to vote, the organization notes. 
In February, 40,000 ex-offenders in Maryland had their voting rights restored. Just last week, Virginia Gov. Terry McAuliffe (D) restored the right to vote for over 200,000 of the state's residents who have been disenfranchised by past felony convictions. The governor's order allows those who have completed their sentences and probation or parole to have their right to vote restored, run for office and serve on a jury or as a notary public, without having to petition the state to be re-enfranchised.
"It's encouraging to see growing support for restoration of voting rights for citizens with felony convictions," Marc Mauer, executive director of The Sentencing Project, told The Huffington Post. "These policies are a stain on our democracy and have placed the United States increasingly out of sync with the policies of other industrialized nations in this area."
Critics of restoration of voting rights to ex-felons argue that citizens who commit serious crimes lack the requisite trustworthiness needed for the right. But advocates for restoration say it's critical for the health of democracy and a key component of successful re-entry for ex-convicts along with employment, housing and health care. 
"With 600,000 people returning home from prison each year, the challenges for successful re-entry is substantial," Mauer said. "Denying the right to vote to these people conveys a message of second-class citizenship. That's counterproductive for their prospects and for community safety overall."
Calling all HuffPost superfans!
Sign up for membership to become a founding member and help shape HuffPost's next chapter
BEFORE YOU GO
PHOTO GALLERY
Historic Images Of Women Voting