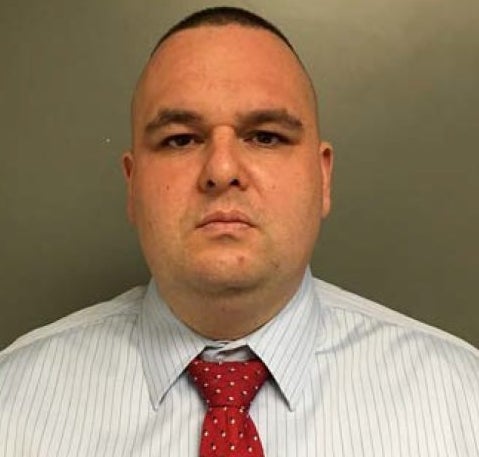 A lengthy criminal probe has resulted in the arrest of a former Pennsylvania state trooper who claims he accidentally shot and killed his wife and unborn child.
Miller, then a seven-year veteran with the state police, was off-duty when he shot and killed Joanna on March 7, 2014. He told investigators he was taking apart his .45-caliber semiautomatic handgun in the living room of his East Norriton home when it accidentally discharged, shooting her in the head.
"I was about to clean my gun and I didn't realize there was a round... I shot my wife," Miller told the 911 dispatcher. "Fuck! I can't believe I fucking did this."
Joanna, who was approximately 24 weeks pregnant, was rushed to a local hospital, where she was pronounced dead. Her baby did not survive. The couple's other children ― Joanna was a mother of four, including two she'd had with Joseph ― were unharmed.
An autopsy conducted by Dr. Walter Hoffman, coroner for Montgomery County, determined that Joanna died of a "close-range gunshot wound" and the baby died as a result of a "maternal gunshot wound."
After nearly three months of investigation, the Montgomery County District Attorney's Office ruled that the discharge of the weapon, though negligent, was unintentional and accidental.
"Criminal charges are not warranted under the circumstances based upon the finding that the actor's negligence did not rise to the level of recklessness or gross negligence that would be required to support a homicide charge," the district attorney's office wrote in a June 2014 press release.
Authorities, according to the press release, found no "possible motive for a killing." However, it was noted that investigators reserved the right to reopen the investigation in the event that new evidence was developed.
A criminal complaint filed last week says that extensive gunshot residue testing conducted since Joanna's death indicates Miller's handgun was only three to six inches away from his wife's head when it fired the fatal bullet.
The district attorney's office alleges that Miller "lied to police when he stated he did not know where Joanna was at the time of the shooting" and "lied" when he told them how far away he was from her when his weapon discharged.
"Miller should have been aware that his wife was seated right next to him and that the muzzle was pointed directly at her head when he pulled the trigger and shot her to death," the affidavit says.
Prosecutors said Miller had "extensive knowledge" of the basics of gun safety and handling.
"Despite such awareness, Miller directly caused the unlawful deaths of his wife and child by repeatedly disregarding these essential safety measures," the affidavit says. 
Because of the circumstances, Miller's conduct was, the district attorney argues, "unjustifiable, reckless and grossly negligent."
Miller, who has since remarried, resigned from the police force last Wednesday, one day before the warrant was issued for his arrest. He was released from jail on Friday after posting $100,000 bond.
The Montgomery County district attorney's office has declined to comment on the case.
Miller's defense attorney, Timothy Woodward, called his client's arrest a tragedy.
Miller waived his right to a preliminary hearing. A trial date has not yet been set. If convicted, he faces up to five years in prison on each count.
David Lohr covers crime and missing persons. Tips? Feedback? Send an email or follow him on Twitter.
REAL LIFE. REAL NEWS. REAL VOICES.
Help us tell more of the stories that matter from voices that too often remain unheard.
BEFORE YOU GO