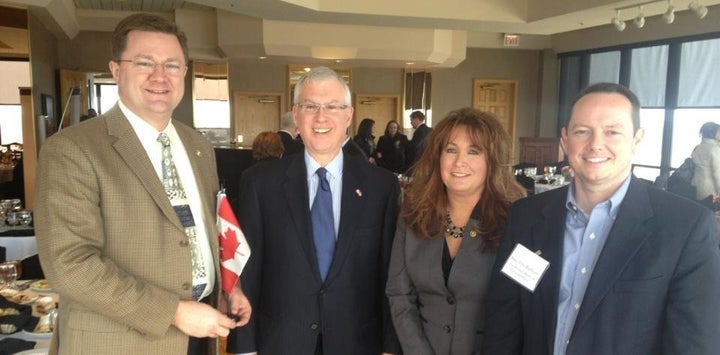 When Missouri state Sen. Bob Dixon (R), announced his candidacy for governor in early July, he touted his staunch conservative ideals, a desire to "get government out of the way" and his firm belief in traditional marriage. Last week, he also released a statement clarifying his past as a young gay man -- an experience he attributes to a bout of "teenage confusion."
In the release, Dixon says abuse during childhood led to uncertainty about his sexuality and a five-year spell of being gay, the Springfield News-Leader reported. But a "religious experience" in 1988 helped him change his sexual orientation, and the gubernatorial candidate has been forthcoming about the experience in hopes of squelching the "blood sport" aspect of politics.
"I have put the childhood abuse, and the teenage confusion behind me," the statement reads. "What others intended for harm has resulted in untold good. I have overcome, and will not allow evil to win."
Dixon has been married to a woman for about 25 years and has three children. His office did not respond to The Huffington Post's request for comment.
During his fight against that "evil," Dixon said he's been strongly aligned with a slew of conservative stumping points.
"I'm 100 percent pro-life," he said in his campaign announcement. "I'm a strong supporter of the Second Amendment. Actually, I'm a strong supporter of the whole Constitution. And I've spent about the last 23 years as a strong supporter of traditional marriage."
Dr. Jack Drescher, a psychiatrist and psychoanalyst based in New York City, told HuffPost it would be unethical to comment on an individual he hasn't examined, but said storylines like Dixon's are common in the ex-gay community.
"In the ex-gay movement, that's how people learn not to blame themselves: They find a narrative to not make themselves a bad person," Drescher said. "[Dixon] is not the first person who believes this."
You can read Dixon's full statement below.
Popular in the Community