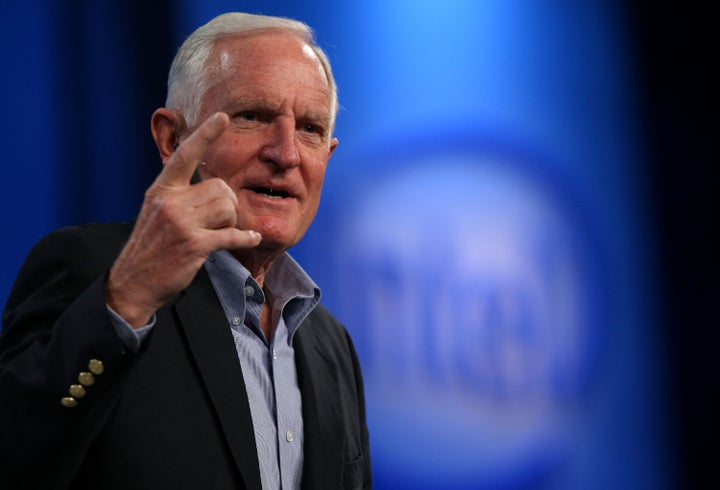 Craig Barrett has expressed strong opinions on Arizona's education system.
In 2011, Barrett, former chief executive of Intel, told lawmakers and business leaders that Arizona would not be on Intel's list of top 10 choices if his former company was looking to build a new operation.
Later in the year, Barrett said during an interview he would change the process of educating and evaluating teachers, paying teachers according to their performance and area of expertise.
Barrett was appointed last year by Gov. Jan Brewer as chairman of the Arizona Ready Education Council, a group created by Brewer to advise her on education issues.
The former businessman and current charter-school executive hosted a forum Tuesday with a group of teachers, principals and other administrators from the Vail School District.
The forum was held at Andrada Polytechnic High School in the Vail district.
Barrett came to Tucson to discuss the newly implemented Common Core Standards, which are new standards for English and math achievement, and to receive feedback from teachers and administrators regarding other issues such as teacher evaluations and education funding.
He said the standards were perhaps "the biggest transformation of K-12 education" in Arizona history.
After the forum, Barrett discussed the new standards, his ideas for teacher evaluations and other topics during with the Star.
Question: You mentioned this is the biggest transformation in history. Can you go into more detail about why that is?
Answer: "If you just step back a bit and you compare kids in Arizona, or kids in the United States in general, to their international peers, you find that the United States kids do not do particularly well.
We're kind of mediocre in reading, we're below average in mathematics and science.
So the Common Core is taking an international benchmark of where U.S. kids need to be in order to be competitive in the world and then adjusting our curriculum to that level.
The implementation of that internationally benchmarked curriculum is a big change because you have to upgrade the curriculum and you have to do professional training of the teachers to be able to handle that curriculum. So it's a pretty massive change."
Q: How do you plan on achieving the goals of the Arizona Ready Council to improve student achievement.
A: Barrett said the council expects the implementation of the Common Core Standards, as well as an increased emphasis on career and technical Education, to help the agency reach its goals.
"If you talk to most kids and why they drop out of school, what you hear is 'I got behind' or 'I wasn't interested' or 'My friends didn't go to school so I didn't see the relevance.'
But there are some great programs. (Andrada) is a high school that worries about continuing technical education.
The relevancy of what goes in this school is perhaps a lot higher than just a classroom environment.
A lot of career and technical education emphasis makes school more relevant to kids. If a kid says, "I want to be an auto mechanic, so what do I need school for?" Then you can tell them, "If you want to be an auto mechanic, you have to know computers and you have to know math and science because you can't repair an engine in a BMW unless you know all that stuff."
So if you make the school more relevant to the child then there's a higher probability that the child will stay in school.
Q. Can you discuss performance-based teacher evaluations and why you support it?
A: The state has already said that a certain fraction of a teacher's salary increase should be based on performance and performance should be "how do the kids do under that teacher?"
It's very easy to say you should have a merit-based or performance-based model. It's a little bit tougher to do it because you have to have the information technology infrastructure to actually measure how much the kid knows when they come in the classroom and how much they know when they leave the classroom, which is the teacher's contribution.
One of our roles is to work with the Arizona Department of Education to make sure you have a 21st century IT model, which allows you to track kids and how much kids are learning, and relate that back to teacher performance.
The biggest objection you hear to putting a performance-based model in place from a teacher perspective is a teacher can say "Hey, when I got these kids, they were not at grade level. So how do you expect me to make up for their prior deficiencies and get them up to grade-level in my grade if I can't control when they're coming into my classroom?"
So if you can monitor how much they know when they're coming into the classroom and how much they know when they go out, the teacher can get them, at least, one year advanced. Then the teacher's doing their job.
Contact reporter Jamar Younger at jyounger@azstarnet.com or 573-4115. ___
(c)2012 The Arizona Daily Star (Tucson, Ariz.)
Distributed by MCT Information Services
Popular in the Community