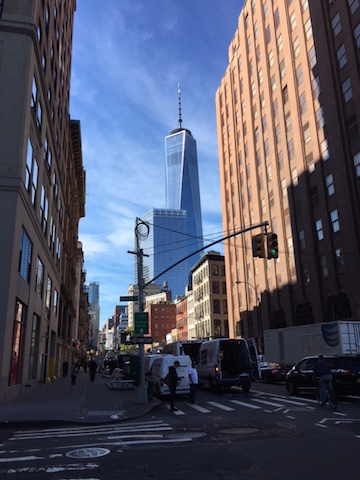 It's not like we haven't visited NYC every chance we got over the past 8 years, because we have- many times. It's just that we always ended up in a different part of the city, staying with friends or at a friend's apt who was traveling elsewhere or at some great hotel where the price was too good to pass up.
This trip was different. This time we made a decision to go back to our old neighborhood of Tribeca, stay at our favorite neighborhood hotel (even though the name had changed) and eat and drink at the places that had been our regular hangouts. We were coming home.
As we headed into our 8th year of living away from New York City, and back to our old stomping ground, we wondered how many of our favorite places would still be open and what new surprises we would find.
Turns out many fondly remembered spots were as great as always, some special joints closed and some amazing newbies opened!
Here's the thing, we LOVE NYC. The chaos, the noise, the lights, the millions of options, the diversity, the old and decrepit, the modern and redone, the never ending construction. Even the honking taxis seem to make sense in the Big Apple.
So we filled our week with plays, museums and visits with dear friends. And lots of great meals. We made reservations and went to some of our old neighborhood favorites; Nobu for sushi- still superbly fresh and served as elegant as ever, Odeon and Bubby's for breakfast- two classic Tribeca institutions that seemed frozen in time in all the best ways possible. We couldn't resist one night at Da Umberto's in Chelsea for that Old World Italian meal you can only find in NYC or Italy. And to relive some of our favorite evenings, we wandered very late into the Brandy Library for drinks and sweets. We settled on an Highland Scotch tasting- thoughtfully poured, even at 1:00 AM, by the very knowledgeable Genevieve.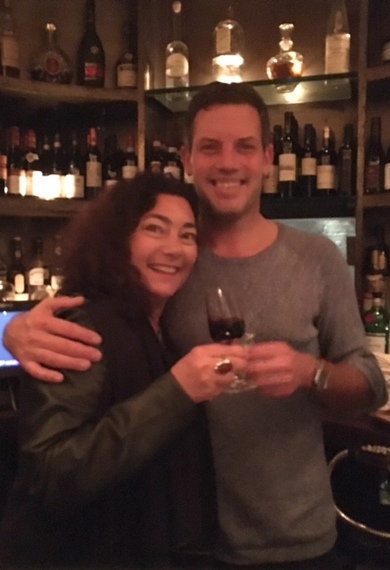 But the foodie highlight definitely was coming back to our local Tribeca Landmarc restaurant. It had us reminiscing about all those after-work meals -- we would slip into this quiet little place, grab a great dinner and catch up with one another after a long day. This spot hasn't changed. It still felt intimate and relaxed. Landmarc was where we fell in love with wines from all over the world. Their bottle prices were always the best and they still are. So we waltzed into Landmarc on a Monday night, and met the current general manager, Jules Bianciardi, who treated us more like family than guests. Every item we ordered exceeded our expectation; the Italian wine, the calamari, the pasta, the burger (still my all-time favorite) and the awesome desserts. We enjoyed the evening so much we went back again with friends for our final night in town!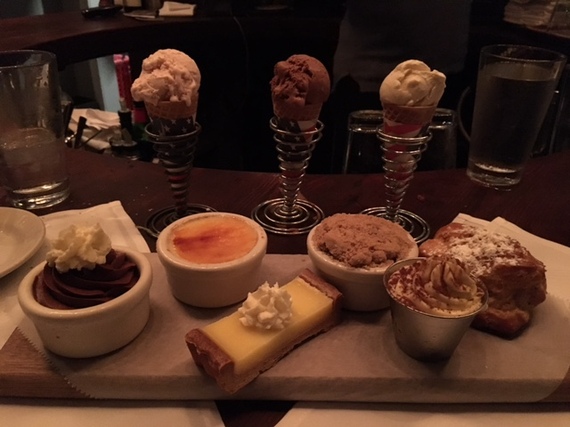 We also found a few new places we liked a lot too - Grand Banks, housed on a boat at Pier 25, is a good spot for oysters and a glorious sunset view; or Sunday brunch at Tiny's and the Bar Upstairs that serves a great Bloody Mary complete with a slice of salami skewered with the olive.
And then there's the Roxy Hotel bar and lounge. We stayed at the Roxy Hotel, (formerly the Tribeca Grand) for 8 nights and live jazz was happening almost every night.
The Roxy had a big hotel memory to live up to for us. We had spent our 2007 wedding night in their ritziest suite and threw some great parties there on more than one occasion. But our week at the Roxy did not disappoint. The staff was lovely, the standard room was comfy and quiet and luxurious feeling and the location was absolutely perfect. This new version with it's the remodeled bar, pool table and live jazz drew us in almost every night.
But the best part of coming back to the city for me was being surrounded by all the New Yorkers. The can-do dreamers from every walk of life- the anything is possible hardworking heroes - they keep me perpetually yearning for more time in NYC. The subway riding, walk your heels right off your boots go-getters, the believers and the never give up fighters- they all descend on the town hopeful, ripe with opportunity and mind boggling vision. I met, Heather, the LA nanny turned hostess at a classy jazz lounge, or Betty, freshly arrived from the Midwest, selling drinks as a Broadway matinee usher. Whether it is the very friendly Lyft driver blasting her gospel music, the young Russian women getting her first shot at hospitality at the hotel front desk or the newly arrived Spanish actor, giving us his best Italian waiter accent at dinner. Whether it's the scientist turned hot shot restauranteur, the real estate broker, or the high level tech recruiter- they all have the same attribute in common- drive, untampered drive and unbridled motivation to make it in the city that never sleeps. It's inspiring and invigorating to rub shoulders with people unafraid of working hard for what they believe in and making every day count. It is that somewhere over the rainbow- theirs and mine.