Ex-NFL running back Larry Johnson gained 6,223 yards in his career, but he appears to be losing ground in a fight to keep his mind.
In a frightening interview with The Washington Post on Tuesday, the former Kansas City Chief said he cannot remember two entire seasons. The 38-year-old attributed the "blank spaces" to chronic traumatic encephalopathy (CTE), a brain disease generated by blows to the head. CTE has been diagnosed in a high percentage of deceased NFL athletes who have been studied. Aaron Hernandez, the former tight end and convicted murderer who committed suicide in prison last April, was one of them.
As his memories vanish, Johnson said he is putting together a collection of sorts for Jaylen, his 7-year-old daughter.
"If I can't remember who I was, I've got YouTube; I've got music videos that I'm making for myself, so when I watch these things I can remember," said Johnson, who last played in the NFL in 2011. "I'm trying to get these things in order so she knows who I am and what I came from."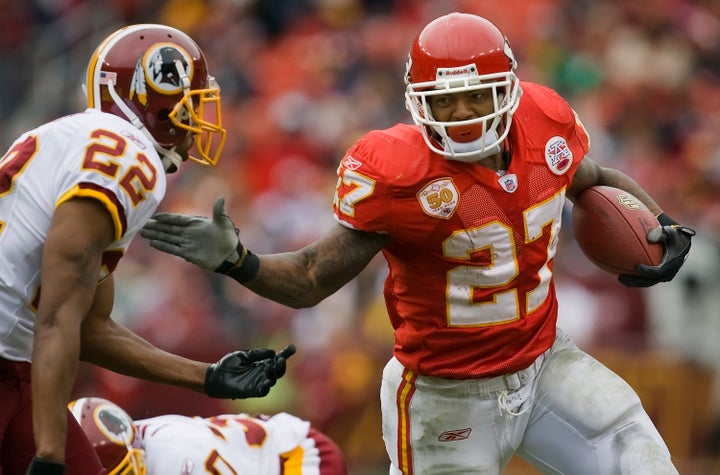 Johnson, who has been arrested multiple times for assaulting women, said he also battles violent and suicidal impulses that involve demons urging him to jump from a rooftop deck.
"One is telling you to do it; one is telling you don't. One is telling you it'd be fun," he said.
If Johnson does have CTE, there is now hope he could be diagnosed before death. Researchers said they found the first case of a living person, identified as former Vikings linebacker Fred McNeill, being diagnosed before he passed away in 2015. CTE has otherwise only been diagnosed with a brain scan of a deceased person.
Related
Popular in the Community