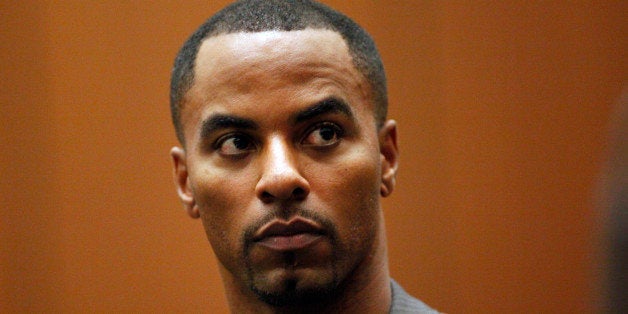 (Adds detail on not guilty plea)
NEW ORLEANS, April 6 (Reuters) - Former NFL star Darren Sharper entered a not guilty plea on Monday in New Orleans to federal charges that he drugged women with the intent to rape them, having already pleaded guilty to related charges in three states.
Sharper, 39, last month pleaded guilty or no contest to rape or attempted rape in Arizona, California and Nevada as part of a series of plea bargains prosecutors have said will land him at least nine years in federal prison.
His not guilty plea before a federal magistrate judge was a formality, a spokeswoman for the New Orleans-based U.S. Attorney's Office said, adding that he may change it at a later date.
Sharper, a five-time Pro Bowl National Football League safety who helped lead the New Orleans Saints to a Super Bowl victory in 2010, faces three federal counts of drugging women in Louisiana and elsewhere with the intent to rape them.
The former football player appeared in court in shackles and wearing orange prison garb and sandals and displaying little emotion. He also has been charged locally with drugging and sexually assaulting two women in New Orleans, and is due in court on those charges on Tuesday.
Sharper was also charged in California, Nevada and Arizona with raping his victims, women he met at various nightclubs, after taking them back to his hotel or apartment and spiking their drinks with a narcotic.
In deals reached with prosecutors in those states last month, Sharper pleaded guilty to sexual assault in Arizona, attempted sexual assault there and in Nevada, and pleaded no contest to two counts of rape by use of drugs and four counts of furnishing a controlled substance in California.
All the plea bargains entered so far call for his sentences to be served concurrently in federal prison.
Local prosecutors in New Orleans say Sharper has reached a plea deal to settle the Louisiana case, but it is not expected to add to the overall time he serves in prison.
An attorney for Sharper declined to comment after the hearing. (Reporting by Jonathan Kaminsky; Editing by Andrew Hay, Sandra Maler and Eric Walsh)

Related
Popular in the Community