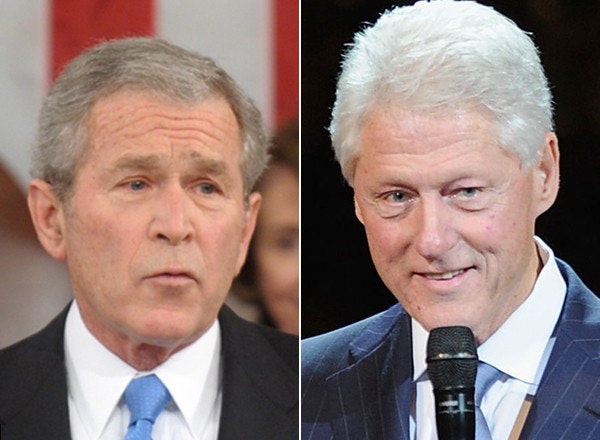 Taxpayer-funded perks for ex-presidents added up to nearly $4 million in the 2011 fiscal year, records show. Perks included $15,000 for Jimmy Carter's postage; more than $80,000 for George W. Bush's phone bill; and $579,000 for rent at Bill Clinton's office in New York City, according to ABC News.
A recent bipartisan effort could limit big spending of taxpayer money for ex-presidents. The Presidential Allowance Modernization Act -- proposed by Reps. Jason Chaffetz (R-Utah), Jason Altmire (D-Pa.) Trey Gowdy (R-S.C.) -- would limit payments to ex-presidents for office expenses like travel and phone bills if their outside income exceeds $400,000 a year. The bill would also institute a fixed pension of $200,000 for retired presidents.
"Does President Bush really need $80,000 a year for his telephones?" Chaffetz said in an interview with ABC's Jon Karl. "That's a lot of phones and a lot of phone bills."
According to the Daily Mail, Carter is currently worth an estimated $7 million; George H.W. Bush has about $23 million; Clinton is worth $38 million and Bush 43 has a net worth of $20 million. Clinton and Bush both bring in millions from speaking engagements alone -- Clinton has raked in more than $10 million and Bush has nabbed $15 million.
"Presidents should get a compensation package," Chaffetz said. "They should get a retirement, and they should get some expenses. But if they're going to go out on the trail, and they're going to give speeches, write books and make money, then there comes a point where you say, OK, the taxpayer shouldn't be responsible for also footing the bill for the office expenses, and the telephone, and paper, and the personnel to man those offices."
It's not just ex-presidents costing taxpayers big money. Tens of thousands of dollars are spent each day on Secret Service protection for presidential hopefuls.
Secret Service Director Mark Sullivan said in 2008 that each candidate's detail cost $38,000 per day, a number he expected would rise to $44,000 in 2012, according to ABC News. Last year the House approved a $113 million budget for protection of the 2012 presidential candidates.
Popular in the Community